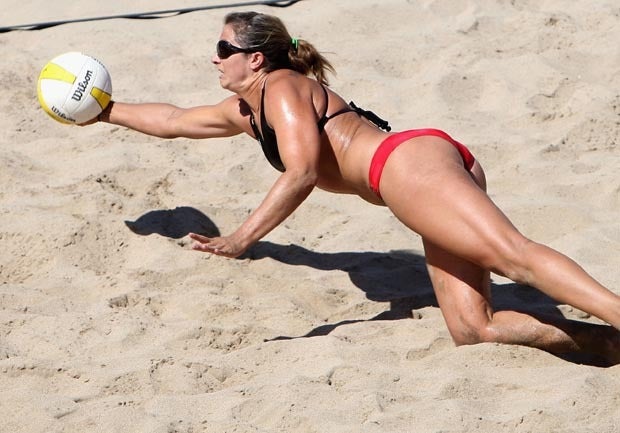 New bikini rules for Olympic beach volleyball
(AP) GENEVA - Most female beach volleyball players will wear their usual bikini outfits at the London Olympics. For those who prefer to cover up, that's OK, too.
Under new rules adopted by the International Volleyball Federation (FIVB), players are free to wear shorts and sleeved tops. The governing body said the move was made out of respect for the cultural beliefs of some of the dozens of countries still in contention to qualify for the games.
"Many of these countries have religious and cultural requirements, so the uniform needed to be more flexible," FIVB spokesman Richard Baker told The Associated Press on Tuesday.
The rule, which will apply to the Olympics, has already been in effect at five Continental Cup qualifying competitions involving 142 nations.
"Winners of the Continental Cups will qualify for the Olympics, so it has to be applied," Baker said.
The FIVB has not specified which countries lobbied to be allowed to cover up in London.
An African qualifying event scheduled May 24-26 in Kigali, Rwanda, includes Algeria, Kenya and the Democratic Republic of Congo among the contenders. Photographs on the FIVB's website of preliminary matches shows female players from those countries covering their midriffs by wearing sleeveless tops, which are the typical attire of indoor volleyball teams.
A Continental Cup qualifier to be played in Asia will include India, Indonesia and Sri Lanka among 12 competing nations.
The modified rule permits "shorts of a maximum length of (1.18 inches) above the knee, and sleeved or sleeveless tops."
Bikinis have been part of the wardrobe since beach volleyball became an Olympic medal event at the 1996 Atlanta Games. Players have typically opted to wear body suits in cold weather.
Cultural and religious sensitivities have been brought into focus by changes to the Olympic entry format to encourage more nations to compete.
Four years ago, qualification was based almost entirely on world rankings earned by competing in at least eight elite-level events. The Continental Cup competitions, which began in July 2010, now offer direct routes to the Olympics.
The women's tournament at London will be played from July 28-Aug. 12 and is expected to sell out almost every session.
Beach volleyball will replace indoor volleyball as the FIVB's nominated sport at the 2014 Youth Olympic Games in Nanjing, China.
Beach volleyball offers a women's season-long World Tour involving 13 events in Europe, Asia, Brazil and Canada. Shorts and sleeved tops are also allowed in that event, which is dominated by players from Brazil, the United States and Europe.
"We don't think we will see much change (in uniforms) on the World Tour," Baker said.
Thanks for reading CBS NEWS.
Create your free account or log in
for more features.