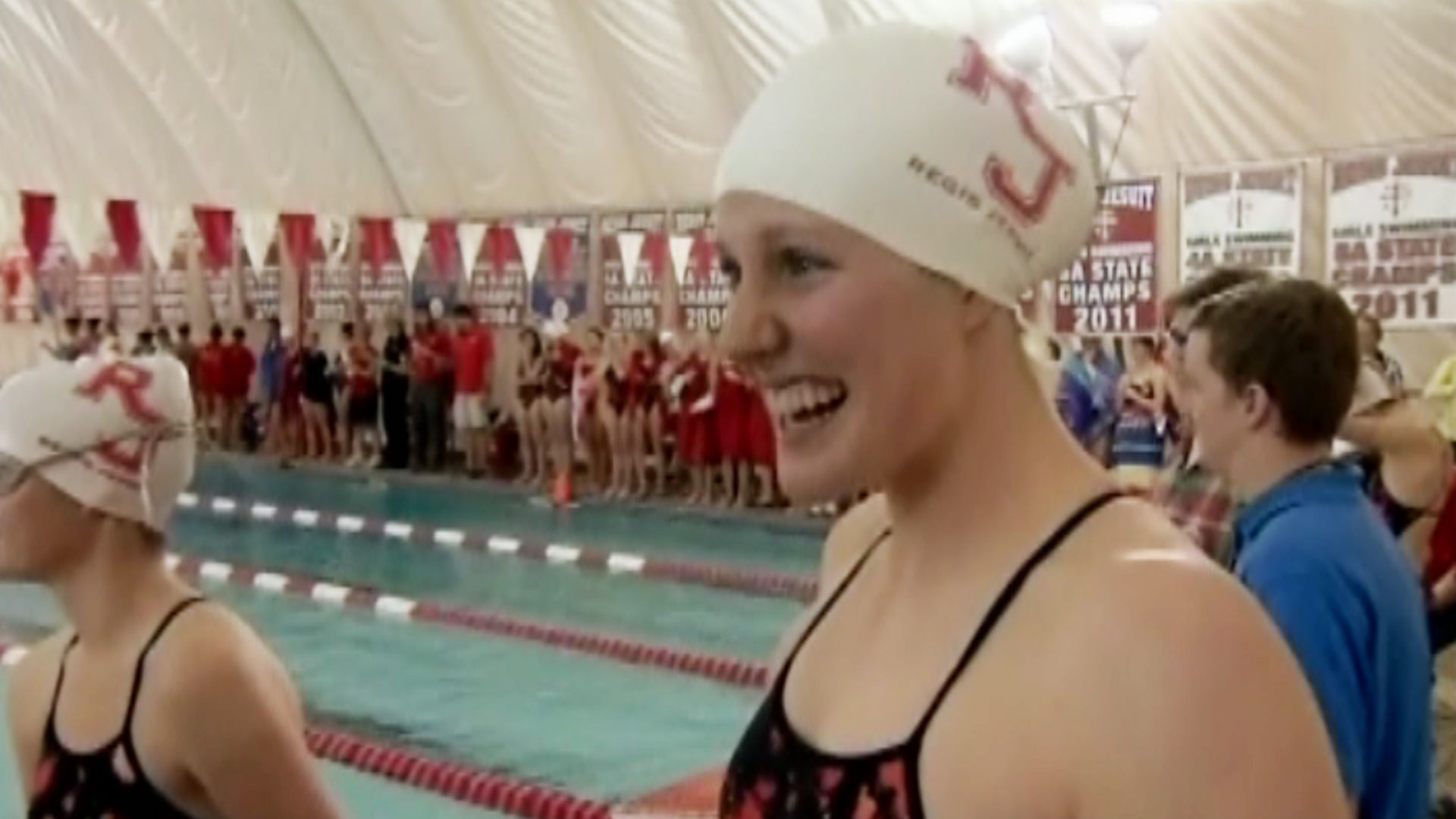 Missy Franklin, Olympic gold medalist, swims in first meet of year for high school
AURORA, Colo. It's hard to determine which meant more to Missy Franklin: Meeting singer Justin Bieber backstage at a recent concert or swimming in her first high school meet of the season.
Mention both and her eyes grow wide. But only one made her nervous — and no, it wasn't visiting with the teen sensation after his performance in Denver on Monday.
The Olympic gold medalist was an emotional wreck before her Regis Jesuit High School team took on rival Highlands Ranch in a dual meet on Tuesday. She's not sure why that was, either.
Franklin swam in front of a worldwide audience at the London Olympics over the summer and took home four gold medals along with a bronze. But swimming with her high school teammates before roughly 250 fans, well, she was shaking in anticipation.
"All my teammates were like, `What is wrong with you?"' Franklin said. "I was so nervous and I love that. It shows me that the excitement of the sport is still there, no matter where you go. It can be here or the Olympics, but I still get so excited to get in the pool every single time.
"It was so awesome to come back to my first high school dual meet in what feels like forever. It was great."
This should come as no surprise: Franklin easily qualified for state in all four events she entered.
To think, she almost skipped her senior year of swimming. After such a dominating performance in London, the 17-year-old weighed whether to join her teammates after criticism arose over whether her presence took away from other swimmers.
Judging by the reaction she received after the meet, she had little to worry about. Franklin was mobbed by rival swimmers hoping to get a photo next to her. She enthusiastically posed for each one.
"This is really cool because she's been an idol for me," said freshman Sydney Merritt, who swims for Highlands Ranch. "Ever since she won the Olympics, I wanted to see her swim."
Yeah, but was her presence a distraction?
"A distraction?" Merritt said. "No way. It's really cool."
Still, there are some who believe that Franklin swimming against high school competitors isn't all that fair after she beat the best the world had to offer.
Only, this isn't about competition for Franklin as much as camaraderie. She just wanted to be part of the team.
In the end, Franklin elected to participate and kicked off her season in fine fashion. No one came close to catching her as she eclipsed the state times in the 200-yard individual medley and 500 free. She also swam the opening legs of the 200 and 400 free relays.
Not only that, but she made everyone in the pool swim a little faster as they tried to keep up with her. Or so it seemed to Highlands Ranch coach Erica Peharda.
"They were working as hard as they could," Peharda said. "Missy's such a great role model. She's very positive. The girls were excited. I don't think they felt like she's taking anything away from them. It's really cool that she's swimming for high school."
Still, the initial criticism stung Franklin a little bit.
"That was all I wanted to do — I want to make the sport better, definitely not take away from it at all," said Franklin, who will attend California next year. "That's what made the decision so hard was the comments. I mean, that's not their fault at all, that's them being honest and giving their opinion. I totally understand that. They are concerned that I can take attention away. It's totally true. I feel so guilty whenever that happens.
"Hopefully, the pros outweigh the cons here, which I hope they've been doing."
Franklin had a blast, too, hanging out with her teammates.
"We find 100 different ways to goof off," she said.
And support each other. When she wasn't competing, Franklin was encouraging her teammates down the lane.
"She's so good for our athletes, our swimmers," Regis Jesuit coach Nick Frasersmith said. "It really brings the level of swimming up in Colorado. It's what Missy is and what swimming is about, working for your teammates and enjoying it."
Franklin was exhausted after the meet as the day finally caught up to her. That's what happens when someone stays out late to hang out with Bieber, who treated her to quite a show. He even taught her how to ride a Segway scooter.
"Then he offered to show us the stage!" said Franklin, who went to the concert with a friend.
Franklin was quite a popular attraction at Pepsi Center herself. Fans were climbing over seats to get her autograph, even over former Colorado Avalanche great Joe Sakic.
"I thought it was so funny, that out of the entire Pepsi Center, Joe Sakic and I end up in the exact same row," Franklin said. "What are the odds of that? I thought it was great."
She got home from the concert around midnight and had to be up for swim practice four hours later. On top of that, it was the school's first day back after winter break.
"I was (yawning) all through school," said Franklin, who will swim in another dual meet next Tuesday. "But I gave 110 percent (at the meet)."
"The second I made the decision, I felt 100 times better — to work out with my friends and be able to spend time with them. You get so close with the swim team. I'm so happy I did this."
Thanks for reading CBS NEWS.
Create your free account or log in
for more features.