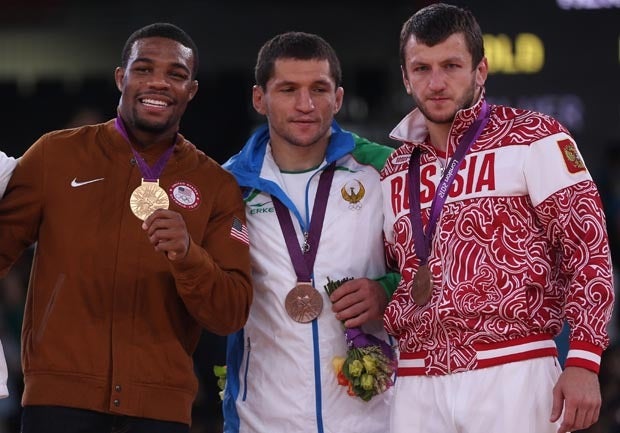 Wrestler stripped of Olympic medal after positive drug test, AP source says
An Olympic wrestler from Uzbekistan has been stripped of his bronze medal from the London Games because of a positive doping test, officials familiar with the case told The Associated Press on Tuesday.
Two officials with knowledge of the decision said the International Olympic Committee disqualified Soslan Tigiev, a freestyle wrestler who won bronze in the 74-kilogram class.
The officials spoke to the AP on condition of anonymity because the ruling hasn't been announced yet.
Tigiev tested positive for the banned stimulant methylhexaneamine, and the result wasn't confirmed until after the games finished Aug. 12, the officials said. The case has remained confidential while going through the IOC's disciplinary process.
Hungary's Gabor Hatos will be upgraded to bronze.
Tigiev becomes the second athlete from the London Olympics stripped of a medal because of a doping violation.
Nadzeya Ostapchuk of Belarus had her gold in the women's shot put revoked by the IOC after testing positive for the steroid metenolone.
An IOC disciplinary panel investigated Tigiev's case and recommended his disqualification and loss of the medal. The findings were submitted for ratification to the ruling IOC executive board, whose members voted by mail. Monday was the deadline for responses.
Tigiev — who won silver at the 2008 Beijing Olympics in the same event — tested positive in London on Aug. 10 after defeating Hatos on points in one of the two bronze medal matches.
The gold medal in the event was won by Jordan Burroughs of the United States, who beat Sadegh Saeed Goudarzi of Iran in the final. The second bronze medal went to Denis Tsargush of Russia.
Tigiev was the ninth athlete found guilty of a doping offense during the IOC's drug-testing program in London. Most were caught in pre-competition and out-of-competition tests.
The IOC took more than 5,000 urine and blood samples during the London Games. The samples are frozen and stored for eight years, giving the IOC the opportunity to retest them if new detection methods are developed.
Thanks for reading CBS NEWS.
Create your free account or log in
for more features.