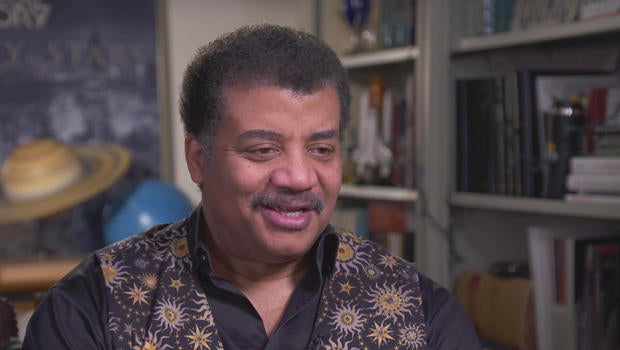 Neil deGrasse Tyson, our joyful guide to the stars
When it comes to STAR POWER in the field of science, few if any can outshine star-gazer Neil deGrasse Tyson. Martha Teichner takes us into his orbit:
This is what happened when astrophysicist Neil deGrasse Tyson paid a visit to his old high school. You might expect pandemonium here, at the Bronx High School of Science in New York City, which has graduated eight Nobel Prize-winners.
For these kids, the "star man" is a rock star.
But adults love him just as much. One man said, "He's, like, only the smartest man on the planet."
"Whoever thought a scientist could be funny, you know?" said one woman.
And another man summed it up: "He's the epitome of geek cool."
On a weeknight, he can fill a theater with people willing to pay rock-concert prices to see him live talking science, in a show he calls, "Let's Make America Smart Again!"
He typically gets 200 requests to speak every month; he picks maybe four. His most popular talk: "An Astrophysicist Goes to the Movies."
Tyson has 7.2 million Twitter followers. "That's a crazy number! I don't even understand it," he told Teichner. "I wake up in the morning and say, what? Should I, like, remind people, 'You know, you're following an astrophysicist here?'"
He's been famous ever since he argued in 1999 that Pluto wasn't a planet. He wasn't the only one, but he's still being blamed for its demotion.
Tyson was starstruck when he visited the Hayden Planetarium in New York City for the first time at the age of nine. Since 1996, he's run the place.
"As a kid, I thought I knew what the sky looked like from the Bronx -- it had a couple of dozen stars in it," he recalled. "I come here, the lights dim, and there's countless thousands of stars. I thought it was a hoax!"
By his twelfth birthday, when he received his first telescope, Tyson had already decided he wanted to be an astrophysicist, to study the cosmos. By the time he was in ninth grade, he'd bought himself a bigger, better telescope.
He'd haul the telescope up to the roof, which freaked out the neighbors.
"So here I am with a telescope that looks like a bazooka," he recalled. "It's the middle of the night, there's a white tube, and there I am, like, aiming it. So they'd send up the police. And all I ever have to do is say, 'You ever seen Saturn before in a telescope?' And they, Hey, oh, my gosh, it's got rings!" [Saturn happens to be his favorite planet, besides Earth.]
"So you would show the police officers the sky?" Teichner asked.
"It's transformative for anybody, especially for police, who don't know what you're doing!" he laughed.
But as his mother, Toni Tyson, and sister, Lynn, tell it, racism was a fact of life.
"From a very, very early age, we gave them the so-called talk about how to talk to the police," Toni said. "If he's stopped, you look them straight in the eye, memorize the badge number, politeness, no smart answers."
Lynn recalled the pickets when they, a black family, moved into Skyview, the aptly-named highrise where Neil did his skywatching from the roof.
Tyson's father was a sociologist, his mother a gerontologist … educators. But all three Tyson children had to overcome obstacles.
"There were expectations about what we could and couldn't do, which schools we could and should not apply to," said Lynn.
"So, essentially, the guidance counselors were saying to Neil, 'Oh well, Harvard isn't for you'?"
"Correct. 'What makes you think you can get in?' All of those things."
Tyson did get into Harvard, and earned his Ph.D. at Columbia. He's addressed racial barriers he faced, but prefers other subjects.
"If you look at all my speeches, all my lectures, all my writings, there is one chapter in one book out of 13 that even goes there at all," he said.
His latest book, "Astrophysics for People in a Hurry" (out Tuesday from WW Norton), offers a shortcut to scientific literacy -- a goal Tyson pursues constantly, and cleverly.
His "Star Talk" broadcasts are like talk-shows; his guests include comedians and celebrities.
"You might think if you're going to make a talk show on science, you get a journalist, and then they interview a different scientist every week or every day, whatever. But who tunes in to that?"
Nobody? "No, it's not that bad. Just, so who tunes in to that? People who already know they like science. Who serves the people who don't know they like science?"
So he tricks them?
"Shhhh" Tyson laughed.

Neil deGrasse Tyson laughs a lot, and his office is filled with all sorts of funny science stuff.
He has a way of popularizing and personalizing his message, signing off as "your personal astrophysicist."
But make no mistake: He takes very seriously his role as starry ambassador.
"The act of looking up has always been one of reverence, with or without religion," he said. "There's the universe you have got to contend with -- what does it all mean? Everybody carries questions with them, harbors cosmic curiosities. And I'm a servant of those curiosities."

For more info:
Thanks for reading CBS NEWS.
Create your free account or log in
for more features.