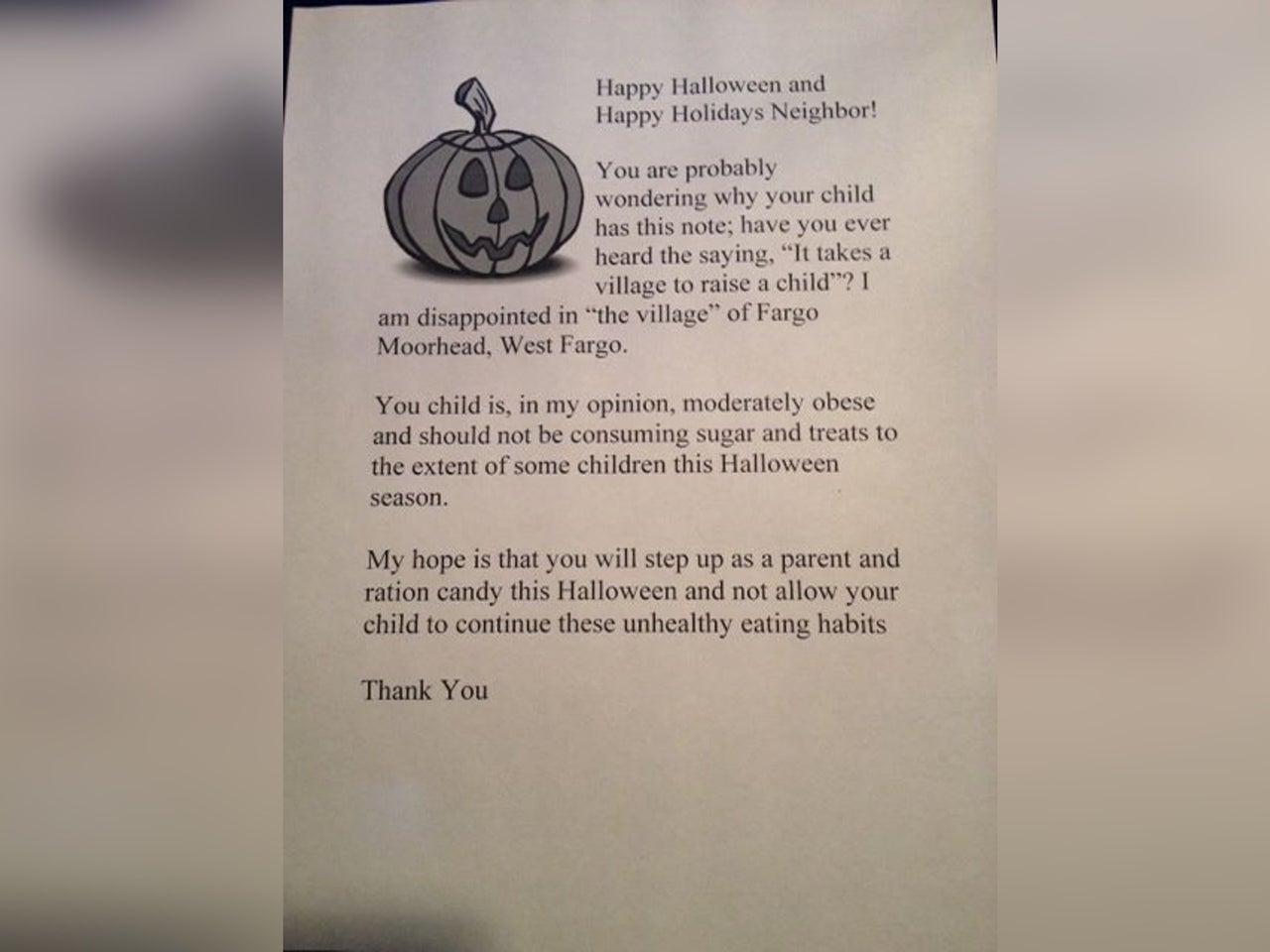 N.D. woman to hand out "fat letters" to obese kids during Halloween
Updated 3:36 PM ET
Most children expect to get candy when they go trick-or-treating. But, if they stop by one Fargo, North Dakota woman's house, they might get an unexpected "fat letter."
A station manager told valleynewslive.com in Fargo that a woman identified as Cheryl called into the Y-94 morning program saying that she wanted to make a stand against obesity during Halloween. Her idea? Give children who had extra pounds on them a letter instead of a sweet treat.
"You (sic) child is, in my opinion, moderately obese and should not be consuming sugar treats to the extent of some children this Halloween season," the letter reads. "My hope is that you will step up as an adult and ration candy this Halloween and not allow your child to continue these unhealthy eating habits."
Cheryl explained that she just wanted to send a message to the parents that their children had weight issues.
"I think it's just really irresponsible of parents to send them out looking for free candy just 'cause all the other kids are doing it," she said during the interview.
Some people have questioned if the letter is a hoax, but it has sparked outrage nonetheless.
Some California and Massachusetts schools have also been accused of sending "fat letters" home with students. These notes include scores of a child's mass index (BMI), a height-to-weight ratio that is used by medical professionals to designate if a person is underweight, normal weight, overweight or obese. Other letters directly address if a child is overweight and obese, and include recommendations on how to help the child lose weight.
The practice has been discontinued in Mass. because of fears that the letters may cause self-esteem and bullying issues.
North Dakota State University assistant professor of clinical psychology Dr. Katie Gordon told valleynewslive.com that the unsolicited fat letters could cause emotional problems for these kids instead of helping them with their weight issues. She said that having an overweight or obese child should be a matter between the child's pediatrician and parents.

"That's not something that someone can judge -- the health of someone -- just by looking at them," Gordon said. "I think that's the main thing. Even if a child is overweight, they might be very healthy because of what they eat and how they exercise. It's ineffective anyway because it's not likely to help the kid."
Thanks for reading CBS NEWS.
Create your free account or log in
for more features.