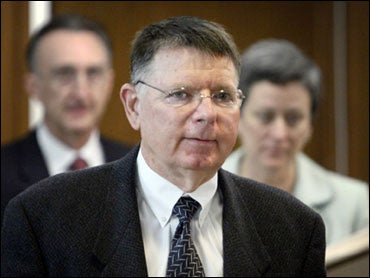 Murdered Abortion Doc Saw Life As Mission
To some he was an unflinching hero, to others a remorseless villain. As a late-term abortion doctor, George Tiller knew he had chosen a dangerous career, one that made him a lightning rod. His clinic was a fortress, his days marred by threats, but he refused to give up what he saw as his life's mission.
"He never wavered," says Susie Gilligan, who knew Tiller as part of her work in the Feminist Majority Foundation. "He never backed away. He had incredible strength. When you spoke to him, he was a soft-spoken man, a very gentle man. He said, 'This is what I have to do. Women need me. I know they need me.'"
Tiller, 67, whose Wichita, Kan., clinic had been the target of anti-abortion protests for more than two decades, was fatally shot Sunday while serving as an usher at his church. The suspect, identified by police as Scott Roeder, was taken into custody three hours later on suspicion of murder.
Roeder's ex-wife, who asked not to be identified, said he was obsessed with fighting abortion, reports CBS News correspondent Jeff Glor.
"I think he thinks he's right," she told Glor. "And that he was justified in doing what he's done."
As one of a few doctors across the nation to perform third-trimester abortions, Tiller had survived an earlier shooting, his clinic was bombed, his home picketed. He hired a Brink's armored truck to take him to work for several weeks, he had federal marshals protecting him for 30 months. He built a new surgical center without windows and he was known to wear a bulletproof vest, sometimes even to church.
Through it all, he stood defiant.
When a pipe bomb heavily damaged his clinic in the mid 1980s, he hung a sign outside the rubble saying: "Hell, No. We Won't Go!" He offered a $10,000 award - which was never collected.
When thousands of protesters gathered at the Women's Health Care Services clinic in 1991 for the 45-day "Summer of Mercy" demonstration staged by Operation Rescue, he was again unbowed.
"I am a willing participant in this conflict," he said at the time. "I choose to be here because I feel that it is the moral, it is the ethical thing to do."
He told The Wichita Eagle newspaper in 1991 that prayer and meditation helped him through hard times. "If I'm OK on the inside," he said, "what people say on the outside does not make much difference."
When a woman passing out anti-abortion literature shot him in both arms outside the clinic two years later, he briefly pursued her by car, recalls Peggy Bowman, his former spokeswoman. "He didn't even know he was shot and all of a sudden he saw this blood (and figured), 'I probably shouldn't spend my time chasing this woman,'" she says.
Tiller suffered minor wounds - and was back at the clinic the next day. (That's when he hired the armored truck.)
This spring, Tiller was acquitted of misdemeanor charges of violating Kansas restrictions on late-term abortions. Shortly after, the state's medical board announced it was investigating allegations against him that were nearly identical to those a jury had rejected.
Tiller's outspokenness rankled his critics, who decried as a publicity stunt his offer several years ago to provide free abortions on the anniversary of the Roe vs. Wade Supreme Court decision that legalized abortion. He said at the time at least 32 low-income women signed up for the free first-trimester abortions.
Abortion opponents also claimed Tiller's large financial involvement in Kansas politics thwarted prosecutions against him. They routinely blamed Tiller's "corrupt influences in the government" whenever legislation strengthening state abortion laws failed to pass the Legislature or was vetoed by the governor.
While anti-abortion activists have condemned Tiller's death, Randall Terry, founder of Operation Rescue - who also said the gunman was wrong - told the National Press Club on Monday the doctor was "a mass murderer and, horrifically, he reaped what he sowed."
Tiller, a former Navy flight surgeon, hadn't planned to be an abortion doctor. He hoped to become a dermatologist.
But when his father, also a doctor, died in a plane crash (his mother, sister and brother-in-law also were killed), he took over the family practice. He soon learned the elder Tiller had performed abortions.
"In reading through some of his records, he realized his father had done abortions when they were illegal," says Bowman, his former spokeswoman. "At first, he was really shocked. Then in going through those charts, he totally began to understand the importance of this service."
Friends and colleagues say Tiller, a father of four and grandfather of 10, was a strong-willed, unassuming man who was quick with a hug or a joke. He decorated his office with family photos. He cherished rituals; he raised American flags in his clinic parking lot after the 1991 protests were over and later gave them to volunteers.
"He was never riled, he was always calm and cool," says Eleanor Smeal, president of the Feminist Majority Foundation. "He was a very serious man, but a very good-natured one."
In a 2008 speech to a young women's leadership conference sponsored by the foundation, he said he was on a hit list in 1994, leading to federal protection. His wife was stalked, he said, and the names of his vendors were made public on the Internet.
"But the good news," he said, "is we still live in the United States of America" and Roe vs. Wade allows women the opportunity to terminate pregnancies.
Dr. Susan Robinson, a California obstetrician-gynecologist who calls Tiller her mentor, recalls one day when she asked him: "How can you stand it being in a pressure cooker?' He said, 'If it it's none of my business, I don't get involved. If it doesn't matter, I don't get involved. If there's nothing I can do about it, I don't get involved.'"
But it was clear his work had taken a toll. Willow Eby, who worked as a volunteer escort at the clinic, remembers a conference she attended last year for abortion providers where he talked about his work.
"He explained that this would take your youth, it would take your energy, it would wear you down," she recalls. "But he said he would not let down the women who needed him badly."
Tiller once said his "gifts of understanding" helped him bring a service to women that aided them in fulfilling their dreams of a happy, healthy family. It was important, he said, that women have a choice when dealing with technology that can diagnose severe fetal abnormalities before a baby is born.
"Prenatal testing without prenatal choices is medical fraud," he declared.
Colleagues said Tiller's office walls were lined with letters from patients expressing their thanks.
One woman who turned to him was Miriam Kleiman, of northern Virginia. Nine years ago, a routine sonogram revealed her 29-week-old fetus had major brain abnormalities that prevented the baby's heart and lungs from functioning properly.
Doctors told her the baby would die in utero or soon after birth. Kleiman's doctors told her a third trimester abortion was not possible.
Kleiman says she could not bear a two-month death watch. "There was a baby dying inside of me, and it wasn't if, but when," she says.
After desperate pleas, she says, a doctor scribbled Tiller's name on a scrap of paper. She and her husband flew to Wichita and drove through a gauntlet of protesters to the fortress-like clinic.
She remembers Tiller and his staff as kind and compassionate. She had the abortion and brought home her baby to be buried.
Kleiman, who now has two sons, says she cried when she heard of Tiller's death while watching her son's soccer game.
"I fear," she says, "that other people might not have this option in the future - to have a medical option that was safe, that was legal and allowed us to say goodbye with dignity."
Thanks for reading CBS NEWS.
Create your free account or log in
for more features.