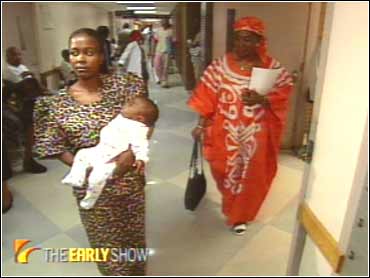 Mozambique Tree Baby In DC
A baby born in a tree during the devastating Mozambique floods four-and-a-half months ago is making the rounds of Washington let Americans know the country still needs relief help.
One hour after Rositha Chirindza was born, reports CBS News Correspondent Diana Olick, she and her mother, Carolina Chirindza Chibure, were rescued from the tree by a South African military helicopter.
The floods killed 700 people and at least two million lost their homes or livelihoods. Reconstruction is expected to take years.
Chibure and her husband lost their farm.
CBS
The dramatic rescue
last March
---
The U.N. Food Program plans to continue feeding 600,000 survivors until September when the harvest is due. Donor governments have fledged $450 million.

Ambassador Marcos G. Namashulua appealed for contributions to a fund at the Mozambique embassy "not only for the baby Rositha but all the children affected by the floods."

"There's a shortage of food, there's a shortage of medicine, there's a shortage of practically everything in those resettlement camps," said Namashulua. "This resettlement program, or the resettlement phase, is still going on...We are still looking for some help."

Eleanor Holmes Norton, congressional delegate from the District of Columbia, said she and Rep. Cynthia McKinney, D-Ga. — both mothers — could not imagine what Cecilia had gone through.

"In coming here we believe that the mother and the baby and the family are doing something important for their country and for the families of Mozambique," Norton said.

"Simply being born, by the will to be born, this baby has symbolized the strength of her country by determining not to be defeated by the flood," she added.

Rositha murmured and gurgled most of the time, plucking at the interpreter's striped jacket, grabbing at a microphone and crying out only a few times. Her mother said she weighed six kilograms - more than 13 pounds.

She received a check-up by Dr. Sandra Elizabeth Ford at Howard University Hospital. "She's beautiful, she's really healthy, a very happy baby, everything physically checked out. Perfectly fine," Ford told reporters.

The Fellowship Chapel of the United Church of Christ in Detroit helped finance their trip.

©2000 CBS Worldwide Inc. All Rights Reserved. This material may not be published, broadcast, rewritten, or redistributed. The Associated Press contributed to this report
Thanks for reading CBS NEWS.
Create your free account or log in
for more features.