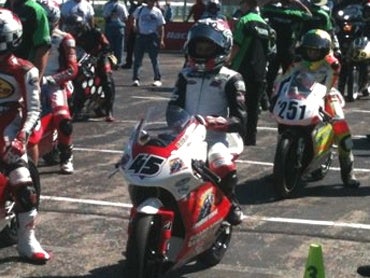 Motorbike Racer Peter Lenz, 13, Killed at Indy
Updated at 5:00 p.m. EDT.
A 13-year-old motorcycle racer died Sunday after falling off his bike and getting run over by another motorcycle at Indianapolis Motor Speedway.
Peter Lenz of Vancouver, Wash., was pronounced dead by the Marion County coroner after sustaining "traumatic injuries." The accomplished teenage rider crashed on a warmup lap before his race and was struck by 12-year-old Xavier Zayat, who was uninjured in the accident.
Medical workers immediately placed Lenz in a neck brace, put him on a stretcher and began chest compressions while taking him to a hospital. The coroner confirmed his death about 3 hours later, the first at the speedway since IndyCar driver Tony Renna was killed in October 2003.
"Peter passed away early this morning when he was apparently struck by another rider," said a posting Sunday on Lenz's Facebook page, which was signed "Dad."
"He passed doing what he loved and had his go fast face on as he pulled onto the track," the posting said. "The world lost one of its brightest lights today. God Bless Peter and the other rider involved. 45 is on another road we can only hope to reach. Miss you kiddo."
Lenz rode the No. 45 bike. It wasn't immediately clear whether his parents were in Indianapolis and a home phone number for the family was not listed.
Track officials confirmed that Lenz is the youngest racer killed at Indianapolis Motor Speedway, which opened in 1909 and has been used by numerous series ever since.
"On behalf of the Lenz family, we would like to thank Peter's friends and supporters for all their help throughout the years," the family said in a statement passed out to reporters. "We are deeply saddened by the loss but know that Peter is racing even faster in the sky."
The family said additional thoughts and messages could be posted on the Facebook page.
The crash delayed the start of the U.S. Grand Prix Racers Union event in which Lenz was scheduled to start, but the three races sanctioned by the MotoGP Series all started on time.
USGPRU spokesman Bill Syfan did not respond to interview requests from The Associated Press, but a news conference was scheduled for later Sunday.
Despite being only 13 years old and listing his profession on the Grand Prix website as "kid," Lenz was already a well-known racer. He had been riding bikes for six years, won nine national championships and nine regional titles, and appeared to be a rising star in a series that bills itself as a prep for riders 12 to 18 who hope to compete at a higher level.
Those races are not typically held in conjunction with MotoGP events.
The fatal accident Sunday will almost certainly spark a debate about how young is too young for racers to be competing on one of the world's best-known tracks, whether it's inside a car or riding a motorcycle capable of speeds well over 100 mph.
Speedway officials declined to comment on the issue but pointed out that East Coast Region riders also compete at Virginia International Raceway and Road America, while the West Coast Region holds races at Miller Motorsports Park in Utah and Portland International Raceway.
MotoGP riders Colin Edwards and Ben Spies competed at even higher levels as teens. Edwards ran his first 250cc race at 17, while Spies made his first start in the 125cc series at 12.
Racing conditions were not ideal this weekend.
Hot, dry weather turned Indianapolis Motor Speedway's bumpy, 2.621-mile course into a slick track that was challenging even for the world's best riders.
Reigning world champ Valentino Rossi fell four times since practice opened Friday, including a spill Sunday morning during a 20-minute warmup session. Spies and points leader Jorge Lorenzo also acknowledged after qualifying Saturday that the track was difficult.
The Moto2 race Sunday was shortened after a big wreck took out four drivers on the first lap. Eight drivers did not finish that race.
Lenz had three third-place finishes this season in the 125GP class and had won three races in the MD250H class, which was the race being run Sunday.
By AP Sports Writer Michael Marot
Thanks for reading CBS NEWS.
Create your free account or log in
for more features.