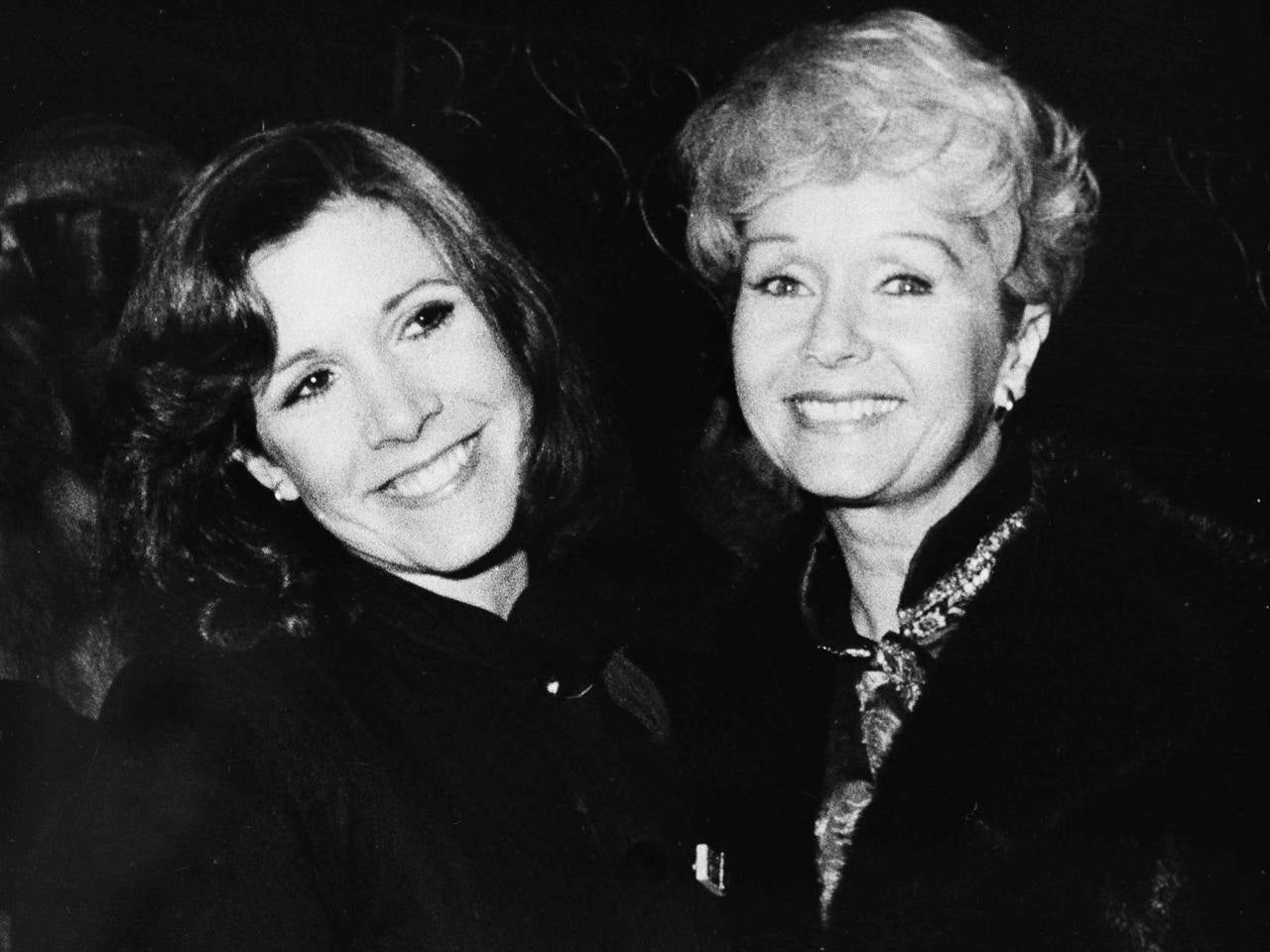 Debbie Reynolds seemed unstoppable -- and yes, unsinkable -- in the 1964 film, "The Unsinkable Molly Brown." In the end, it took nothing less than the death of her daughter Carrie Fisher to bring her down.
Mo Rocca now, with an appreciation, times two:
That Debbie Reynolds died just one day after her daughter Carrie Fisher is somehow both shocking and poignant. Todd Fisher said about his mother's passing, "She wanted to be with Carrie."
Debbie and Carrie lived right next door to each other.
When Rita Braver visited them in 2004, she asked, "What did you think when your mother said, 'Oh, by the way, honey, I'm buying the house down the driveway from you'?"
"I tried to litigate," Fisher replied.
"She called me about the house," Reynolds said. "She said, 'Mother, the man just died.' And I said, 'Should I go to the funeral?' And she said, 'No, you should buy the house.'"
But a good part of what made them so captivating as a pair was what seemed to be their differences, dramatized in Carrie's thinly-veiled novel-turned-movie "Postcards From the Edge," where the mother and daughter were played by Shirley MacLaine and Meryl Streep.
If you only knew Debbie and Carrie from their screen work, you'd think that they were from different, well, galaxies. Each epitomized her generation.
Debbie Reynolds was one of the brightest stars during Hollywood's Golden Age of movie musicals. Hers was the school of "Whatever you do, keep on smiling."
"My entire life I have always fought back, and I just feel that you don't give up, and if you get a blow you go on," Reynolds said.
The story of how she was discovered sounds like the plot to an MGM musical. She was competing in a local beauty pageant when she was spotted by a movie studio talent scout.
"They had a screen test," Reynolds recalled to Rocca in 2013. "There was a camera there, and they said, 'Look in the camera.' And I said, 'So, okay.' And they said, 'Now just talk, just ad-lib.' I said, 'Why would I do that? I don't know what I'm doing here. This is all so silly!'
"And they said, 'Well, you wanna be a movie star, don't you?' And I said, 'No. I don't know anything about it. I don't wanna be a movie star. I can't possibly be a movie star!' So Jack Warner saw the test, and he said, 'Well, she's funny! So let's put her under contract, $65 a week.'"
Two years later, she was singin' in the rain with Donald O'Connor and Gene Kelly.
Reynolds was 20 years younger than Kelly, and had no dance training: "No, no, I had no training of any kind."
But she was the ultimate trouper. "So we danced 10, 12 hours every day. There were no days off."
She danced 'til her feet were bleeding. "I think your heart hurt that, could you keep up? Were you going to fail? And Gene Kelly kinda scared me, because he was the boss, and he was brilliant. And he was a wonderful teacher. He had to teach me! And to be given a little kitty cat, and expect it to be a lion, it didn't happen overnight. I had to work, work, work without question."
Reynolds didn't just play innocent; she was innocent, said her son Todd Fisher: "All those early movies, 'Tammy' and all that? Shoot, that's just her," he said.
Rocca said, "I don't want to say 'naive,' but -- "
"But she is an innocent. You know, she's a true innocent."
On the other hand, her daughter, Carrie Fisher was all about candor and not masking the pain, and finding the humor in the vicissitudes of her very unusual life.
She was the child of a global scandal, when her father, crooner Eddie Fisher, left Debbie for Elizabeth Taylor.
"The best thing Elizabeth Taylor did for me was to get Eddie Fisher out of our house," Carrie said.
After becoming internationally famous as Princess Leia in "Star Wars," she was diagnosed with bipolar disorder. As Fisher once noted, "My mother wants you all to know this comes form my father's side."
As Rita Braver noted, in discussing Fisher's 2004 novel, "The Best Awful," "You probably are the only person in the world who could make going off on a manic depressive swing and ending up in a mental institution funny."
"It better be funny!" Fisher replied. "Otherwise, what I say is, if my life wasn't funny, it would just be true, and that's unacceptable."
Fisher saved herself -- and helped a whole lot of other people -- by writing. "Everything worked out very well in books," she said. "Much more organized and ordered than everything out here."
The differences between mother and daughter were real enough that they didn't talk for nearly 10 years.
But what was always striking, said Rocca, wasn't just that they loved each other, but that they really liked each other.
They may have come of age in two starkly different decades -- the 1950s and the 1970s -- but these two women "got" each other.
As Reynolds noted, "The reason [Carrie] can write so many books is because of me."
"Because you had given her so much material?" Braver asked.
"Uh huh."
"And she is great for material," Fisher added.
Both enormous talents, both extraordinarily likable and funny. Both of them unsinkable.
Thanks for reading CBS NEWS.
Create your free account or log in
for more features.