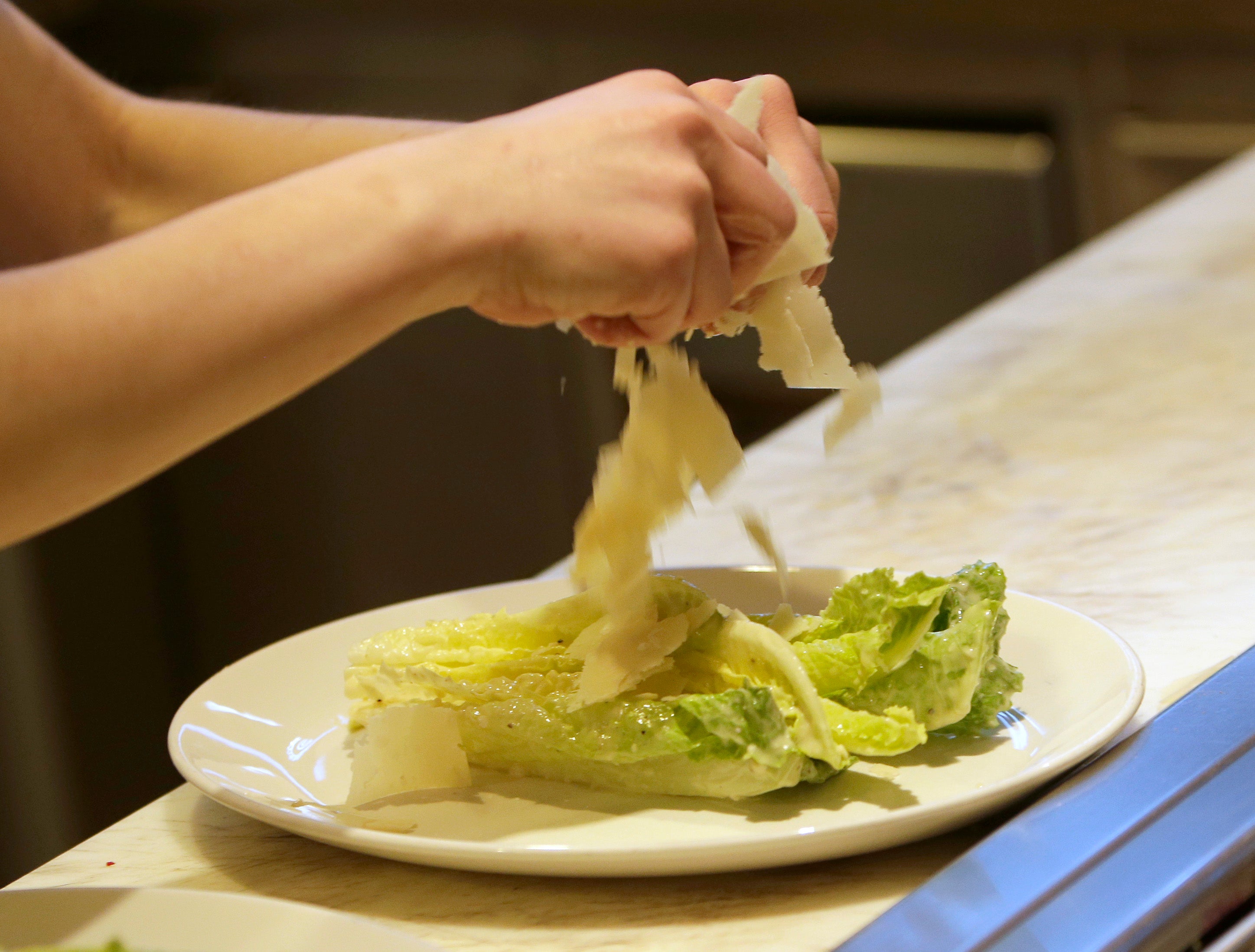 Most norovirus outbreaks caused by food preparation workers
The majority of norovirus outbreaks come from prepared foods that are contaminated by restaurant or food service workers -- often when they touch food with their bare hands, according to a new report from the Centers for Disease Control and Prevention.
According to the CDC, at least 1 in 5 food service employees report working at least once in the previous year while sick with a stomach bug. Approximately 20 million Americans are infected with the norovirus each year, which can be spread by contaminated foods or through contact with infected people.
Researchers say it takes only a few norovirus microbes to cause an infection, which may mean washing hands isn't actually enough to prevent norovirus outbreaks, though it may reduce the number. Norovirus is the most common foodborne illness. It is highly contagious and causes symptoms such as fever, headaches, diarrhea, vomiting and other gastrointestinal distress.
For the CDC report, researchers analyzed data from the agency's National Outbreak Reporting System (NORS) on norovirus outbreaks between 2009 and 2012. The CDC launched NORS in 2009 to collect information on foodborne and waterborne illness and communicable diseases. The agency relies on state and other local health agencies to report incidences of outbreaks, though many cases of food contamination go unreported throughout the country.
Over the four-year period health departments throughout the country reported 1,008 norovirus outbreaks from contaminated food. Most occurred due to eating prepared foods from restaurants, catering companies or banquet facilities. A number of outbreaks have occurred on cruise ships, but they account for only about 1 percent of all outbreaks.
Out of the 1,008 reported norovirus outbreaks, 520 included information on the source of the contamination. Out of that number, 364 of the outbreaks were due to food handling by infected workers, while 196 involved food workers touching ready-to-eat foods with their bare hands.
The report finds the majority of outbreaks were due to contamination during final preparation, such as preparing a sandwich with raw and already cooked ingredients. Leafy vegetables, fruits and mollusks, such as oysters, were the most common food categories implicated in these outbreaks.
The CDC says the U.S. must call upon the food industry to help curb the number of norovirus outbreaks by enforcing food safety practices.
The CDC strongly recommend food workers use utensils and disposable gloves to avoid touching food with bare hands. They also suggest certifying and training restaurant managers and other personnel in food safety practices. Additionally, they suggest restaurants establish policies that require employees to stay home for at least 48 hours when becoming ill with symptoms such as vomiting and diarrhea.
The recommendations from the CDC draw upon the health codes suggested by the U.S. Food and Drug Administration, which initially were drafted in 1993 and subsequently revised and updated every three to four years.
In recent years, lawmakers from a number of states have worked to address the serious public health issue of foodborne illness. Louisiana, Minnesota, Montana, Nebraska and Oregon all have health codes that encourage minimal bare-hand contact with food.
But many food industry leaders in states such as California, say enforcing such health codes diminishes the concept of high-end restaurant establishments.
Ken Uechi, a Sacrameto-based sushi chef for eight years told CBS Sacramento in January that the mandate to wear gloves has changed the nature of his job.
"It's about putting life into a piece of sushi," said Uechi. "We want to be able feel the rice, control the texture, but with gloves, it's kinda hard to."
Thanks for reading CBS NEWS.
Create your free account or log in
for more features.