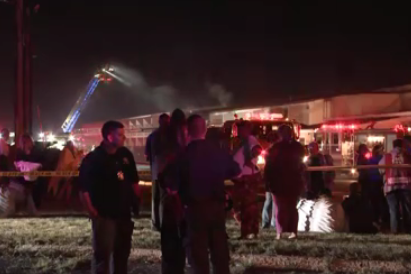 Mom and five children dead in Michigan motel fire
A mother and her five children have died in a massive fire at a motel in Benton Harbor, Michigan, according to authorities. The Berrien County Sheriff's office told CBS News that the 26-year-old mom and her children -- between the ages of two and 10 -- died in the fire at the Cosmo Extended Stay Motel.
There was no word early Saturday morning on what caused the blaze.
CBS South Bend affiliate WSBT reports that a 2-year-old is in the hospital and is being treated for injuries. Officials said that several other people were also sent to the hospital.
Twenty-seven motel rooms were occupied at the time of the fire. Police said the entire motel was affected.
WSBT reports that they spoke with a man who believes the fire may have started inside his room.
"As I woke up my bed was on fire. I said 'Oh my God.' I got my sheets and wet them and I tried to throw them on the bed and as I throw it on the bed it didn't work," said Leroy Johnson, who lives in hotel. "So I asked the person above me for some salt. As I throw salt on there I hurry and jump out and once I jump out the hole room explode flew."
The Berrien County Sheriff's Department is leading an investigation into what caused the blaze and the state fire marshal will also investigate.
Thanks for reading CBS NEWS.
Create your free account or log in
for more features.