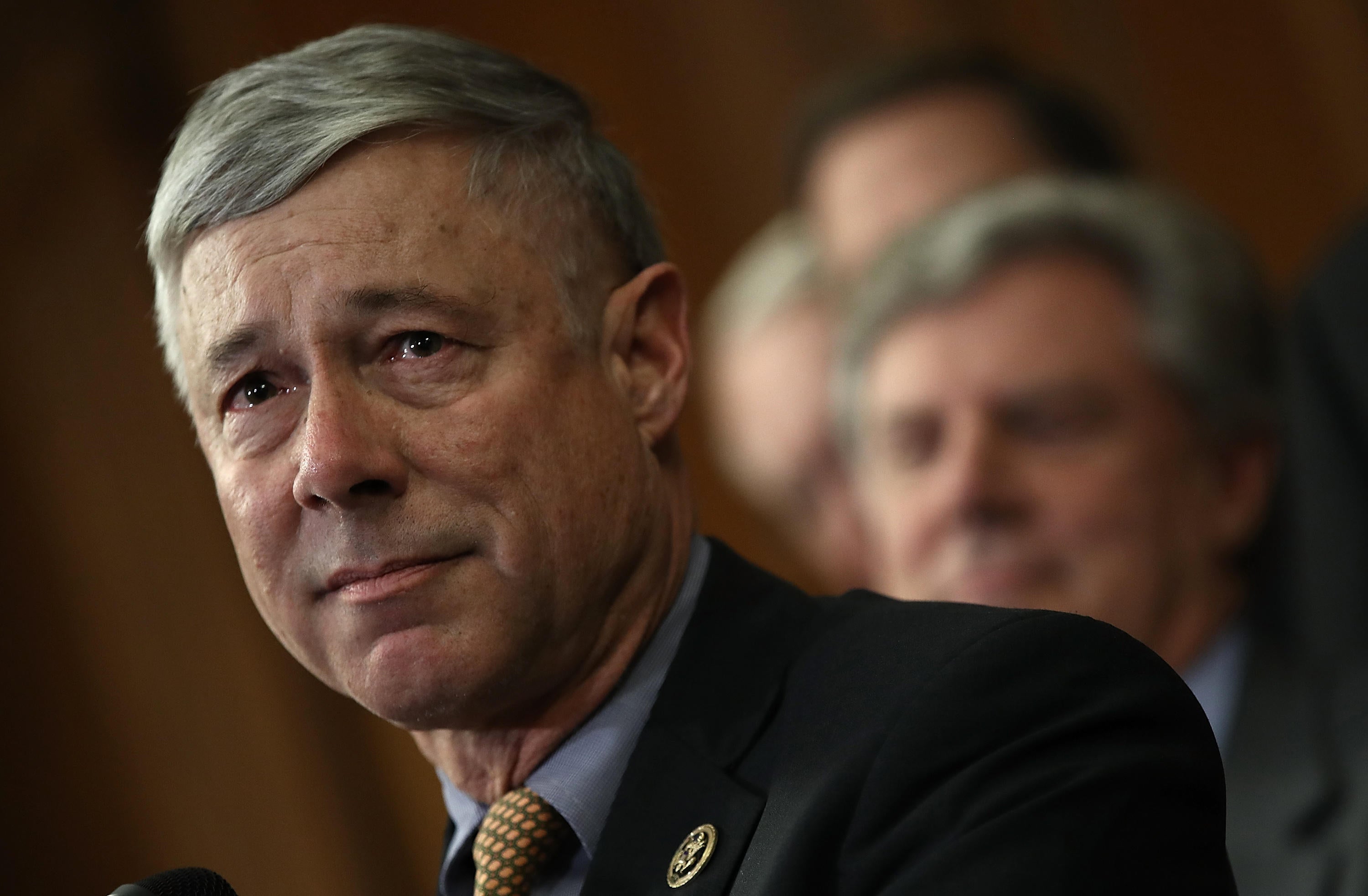 Moderate Republican Rep. Upton crafts plan to boost stalled health bill
Top House Republicans scrambling to prevent another collapse of their push to repeal much of President Barack Obama's health care law may have found a way to win over some moderate GOP holdouts.
Rep. Fred Upton, R-Mich., an influential centrist who'd initially announced opposition to his party's health care bill, said he's crafting an amendment with the backing of party leaders that could gain crucial support for the languishing measure.
A respected authority on health care, Upton said the proposal would provide $8 billion over five years to help some people with pre-existing medical conditions pay costly insurance premiums. It comes with many moderates opposing the high-priority legislation, even as GOP leaders press holdouts to back it and push it through the House before the chamber begins a week-long recess scheduled to start Friday.
Upton, former chairman of the House Energy and Commerce Committee, described the plan to The Associated Press late Tuesday. Hours earlier, he said he was opposing the bill because it weakened insurance protections President Barack Obama's health care overhaul provides people with pre-existing illnesses.
"It's not quite a done deed yet, but it addresses many of my concerns," Upton said of the new proposal.
The White House and congressional leaders were short of votes needed for House passage. Whether the proposed revision would revive the legislation was initially unclear.
Including Upton, The Associated Press has counted 21 GOP lawmakers opposing the Republican bill, one shy of the 22 needed to kill it, assuming all Democrats vote no. At least 11 others said they were undecided, but all the figures are subject to fluctuation as both sides lobby heavily.
Earlier Tuesday, several Republicans said leaders were considering adding money to fund high-risk pools or other mechanisms for helping states ease costs for people with pre-existing illnesses, who are expensive to cover. There's already around $130 billion in the legislation for such assistance, which critics call a fraction of what would be needed for adequate coverage.
Under Obama's law, insurers must charge healthy and seriously ill customers the same rates.
The existing health care measure would let states get federal waivers allowing insurers to charge higher premiums to people with pre-existing illnesses who'd let their coverage lapse. To get the waiver, the state must have a high-risk pool or another mechanism to help such people afford a policy.
The bill's supporters say it protects those with pre-existing conditions and that the exclusion would affect only some of them.
But opponents said the GOP bill effectively denies coverage by letting insurers charge the seriously ill unaffordable prices. They say high-risk pools have a mixed record because government money financing them often proves inadequate.
The money in Upton's plan would help people with pre-existing illnesses pay premiums in states where insurers can charge them more. He said he was working on the proposal with Rep. Billy Long, R-Mo., another announced opponent to the GOP bill.
An initial health care bill imploded in March under opposition by conservative and moderate Republicans. The overall bill would cut Medicaid, repeal tax boosts on higher-earning people, eliminate Obama's fines on people who don't buy insurance and give many of them smaller federal subsidies.
The White House and House leaders continued their hunt for the 216 votes they'd need to send one of President Donald Trump's and the GOP's top campaign priorities to the Senate, where its fate is uncertain. House Speaker Paul Ryan, R-Wis., says there'll be no vote in his chamber until leaders find enough support to win.
Vice President Mike Pence met individually Tuesday with GOP lawmakers in his Capitol office, and House leaders held sessions with members as well.
Republicans also faced headwinds from an unusual source: late night talk show host Jimmy Kimmel.
Kimmel delivered a poignant 13-minute monologue Monday describing the recent birth of his son, who had heart disease that required immediate surgery that proved successful. Before Obama's law took effect, Kimmel said many such infants could die because they'd be uninsured due to their pre-existing conditions.
"If your baby is going to die and it doesn't have to, it shouldn't matter how much money you make," Kimmel said in comments viewed online by over 4 million people. "We need to make sure that the people who are supposed to represent us, people who are meeting about this right now in Washington, understand that very clearly."
Thanks for reading CBS NEWS.
Create your free account or log in
for more features.