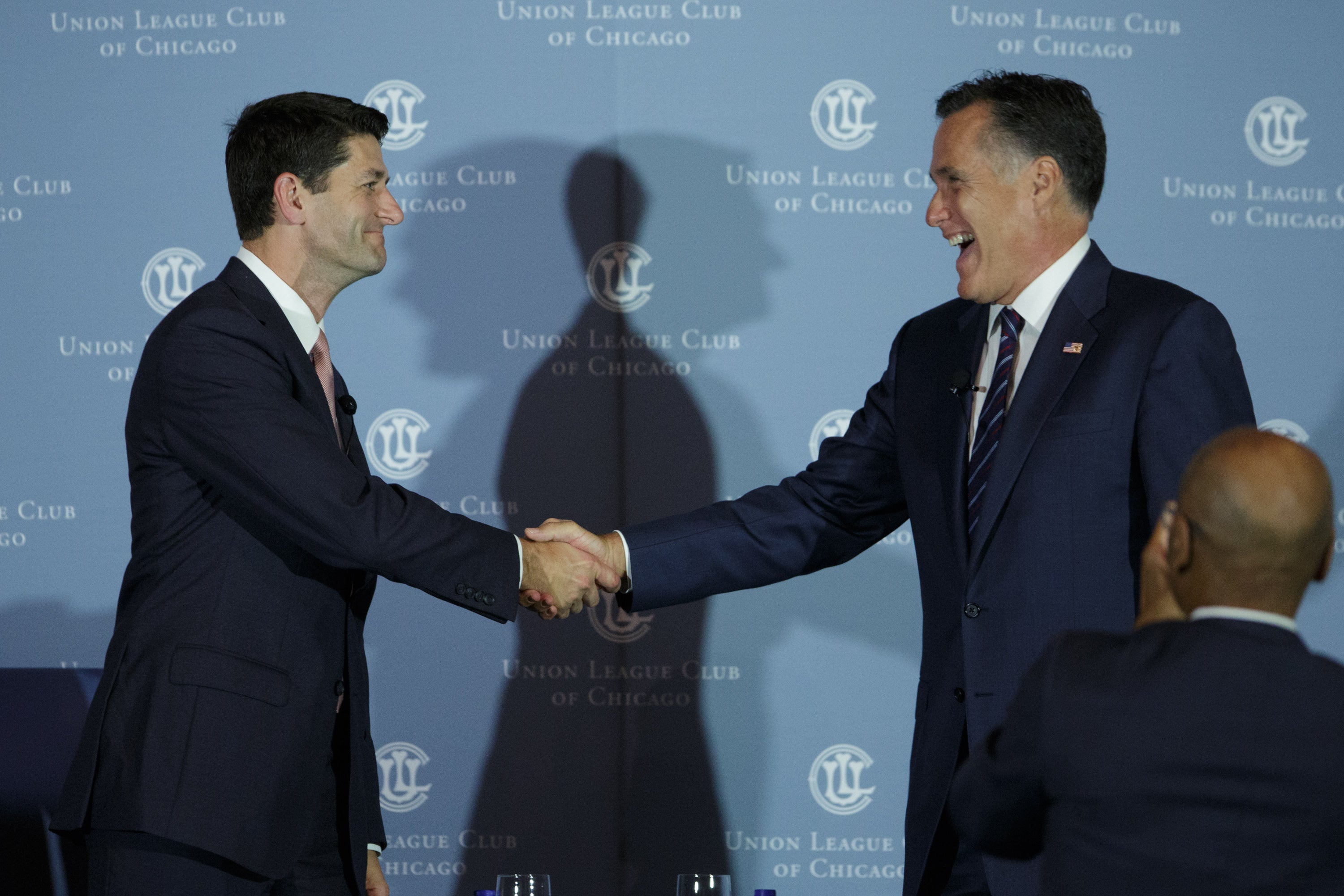 Mitt Romney, Paul Ryan talk Iraq, Ferguson, and 2016
2012 Republican presidential ticket-mates Mitt Romney and Rep. Paul Ryan, R-Wis., reprised their buddy act in a pair of appearances on Thursday, discussing foreign policy, racial tension in Ferguson, Missouri, and the possibility that one or both of them might run for president in 2016.
Romney, as he has before, savaged the president's foreign policy decisions, saying in a joint interview with Ryan on Fox News that the president's "extraordinary errors" had empowered the Islamic State of Iraq and Syria (ISIS) in the Middle East and sown unrest elsewhere.
He knocked the failure to secure an agreement that would have allowed U.S. forces to stay in Iraq beyond 2011 and the reluctance to arm moderate rebel groups in Syria, saying both decisions created a power vacuum that allowed ISIS to "grow and thrive."
He noted that even former Secretary of State Hillary Clinton had recently attempted to insulate herself from the president's foreign policy. "I think Hillary Clinton tried to explain it by saying there wasn't a foreign policy in effect," he said. "And rarely did I agree with what Hillary Clinton had to say, but on that topic I think we agreed."
Still, he added, "I think it's interesting that she tries to distance herself from the president's foreign policy, given the fact she was his secretary of state for four years."
He singled out Clinton's high profile attempt to "reset" U.S.-Russia relations in the president's first term as one of the "most embarrassing incidents in American foreign policy."
On Fox, both men also addressed the heated protests in Ferguson, Missouri, following the shooting death of unarmed black teenager Michael Brown at the hands of a white police officer.
Romney said the federal government's involvement in the case, which has included an independent investigation and autopsy, is "appropriate," given the unrest.
"I think that the federal government needed to communicate that this is a high priority and provide confidence to the people in the community that this was not going to be swept under the rug," Romney said, a point later echoed by Ryan.
In an appearance later on Thursday at Chicago's Union League Club, both men waxed nostalgic about the 2012 presidential race and exchanged some good-natured ribbing about their plans for 2016.
"The truth is it's a magnificent experience because you get to see the country person by person, state by state," Romney said of his 2012 run, according to the Chicago Sun-Times. "We learned about their life stories, and it was very touching and made me more optimistic about the future."
Of course, he joked, the end result wasn't ideal. "It's not where we wished we were," he said.
Still, he advised, "If you get the chance to run for president, do it."
Ryan quipped, "The third time is the charm," nodding at the speculation that Romney might decide to run again in 2016 despite falling short in 2008 and 2012.
"You wouldn't be so bad yourself," Romney replied. In the Fox interview, after Ryan said Romney would make a better president than he, the former Massachusetts governor replied, "He's very generous, but I had my turn. It's his turn now."
On the subject of his own potential run, Ryan remained noncommittal.
"That decision and that timeline is something I have pushed off until after the election because I believe we have more important things to do right now," he said, according to the Sun-Times. "That's my priority and I'll focus on '16 in 2015."
And of course, no buddy routine would be complete these days without an ice bucket challenge to raise money for Lou Gehrig's Disease, also known as ALS. In a video posted Thursday, Romney exclaimed, "Haha, that is cold," as Ryan doused him in ice water. The former governor, in turn, challenged his wife Ann and his Saturday Night Live doppelganger Jason Sudeikis to complete the challenge.
Thanks for reading CBS NEWS.
Create your free account or log in
for more features.