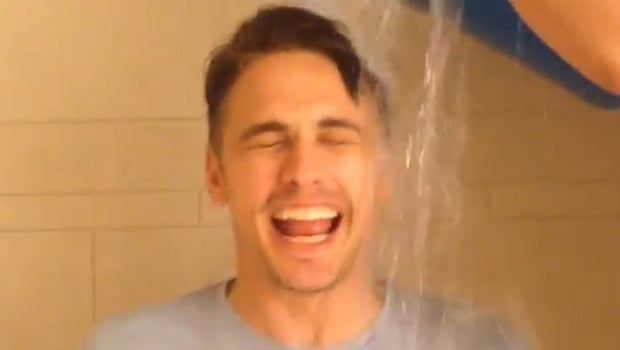 Ice bucket challenge: More than just "hashtag activism"?
There's no doubt the world of online activism has seen a breakthrough moment this summer with the popularity of the "ice bucket challenge."
More and more people, now including celebrities like Justin Timberlake and world leaders like former President George W. Bush, are recording themselves as they're doused with ice water for the sake of raising money and awareness for research into Amyotrophic Lateral Sclerosis (ALS), also known as Lou Gehrig's disease.
Thanks largely to this campaign, the ALS Association has raised $31.5 million in donations since July 29. By comparison, the group raised just $1.9 million during the same time period last year. The group has also added 637,527 new donors to its list of supporters.
"This is a watershed and celebratory moment for the nonprofit sector," Ritu Sharma the co-founder of Social Media for Nonprofits, told CBS News. "What it does is showcase the power of social media of being an equalizer of sorts," allowing even small nonprofits and social causes to gain widespread attention.
At the same time, the campaign has received blowback from those who say it amounts to "'hashtag activism,' where instead of actually doing something, you can just pretend like you're doing something by posting things all over your Facebook," as Vice.com described it.
Indeed, while the ALS Association has gained more than 630,000 new donors, there have been 2.4 million videos related to the challenge on Facebook.
"I think that is always a concern, and there are several people that have made that point, that it is rooted in narcissism and people are not truly connected to the cause," Sharma said. "But from my perspective, this a great way to increase awareness to this cause. Perhaps people do it for social vanity, or for fun, or humor -- I don't think we can take issue with that."
Still, others are concerned about the ultimate impact of the campaign. At best, they say, the ice bucket challenge could be a flash-in-the-pan moment that doesn't build any larger support for ALS research. Even worse, they warn the campaign could take away dollars from other charitable organizations that use money more effectively, particularly if donors don't do their homework before giving.
"My objection definitely isn't to throwing ice water over yourself," William MacAskill, co-founder of the organization Giving What We Can, told CBS News. His organization focuses on encouraging people to make long-term commitments to the most high-impact charities that help people in the developing world.
MacAskill called the video aspect of the campaign "fantastic." His concern, he said, is "just a matter of how it's being harnessed."
There's little conversation, he noted, about which organizations participants are most interested in supporting, or which groups get the most bang for their buck. MacAskill said that's problematic, given that research suggests there's a "fixed proportion of money" that Americans are willing to give to charity.
As the Chronicle of Philanthropy reported last year, charitable donations have represented about 2 percent of the country's gross domestic product for the past four decades, even as the number of charities and fundraising events continues to grow.
Sharma countered that the beauty of the ice bucket challenge is that its participants act on impulse. The funding going to ALS this way is discretionary money that otherwise wouldn't have gone into the nonprofit sector, she said.
"I don't think people are consciously making these decisions that I'm no longer going to give to Goodwill or a food bank," Sharma said. "They say here's a great opportunity, it's fun, I want to be part of something bigger than I am. That doesn't mean I'm not going to... support causes that are near and dear to my heart."
Still, MacAskill said the decision doesn't have to be conscious. He pointed to the psychological concept of "moral licensing." Research in that area suggests that once an individual does a good deed, they convince themselves they have license to act less ethically later.
Whatever the case may be, ALS is clearly having its moment in the spotlight. Other groups, however, are trying to replicate that success, the Wall Street Journal notes. For instance, the group Congenital Hyperinsulinism International is considering launching an "Eat pie for HI" campaign that would raise awareness of Hyperinsulinism. Children with the disease often need extra carbohydrates and sugar.
Joe Magee, vice president of RallyBound, a social fundraising platform for nonprofits, told CBS News that the success of the ice bucket challenge is like "lightning in a bottle" and can't necessarily be replicated. Still, he said there are clear factors that contributed to its success.
For one thing, the challenge is fun. Getting doused with ice water isn't too excruciating on a hot summer day, and it can be fun to watch. A number of other fundraisers capitalize on fun challenges, like the "polar bear plunge," which benefits the Special Olympics.
The campaign also benefitted from its strong organic origins. While the challenge didn't start with former Boston College baseball player Pete Frates, he is credited with making the challenge about ALS. Frates was diagnosed with the disease in 2012. As Facebook's data shows, a large concentration of the ice bucket challenge posts come from Boston.
On top of all that, Magee pointed out that Facebook's algorithms and features helped spread the ice bucket challenge videos like wildfire. The videos started gaining momentum just as Facebook began auto-playing videos in its News Feed feature. Additionally, participants can directly challenge others to join in by tagging them on Facebook.
By getting people to directly challenge their friends to donate to the ALS Association, the organization takes care of "the ask" -- a hot topic in the nonprofit sector.
People often bristle at unsolicited requests for donations, and "that's valid when it's coming from an unknown brand or a faceless campaign," Magee said. "But when I read these stories and see 15 of friends from college dumping water on their heads, I think that's hilarious and I want to get involved."
The task now for the ALS Association is to harness that enthusiasm, which can be challenging for any organization that finds itself at the center of a grassroots campaign.
"For the last two or three weeks they've been completely in scramble mode to catch up," Magee said. "Organizations these days don't own their message or brand -- it's the consumer telling their story."
Other organizations -- some less legitimate -- may siphon off the support for ALS research, but the ALS Association should be building a database of its new donors so it can keep up a conversation with them, Magee said.
MacAskill, meanwhile, has proposed using the ice bucket challenge to raise funds to wipe out malaria. Others online have used the campaign to bring attention to other causes they find worthy.
"We want to reward the charities that are doing the most good, it's that ability to help others that we should find exciting, not the number of retweets we can get," MacAskill wrote.
Thanks for reading CBS NEWS.
Create your free account or log in
for more features.