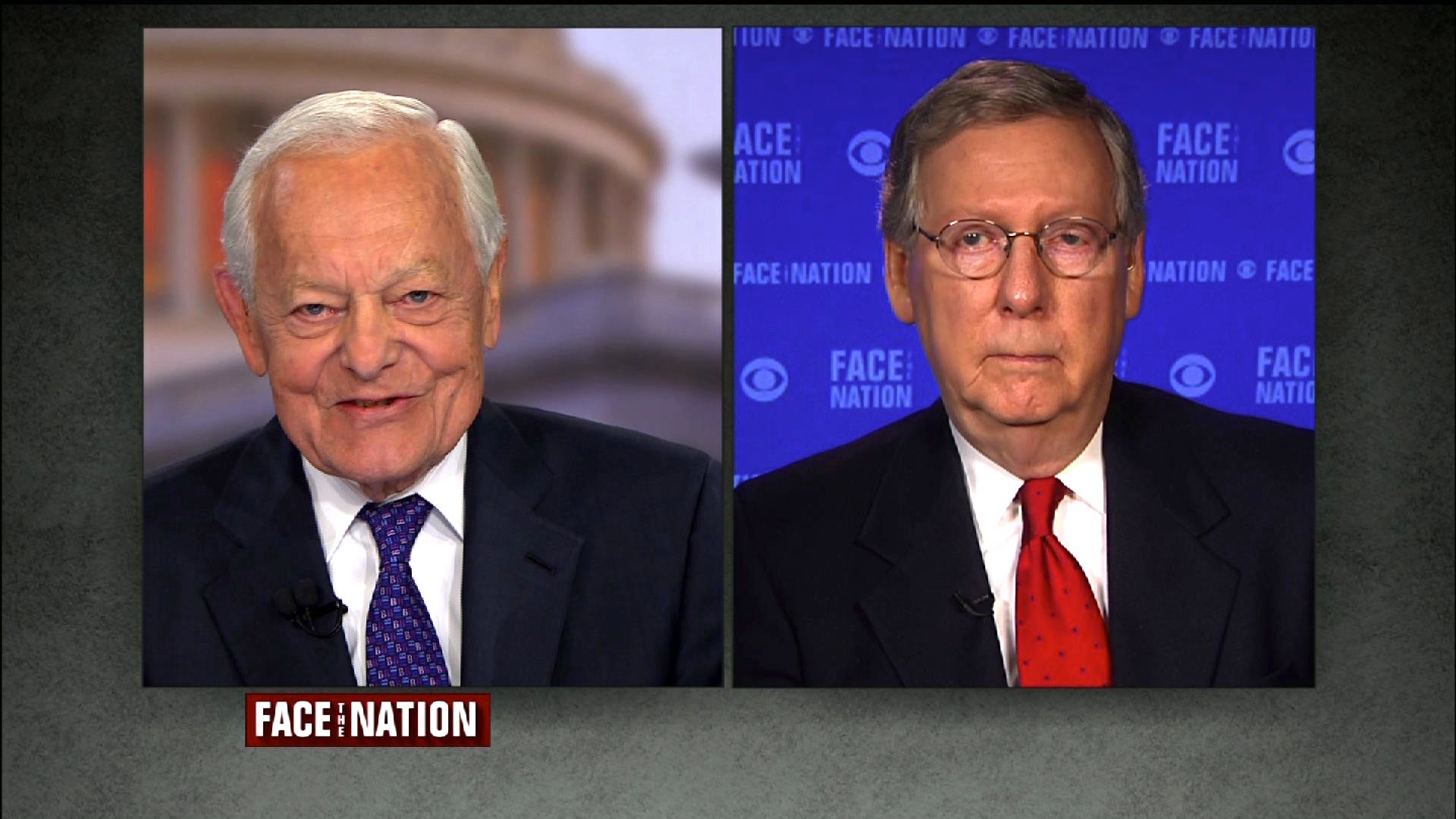 Will the GOP demand something in return for debt ceiling hike?
Senate Majority Leader Mitch McConnell, R-Kentucky, said Sunday that Congress will not shut down the government or default on the United States' debt obligations, but that Republicans might seek to attach unrelated legislation to an increase in the debt ceiling next week.
Treasury Secretary Jack Lew wrote to congressional leaders last week informing them that the U.S. would reach the limit on borrowing on Monday, March 16. Starting Friday, the Treasury Department will begin taking extraordinary measures to continue financing the government.
"I made it very clear after the November election that we're certainly not going to shut down the government or default on the national debt. We'll figure some way to handle that. And hopefully, it might carry some other important legislation that we can agree on in connection with it," McConnell said on CBS' "Face the Nation."
President Obama has resisted previous Republican efforts to attach other legislative priorities to debt ceiling hikes but the GOP has successfully extracted spending cuts from Democrats in exchange. But the fight over the debt ceiling that came during the 2013 government shutdown hurt the Republicans' standing among Americans, decreasing their appetite for confrontation.
McConnell also weighed in on the news that the Department of Justice is preparing to file criminal corruption charges against New Jersey Sen. Bob Menendez, a Democrat. Asked whether Menendez should step down from his post as the top Democrat on the Senate Foreign Relations Committee, McConnell said, "No charges have been brought yet. But typically when these kinds of charges are brought, people step aside from their leadership positions for a pendency of time. But that will be up to the Democratic leader, Senator Reid, to make that call."
As for the prospect of cooperation between the Republican-controlled Congress and the White House this year, McConnell said he saw areas for agreement despite early clashes on issues like the Keystone XL pipeline and Iran negotiations.
"I think we're going to be able to make progress on trade. I think we're going to be able to make progress on cyber security," McConnell said. "When the American people elect divided government, they're not saying they don't want anything done. They're saying, 'We want you guys on each side to look for things that you can agree on to make progress for the country.' And that's always my first choice."
Thanks for reading CBS NEWS.
Create your free account or log in
for more features.