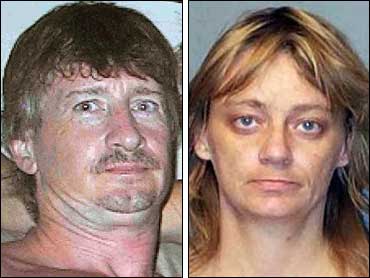 Missouri Jurors View Sex Torture Video
Jurors in the capital-murder case of a man accused of killing two women viewed a DVD recording Wednesday of the women being beaten and sexually tortured.
The jury in the trial of Richard Davis, 44, reviewed 90 minutes of edited images taken from seven hours of videotapes that police found in Davis' apartment.
According to previous testimony, the videotapes showed Davis and his girlfriend, Dena Riley, brutalizing two women - Marsha Spicer, 41, and Michelle Huff-Ricci, 36.
Davis is on trial for the May 2006 death of Spicer. He faces 40 felony counts, including capital murder, and could face the death penalty if convicted.
Riley's trial is scheduled for next year. Davis and Riley also are charged with capital murder in the April 2006 suffocation of Huff-Ricci.
The DVD played Wednesday could be seen only by the jury, judge and attorneys. Others in the courtroom, including Spicer's family, could hear the audio; the relatives left the room before the recording finished.
At one point, a victim is heard screaming and crying. Several minutes later the same woman begs, "Please wait," then the sound of duct tape being unrolled is heard. Later a woman's screams were heard, followed by another woman's voice telling her to be quiet.
Elsewhere on the recording, a woman is heard gasping for air.
---

Read the sheriff's release on the pair's arrest.
Check out court documents and charges in the death of Marsha Spicer.

---
Police found Spicer's battered and nude body in a shallow grave in May 2006. Autopsy results indicated she had been strangled.

News of the find led police to two women who shared stories of a man who liked to choke women during sex. That led them to Davis and Riley, who denied knowing Spicer.

A search warrant for the couple's apartment found the videotapes, among other evidence. By the time authorities issued arrest warrants for Davis and Riley, they had left the area; they were captured in southwest Missouri after a five-day manhunt.

Police later linked the two to Huff-Ricci, who had disappeared more than a month before Spicer's body was found. Police have said both defendants led investigators to Huff-Ricci's charred, skeletal remains in rural Clay County, just north of Independence.

Riley and Davis also have been indicted in Kansas on a federal charge of kidnapping a 5-year-old southeast Kansas girl related to Davis after fleeing the Kansas City area. Court documents said the child had injuries consistent with sexual abuse.

Thanks for reading CBS NEWS.
Create your free account or log in
for more features.