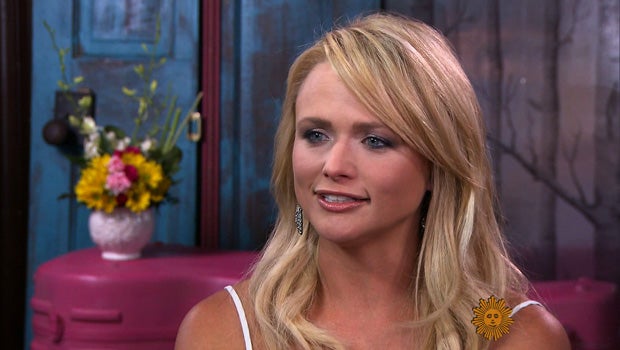 ​Miranda Lambert: Little bit tough, little bit sweet
"The House That Built Me" is just one of the country hits bearing Miranda Lambert's unique stamp. And Lambert's spoken words are as distinctive as the ones she sings. Lee Cowan now with A Summer Song:
Even if you don't know country music, one look at Miranda Lambert and it's easy to see why she's the queen of the country ball.
It's not just her blonde hair or her blue eyes. It's because Lambert's brand of country is about more than just pick-ups and partying.
"I think a good song makes people feel something," she said.
"And you've said every time that you've opened your heart to do that, you've ended up being successful," said Cowan.
"Being honest, that's my trick!" she laughed. "That's all I got. It's in everyday life, and it's in my music. It gets me into trouble sometimes, but I just feel like that's how God made me, is just to whatever I feel is on my face and out of my mouth!"
There's a tattoo on her forearm, which she got when she was 22, that she says pretty much sums her up: "They're Colt 45s -- gun that won the West - and little angel wings. So little bit tough, little bit sweet. You're lookin' at it!"
Lambert made her name with rip-roaring anthems about heartache and revenge, with names like "Kerosene." Her fiery style was something country music hadn't seen in a while.
"Does that make it hard in some ways because country music didn't know where to put you?" Cowan asked.
"It took a minute. Yeah, it took a little bit," Lambert said. "I don't think people really understood what it was about. And country radio, too, at first, I think it was like too much, they were afraid people wouldn't respond, you know?"
"Were you ever afraid that people wouldn't respond?"
"No. I was overly confident!" she laughed.
The Academy of Country Music has named her Female Vocalist of the Year for the last five years in a row.
Lambert's four solo albums have sold more than a million copies each -- and this week she's out with her fifth. It's called "Platinum," named in part, she says, for the color of her hair and her Airstream trailer.
It's a softer Miranda -- now 30 - who is singing less about revenge, and more about reminiscing.
Hey, whatever happened to waitin' your turn,
Doing it all by hand,
'Cause when everything is handed to you,
It's only worth as much as the time put in.
It all just seemed so good the way we had it,
Back before everything became automatic.
"I feel like I rushed through a lot of my 20s, just in a hurry to get to the next thing, the next thing," Lambert said. "And now I feel like I'm excited to sort of slow down and enjoy the moment a little more and whatever I'm going -- just hanging out a little bit more."
These days, she's hanging out in Tishomingo, Okla., population about 3,100. She left her beloved Texas to move here and marry an Oklahoma native. But not just any native: she hitched her wagon to fellow superstar Blake Shelton.
They are country music's power couple -- stars in their own right, but collaborators, too. They co-wrote Lambert's hit single, "Over You."
"Music is what drew us together in the first place," said Lambert. "But we do have a lot in common outside of that. So that's why our relationship is strong."
But that relationship has been tested by the tabloids: "I'ma lone and pregnant - don't I look miserable? Yeah, I've had like four babies in the last two months," she laughed, "And we have $100 million divorces. Blake's like, 'If one of us is getting $100 million divorce, then we're getting divorced!"
Then there's the endless talk about her weight.
"I've never been afraid of talking about Spanx and eating junk food and drinking and whatever else," she said. "I just am who I am, and then all of a sudden it's a big deal. I'd like all I did was cut out Cheetos, and now the whole world's talking about it."
Tishomingo offers a sanctuary from it all. She's turning an old downtown building into a bed and breakfast; and she owns the shop across the street, called the Pink Pistol, where she offers a little bit of everything.
"I want people to come here and see our little town," she said. "I want people to see what it's like living in the country, in Oklahoma, and to bring commerce to Tishomingo."
For now this is home -- unless she ever does become a mom. Then it's a different story.
"My mom's like, 'If you ever get pregnant, you better haul ass for the border. We're not having an Okie!'" Lambert laughed.
Texas is her first love. She was born in Longview, where she started writing and performing before she could drive.
"I wrote my first song when I was 14. It was horrible," she laughed. "It was about a girl going to Nashville to be a country star . . . Duh!"
She had plenty to write about. When she was six, her parents founds themselves bankrupt. "We lost literally everything. We were homeless. Kind of out of the blue. So when you see that happen, you sort of go into survival mode. Even though you're a little girl, I could feel that. I knew something was wrong."
Her parents got back on their feet, and opened an private investigator business, and for a time would bring some of their cases home -- taking in victims of domestic abuse.
"They'd come over with black eyes and bloody noses and it's like, it's real. That's real," said Lambert. "Seeing and hearing about 'bad,' gave me the feel to write about stuff like that."
Case in point: her first Top 10 hit:
I'm goin' home, gonna load my shotgun,
Wait by the door and light a cigarette.
If he wants a fight, well, now he's got one,
And he ain't seen me crazy yet.
He slapped my face and he shook me like a rag doll.
Don't that sound like a real man.
I'm going to show him what little girls are made of:
Gunpowder and lead.
"When I have a woman come up to me and say, 'Gunpowder and Lead' saved my life, I got outta there, I got the hell outta there, he was gonna kill me,' I'll just get teary-eyed with them, and I just know what they mean and that's all they need to say. And that's what it's about, you know?"
Her music and her faith have both been constants in her life. She makes a point to pray with her band before every show.
"That foundation is what always keeps me centered when I stray or get lost or act the fool, per se," she said. "I come back to God. I have tattoos, I like to have cocktails, I cuss a lot. I blame that on Blake Shelton! But I, you know, I do know when I need to rope it in and ..."
Just then a loud crash was heard -- equipment falling.
"Well, Hell's bells!" said Lambert, who took it as a sign. "That was God saying, 'Don't forget about me!'"
Keeping things in perspective is important. In her few moments of free time, she's taking riding lessons -- something she never quite mastered in Texas. "It's hard, a lot harder than I expected. But it's a challenge, and I like a challenge."
The biggest challenge is riding this horse -- last year's birthday present from her husband.
"I'm learning to jump -- very slowly," Lambert said. "I have eaten dirt a couple of times. So that was fun. That's how you learn, right? Get back on, try again."
Whether country girl or cover girl, Miranda Lambert is comfortable in her own skin -- doing what she wants, how she wants.
"We're not doing surgery here," she said. "We're not saving lives, per se. We're making music to make people feel good. And if we're not having fun, how is anybody else gonna have fun listening to it or watching it, you know?"
And when it comes to fun, she says, there's no place like Country.
For more info:
To watch a video of Miranda Lambert perform "Automatic," from her new album, "Platinum," click on the player below.
Thanks for reading CBS NEWS.
Create your free account or log in
for more features.