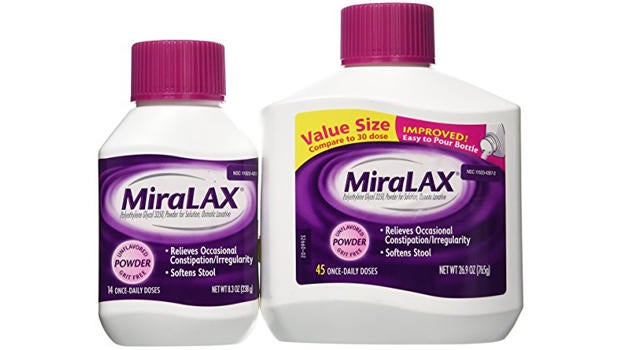 Should parents be concerned about MiraLAX side effects in kids?
When children suffer from constipation, many parents turn to over-the-counter laxatives like MiraLAX for relief. Pediatricians often recommend them. But some families are raising concerns about safety and sharing alarming accounts of apparent side effects in their kids.
An ongoing study is looking into the safety of the popular medication in response to reports that a number of children developed "neuropsychiatric problems" after taking MiraLAX.
The researchers from The Children's Hospital of Philadelphia (CHOP) are looking specifically at polyethylene glycol 3350, or PEG 3350, the active ingredient in MiraLAX and similar generic products. Medications containing PEG 3350 are not labeled for use in anyone under 17, but MiraLAX is often recommended off-label by pediatricians to treat chronic constipation in kids — sometimes for extended periods of time, even though the label advises "use no more than 7 days."
While the FDA awarded a grant to CHOP to investigate the possible side effects in 2014, the story is once again making headlines after a report from a local Philadelphia news station voicing parents' concerns.
Families told WPVI-TV that after taking MiraLAX their children experienced mood and behavioral changes, including depression, anger, anxiety, and mood swings.
"We saw a lot of the anger, a lot of the rage, a lot of the aggression," parent Mike Kohler told the station.
Jeanie Ward told the station her daughter Nicole exhibited "near psychiatric events with paranoia, mood swings, aggression, rage."
"It was horrifying to see my daughter change like that and to not come completely go back to normal," Ward said.
A private Facebook page called Parents Against MiraLAX currently has over 16,000 members. "We are a group of parents and family members who are very suspicious of PEG 3350 and are here to discuss its effects on our children," the group states. "We discuss alternative options and ways to talk to doctors about our opposition to this very dangerous drug."
How great a concern are such claims, and is there proof that MiraLAX is the cause of the problems?
Pediatric neurologist Dr. Jonathan Mink, MD, says that while the jury is still out, there are other likely scenarios that might explain the issues these parents reported.
"I see an awful lot of children who have neurobehavioral syndromes like Tourette syndrome, attention deficit hyperactivity disorder, autism, and anxiety and constipation is a common problem in those children," he told CBS News.
Though the exact connection is unclear, the nature of these disorders likely has something to do with it, as nerve cells and muscles also control bowel function, explained Mink, who serves on the executive committee of the American Academy of Pediatrics' Section on Neurology and is president of the Child Neurology Society.
That raises the possibility that problems the parents observed may have been due to an underlying condition rather than the medication itself.
"The question is, then, is this a coincidence?" Mink said. "Could this be an association where there's no cause-and-effect relationship?"
In 2014, the FDA reported 167 adverse side effects in children who had taken MiraLAX, 37 of which included neurological or psychiatric responses.
But after reviewing these cases, the agency said there was not enough evidence to change or add any additional warnings to the drug's label.
"To date, the agency's reviews of adverse event reports and medical literature indicate that the approved labeling for PEG 3350 products accurately conveys their risks, and additional warnings regarding neuropsychiatric issues in children are not warranted at this time," the FDA said in a statement. "However, because many parents and physicians rely on these products to treat serious constipation, we have decided to fund research to better determine the benefits and risks associated with the use of these products in children."
Mink says he believes the study will eventually help provide more concrete answers. "I think it's important that the study is going on to look into this because the concern has been raised," he said.
However, for children with chronic constipation for which alternative treatments have not worked, Mink says he believes MiraLAX is likely safe to use.
"It's generally my recommendation to treat symptoms that are causing problems and not symptoms that are not causing problems," he said. "My personal professional opinion is that I don't think it's likely that MiraLAX is causing these symptoms."
He notes that although MiraLAX isn't approved by the FDA for use in children, it doesn't mean it is not safe.
"For pediatricians and pediatric sub-specialists, there are many treatments that we offer to children who have very serious symptoms that have not been approved by the FDA for use in children. And that's not because they're not necessarily safe for use in children, it's because the studies have not been done in a way that has led to FDA approval," he said.
CHOP issued the following statement in response to WPVI-TV's report:
"Researchers at Children's Hospital of Philadelphia are conducting a study commissioned by the Food and Drug Administration on laxative-use by children. We cannot comment on studies that are incomplete, nor can we comment on a particular child's circumstances. We will submit our findings to the FDA upon completion of the study."
CBS News reached out to Bayer, the manufacturer of MiraLAX, which issued the following statement: "MiraLAX is a safe and effective osmotic laxative that relieves occasional constipation. It is approved and labeled for use in adults and children 17 years and older for up to 7 days, unless otherwise directed by a doctor."
The company continues: "While MiraLAX is not labeled for use in the pediatric population, there have been many clinical studies conducted with PEG 3350 in pediatric populations which have demonstrated safety for short and long term use in children with a history of chronic constipation. As part of Bayer's ongoing commitment to consumer well-being, we regularly track, analyze and report all adverse event data related to the use of the product. Results of this ongoing monitoring support the continued safe use of MiraLAX."
Thanks for reading CBS NEWS.
Create your free account or log in
for more features.