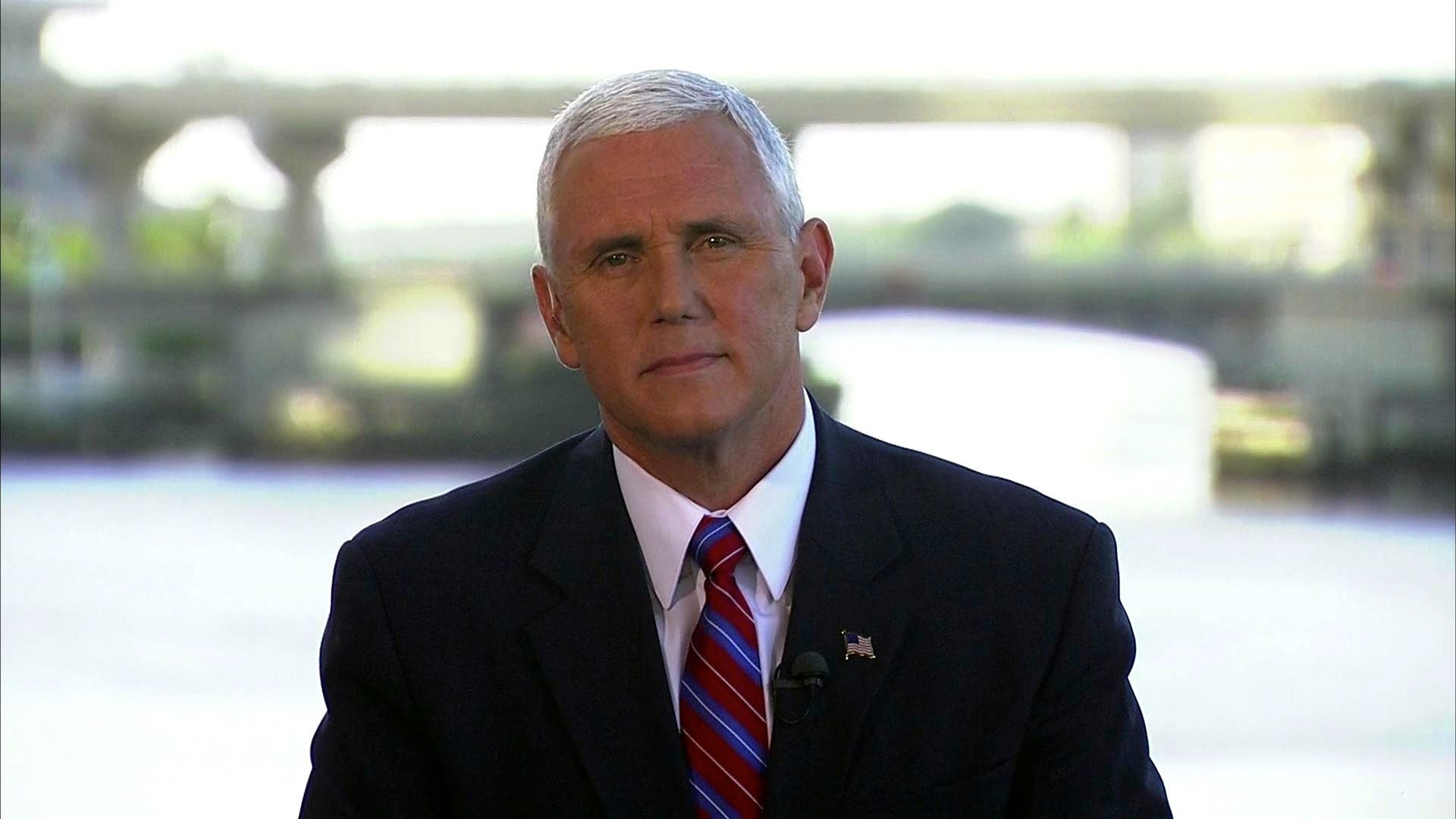 Mike Pence talks about Trump's treatment of assault accusers
Republican vice presidential nominee Mike Pence weighed in Sunday on the recent torrent of sexual assault accusations aimed at Donald Trump, defending the GOP nominee and jabbing back at questions on how Trump has treated his accusers on the campaign trail.
Of Trump's lewd 2005 remarks about women and the following allegations of assault, Pence said in a "Face the Nation," interview, "I spoke out in my concern about the 11-year-old video that came forward. He went before the American people and said that he apologized to his family and he apologized to the people of this country and said he was embarrassed about what he'd said 11 years ago."
Of Trump's remarks describing sexually aggressive behavior, Pence said that Trump "made it clear that it was just talk, not actions."
"And in the days that followed," he said, "I know there's been unsubstantiated allegations that have been made, but Donald Trump's made it clear that he categorically denies those allegations."
Pence was also asked about how Trump has treated the women who have accused him of groping and making unwanted sexual advances -- allegations that the Republican nominee has called sick, horrible, and phony.
"One of the claims you're making about Hillary Clinton is the way she treated Bill Clinton's accusers," host John Dickerson noted to Pence. "Donald Trump is treating these accusers pretty roughly, himself."
"Donald Trump has made it clear that he categorically denies the allegations that have been made," Pence replied.
"But what about the treatment of these people coming forward, sir?" Dickerson asked.
"What about, what about calling half of our -- half of our supporters a basket of deplorables?" Pence shot back, referring to Hillary Clinton's claims about Trump's supporters. "What about the emails that came out this week?"
"So it's okay if Hillary Clinton does it?" Dickerson interrupted.
"And what about the emails this week that came out with the most anti-Catholic, anti-evangelical rhetoric that I've ever seen by anybody in a high position in public life?" Pence continued, pointing to some of the leaked emails from top Clinton campaign officials dumped by WikiLeaks earlier this week.
Pence went on to attack the media for ignoring an "avalanche of hard evidence about Hillary Clinton and the Clinton Foundation and her years as Secretary of State."
"The American people feel like in a very real sense that the Democrat party and many of you in the media are working together to prevent the kind of change the American people long to see of a stronger and more prosperous America," he said.
The GOP veep candidate also discussed the heightened rhetoric from Trump and the campaign about a "rigged election" in November.
"I think what Donald Trump is talking about is frankly what appears to be the monolithic support of the national media for Hillary Clinton's campaign, their willful ignorance about the avalanche of hard evidence," Pence said.
"We'll respect the outcome of this election," he continued. "Well, look, let me be very clear. Donald Trump said in the first debate that we'll respect the will of the American people in this election. The peaceful transfer of power is a hallmark of American history. And, and elections get really tough. But, but the American people are getting awful tired of this two-on-one fight with many of you in the national media doing half of Hillary Clinton's work for her every day."
When asked specifically about some Trump supporters expressing their willingness to intimidate other voters at polling places, Pence said he wouldn't condone such behavior.
"I don't think any American should ever attempt to make any other American nervous in the exercise of their, of their franchise to vote," he said. "But look, states like my state of Indiana, manage our election process. Poll watching is a part of that process. And it's a message that I've delivered around this country."
Thanks for reading CBS NEWS.
Create your free account or log in
for more features.