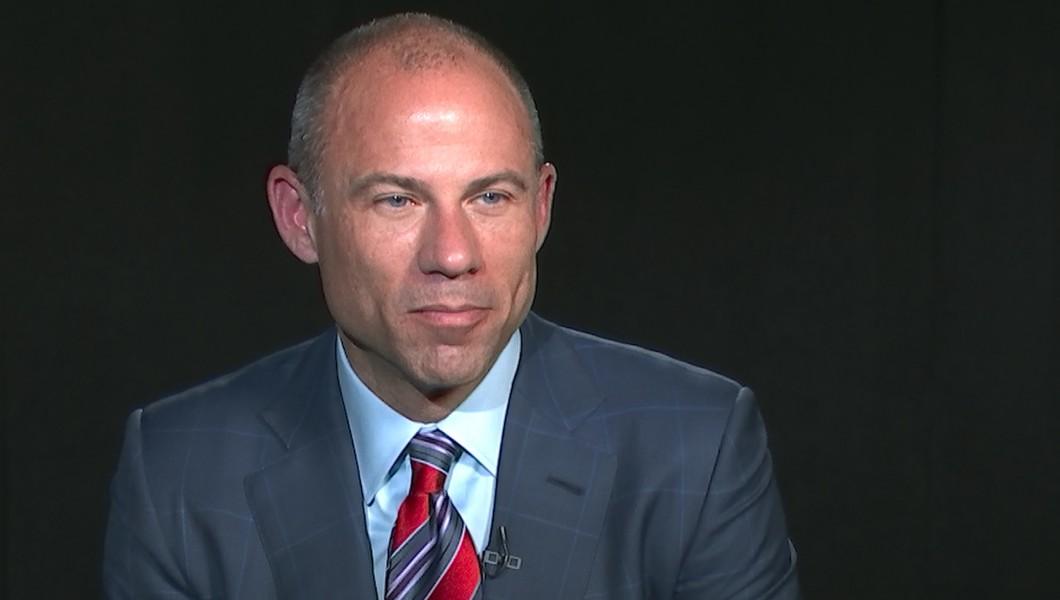 Who is Michael Avenatti, the lawyer representing Stormy Daniels?
Michael Avenatti, the attorney representing adult film star Stormy Daniels in her case against President Trump, has become a television fixture in recent weeks. Before taking on Daniels as a client earlier this year, he had built a reputation as an aggressive litigator who specialized in high-profile cases and clients.
Jonathan Turley, a renowned legal scholar who taught Avenatti at George Washington University, describes his former student as "an adrenaline junky." Turley told the Washington Post recently that Avenatti, who moonlights as a professional race car driver, "needs that adrenaline rush. He lives his life aggressively. In both litigation and in life he shows a certain aggressive style."
While at law school, Avenatti dabbled in politics, working on "nearly 150 campaigns in 42 states," according to a Super Lawyers profile from 2009. He spent five years working at a political consulting firm run by Rahm Emanuel, the future Obama White House chief of staff and Chicago mayor, and still managed to graduate first in his class. Before that, he grew up in St. Louis and transferred to the University of Pennsylvania after spending freshman year at St. Louis University. While at SLU, he worked on campaigns for local Democrats, including then-Rep. Dick Gephardt. The experience allowed him to meet Emanuel, he told the St. Louis Post-Dispatch earlier this month.
Although Avenatti has worked for Democrats, he says he's not politically motivated. "I haven't done anything in politics in 20 years…my client is credible, she's telling the truth," he told CBS News' "60 Minutes" in an interview that aired Sunday.
As an attorney, Avenatti has worked on suits against major accounting firms and celebrities like Paris Hilton. He even sued The Apprentice, Mr. Trump's reality TV show, and its producer Mark Burnett, on behalf of a client who said they had stolen his idea.
After working at a series of big-name legal firms, Avenatti struck out on his own in 2007, according to the Post, and claims to have been the lead counsel on cases that have netted $1 billion in settlements and verdicts. He represented people who sued Jim Carrey in a wrongful-death case that attracted plenty of media attention and was eventually dismissed.
Last year, he won a case against Kimberly-Clark and Haylard Health, who he claimed had knowingly sold defective surgical gowns. The case ended in a $454 million jury verdict that the Post reports could net his firm $100 million in legal fees.
Yet the Daniels lawsuit is arguably his biggest case to date. She's suing Mr. Trump and his attorney, Michael Cohen, to get out of a non-disclosure agreement she signed just days before the 2016 election.
Daniels, whose real name is Stephanie Clifford, says she had sex with Mr. Trump in 2006, and that Cohen paid her $130,000 in hush money to stay quiet about the encounter. On Monday, she amended he complaint to say that Cohen had defamed her by insinuating that she was lying about the tryst.
Avenatti says the case isn't about a sexual encounter between consenting adults, but rather alleged attempts to bully and intimidate her. "This is about the cover-up," he told Anderson Cooper in the "60 Minutes" segment. "This is about the extent that Mr. Cohen and the president have gone to intimidate this woman, to silence her, to threaten her, and to put her under their thumb. It is thuggish behavior from people in power. And it has no place in American democracy."
He also insists that the deal to buy Daniels' silence is invalid. "She took the money," Avenatti told Cooper. "But the fact of the matter is Mr. Trump never signed the agreement. He was obligated to sign the agreement in order for the agreement to spring into effect."
Cohen says that the agreement only required his signature, not Mr. Trump's, and denies that he ever tried to intimidate Daniels. Cohen also claims that Mr. Trump never knew about the agreement with Daniels, which Avenatti says is "ridiculous."
The non-disclosure agreement called for Daniels to hand over all "video images, still images, email messages, and text messages," she had regarding Mr. Trump. Daniels, on her lawyer's advice, told Cooper she would not discuss whether she did that. For his part, Avenatti has hinted that some physical evidence may still exist that links Daniels to Trump.
When pressed by Cooper on whether they were bluffing, Avenatti was dismissive.
"You should ask some of the other people in my career when they've bet on me bluffing," he told Cooper.
Thanks for reading CBS NEWS.
Create your free account or log in
for more features.