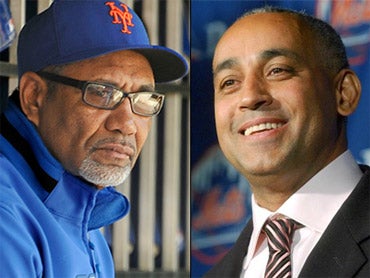 Mets Fire Manager Jerry Manuel, GM Omar Minaya
The New York Mets fired manager Jerry Manuel and general manager Omar Minaya on Monday, an expected shake-up of the big-spending ballclub after its second straight losing season.
The Mets said a search is under way for a new GM, who will work with the team to hire a new manager.
"We are extremely disappointed in this year's results and the failures of the past four seasons," said chief operating officer Jeff Wilpon, the son of owner Fred Wilpon. "We need to hire a new general manager with a fresh perspective who will transform this club into a winner that we want and our fans deserve."
Manuel is the seventh manager this season to lose his job. The final guaranteed year of Manuel's contract expired, and the Mets declined to exercise the club's option on the deal.
Scott Miller: Dysfunctional Mets Need Change at COO
The Mets were 79-83 this year, a disappointing 18 games behind Philadelphia in the NL East despite having an opening-day payroll of $133 million that was the fifth-highest in the majors. They have not been to the playoffs since coming within a game of going to the World Series in 2006.
"Changes like these are never easy, especially when you are dealing with people you like and respect," Wilpon said.
Manuel was promoted from bench coach on an interim basis after the midnight firing of Willie Randolph in June 2008. The Mets then went 55-38 the rest of the way but missed the playoffs with a loss in the last game at Shea Stadium, on the final day of the season. It was their second consecutive September collapse.
Still, Minaya was given a three-year contract extension through 2012 and Manuel a multiyear deal.
Minaya won't be staying on in another capacity - as of now.
"The fact is that it's not fair to give me another role. If you're going to bring in another GM - first of all, I don't think the GM would want to have me aboard and vice versa," he said. "Whoever the GM is, I would have to make the decision if I want to work with that person."
He said the possibility of talks for a different job with the Mets were for a different day.
"We came to a mutual agreement that at some point in time we might discuss that," he said.
Minaya overhauled a wretched bullpen in the offseason, seemingly the club's biggest weakness, and Sports Illustrated picked New York to win the 2009 World Series.
But long-term injuries to Jose Reyes, Carlos Beltran, Johan Santana, Carlos Delgado, Jason Bay and Francisco Rodriguez have decimated the Mets' roster the past two seasons.
They finished 70-92 last year, their first at $800 million Citi Field, and a promising start this year was all but wiped out by a 2-9 road trip immediately after the All-Star break.
Attendance dropped at the new ballpark, and Rodriguez embarrassed the organization when he was charged with third-degree assault and second-degree harassment following a fight with his girlfriend's father outside a family lounge at Citi Field on Aug. 11.
On the field the Mets went for long stretches without Bay, Beltran, Reyes and Santana, who had shoulder surgery in September that could keep him out for much of next season. And while All-Star third baseman David Wright rebounded from a dreadful season in '09, he struck out a career-high 161 times and slumped for several extended spurts.
Once the Mets dropped out of contention, the decision to fire Manuel was expected.
Manuel, AL Manager of the Year in 2000, is the eighth manager to lose his job this year. Baltimore's Dave Trembley, Kansas City's Trey Hillman, Arizona's A.J. Hinch, Florida's Fredi Gonzalez, Seattle's Don Wakamatsu and Milwaukee's Ken Macha also were dismissed.
Also on Monday, the Pittsburgh Pirates fired manager John Russell, CBSSports.com reports. Russell was 186-298 in three years with the Pirates.
With Atlanta's Bobby Cox, Toronto's Cito Gaston and the Dodgers' Joe Torre all retiring and Lou Piniella having stepped down as Cubs' skipper in August, finding a big-name manager who could command the respect of the players and help boost attendance in New York might be difficult.
Only the Orioles and Dodgers have locked down managers.
Bobby Valentine, who led the Mets to the 2000 World Series, and Wally Backman, a second baseman on New York's 1986 championship team, have been mentioned as potential replacements for Manuel.
Minaya, who became the first Hispanic general manager in 2002 when he was hired to run the Montreal Expos, took over as GM from Jim Duquette in September 2004 and quickly enjoyed success in his hometown. He used his Latin American contacts cultivated as a scout and talent evaluator for the Texas Rangers (1985-95), where he was responsible for signing Sammy Sosa, to sign All-Stars Beltran, Pedro Martinez, Santana and Rodriguez.
He also has been criticized for depleting the farm system while signing Oliver Perez ($36 million) and Luis Castillo ($25 million) to inflated contracts.
But not much has gone right since they lost Game 7 of the 2006 NL championship series.
The Mets blew a seven-game division lead with 17 remaining in 2007 and had a 3½-game lead at the same point in '08 but finished out of the postseason again.
Turmoil increased in July 2009 after the Daily News reported Mets vice president of player personnel Tony Bernazard challenged Double-A players to a fight. During the news conference to announce the firing, Minaya questioned the motives of the reporter who broke the Bernazard story, saying he had asked about getting a player development position.
Minaya apologized and Wilpon, son of owner Fred Wilpon, said the following day that the GM made a "very large mistake" by singling out the reporter and added "ownership is not happy with the direction of the team."
Whoever takes over as GM will have little room to make any splashy moves in the offseason because of several large contracts - all of which expire after 2011.
Little-used second baseman Castillo has $6 million left on a four-year deal; left-hander Perez, who only pitched nine times since being dropped from the rotation May 14 is owed $12 million; and Beltran has $18.5 million coming to him after two injury abbreviated seasons.
Also, the Mets owe Rodriguez $11.5 next year, but the team withheld more than $3 million of his salary and has enacted a clause in his contract that would make the remainder of his deal non-guaranteed, prompting a grievance.
Manuel won the AL manager award after he led the White Sox to a league-best 95-67 record. He was fired by Chicago in 2003 following his sixth season as manager.
Thanks for reading CBS NEWS.
Create your free account or log in
for more features.