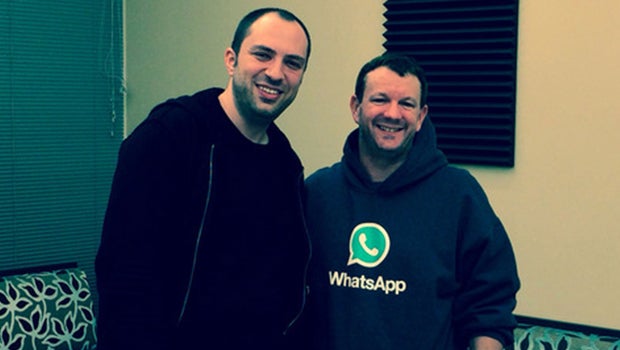 Meet Silicon Valley's newest billionaires: Yahoo alums who co-founded WhatsApp
What a difference five years can make. In 2009, Brian Acton was searching for a job. After 11 years as an engineer at Yahoo -- he was the company's 44th hire -- he'd left in 2007. He'd quit alongside fellow Yahoo alum Jan Koum, and the two spent a year traveling through South America.
As he went on interviews with other leading tech companies, Acton tweeted about the process. In May of that year, he wrote, he was "networking with recruiters, venture capitalists, playing ultimate frisbee," according to
Tech Crunch
.
By August, he'd interviewed with Twitter and Facebook. Both shot him down. Facebook also rejected Koum, who was, according to
Forbes
, quickly burning through his $400,000 in savings from Yahoo.
Eventually, they stopped looking for someone to hire them. Instead, Koum started his own company: a messaging system called WhatsApp, incorporated on Feb. 24, 2009. A few months later, on Nov. 1, Acton officially joined as co-founder.
Koum's stake is estimated to be worth $6.8 billion, while Acton's is worth some $3 billion, Forbes reported.
WhatsApp lets users send free SMS and MMS text messages to fellow users around the world. There are more 450 million active monthly users on the service, including a quarter of the UK population. The app is free for the first year, and costs 99 cents per year thereafter. It brought in $20 million in revenue last year -- more than similar social networking apps, including Twitter -- but far below the purchase price.

Wired reports that more than 18 billion messages were sent through the app on a typical day in January, a figure nearing the 19.5 billion daily messages sent via SMS.
Koum, 37, hammered out the deal at Facebook CEO Mark Zuckerburg's house, where he reportedly crashed Zuckerberg's Valentine's Day dinner with his wife. They negotiated over a plate of chocolate covered strawberries, according to the
New York Times
. But they signed the deal at a much more low-key venue: the former North County Social Services office.
The building holds special meaning to Koum. Years ago, he stood in line there to collect food stamps, after emigrating as a teen with his mother from a small village outside of Kiev, Ukraine.
Koum taught himself computer networking with the help of books purchased from -- and later returned to -- a used book store, according to a profile in
Forbes
. San Jose State University and a hacking group called woowoo rounded out his next few years. Then, as a security tester for Ernst & Young, he ended up on an assignment at Yahoo. That's where he met Acton. Six months later, Koum joined Acton as a Yahoo engineer. He was still a college undergrad at the time, but soon dropped out.
Koum told
Wired
, "We worked in a large company and we weren't that happy. Facebook Google, Apple, Yahoo -- there's a common theme. None of these companies ever sold. By staying independent they were able to build a great company. That's how we think about it."
Acton, 42, added that he feared how an acquiring company would change WhatsApp. But for this pair of former Yahoo engineers, the $19 billion offer seems to have trumped the desire to stay independent.
Thanks for reading CBS NEWS.
Create your free account or log in
for more features.