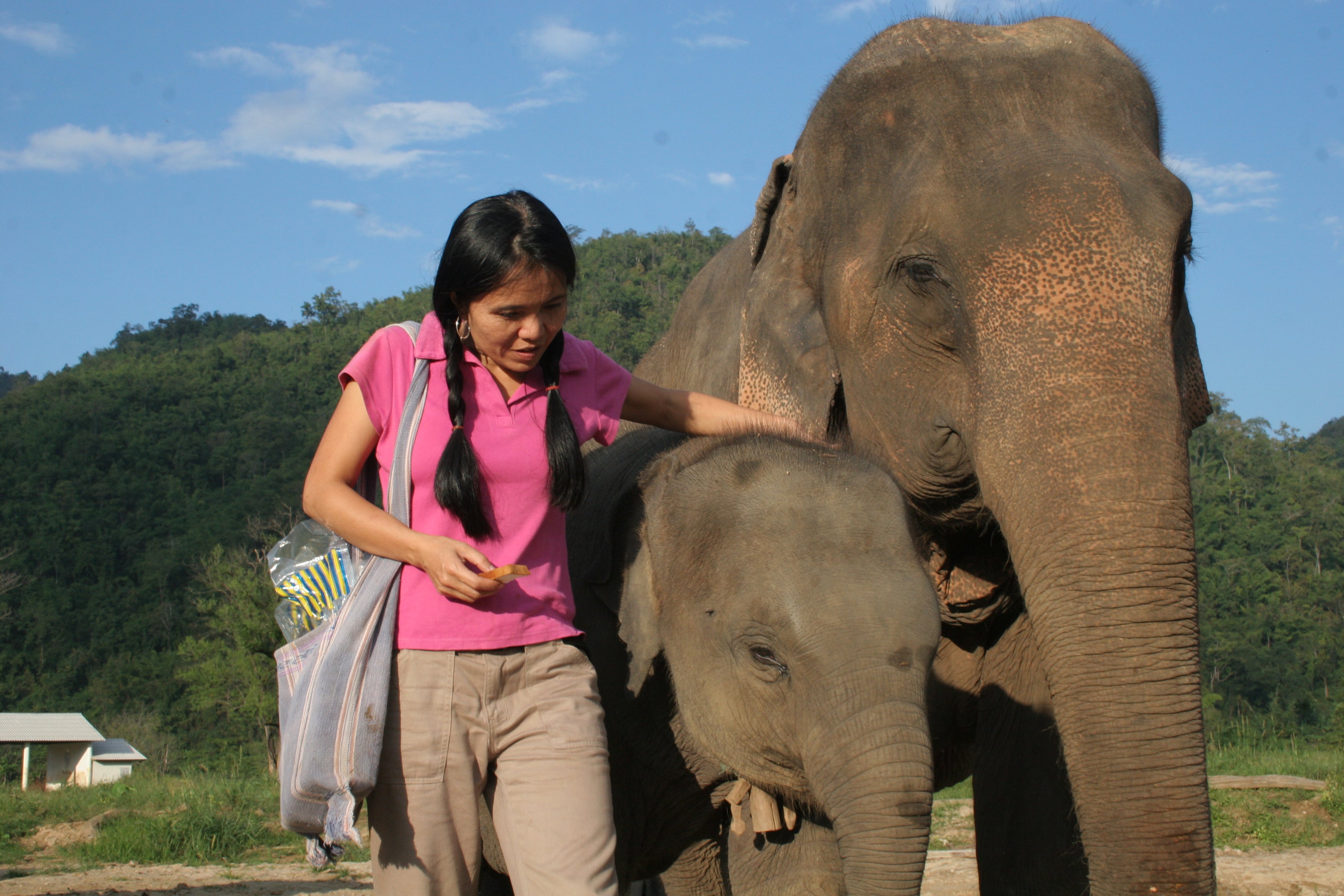 Meet Thailand's elephant whisperer
CHIANG MAI, Thailand -- Beyond the mountainous landscapes and lush jungles of Northern Thailand lies a haven for the gentlest of creatures.
"Many of them arrive here like a zombie, some of them arrive here and they [don't] know they are elephants, they stand still ... they walk in a circle," said Sangduen "Lek" Chailert, founder of the Elephant Nature Park.
Chailert has devoted her life to the conservation of this endangered species. Since 1996, she has rescued 200 distressed elephants in Thailand and neighboring countries.
There are currently fewer than 3,000 elephants living in the forests of Thailand, compared to 4,000 in captivity. Chailert began advocating for elephants after hearing the cries of a wounded elephant being forced to haul logs in the jungle.
The elephants that she rescues arrive at the sanctuary with severe psychological trauma. Many of them are malnourished and have physical ailments ranging from land mine wounds to broken hips and legs caused by the illegal logging industry.
Others are partially or completely blind from having sling shots aimed at their eyes, or being in the bright lights of a circus.
"We have to first thing, heal them. We have to heal them with love," Chailert explained. "We have to let nature rehab them. We have to make them feel that this is a safe place for them. Trust is the first thing that we have to go and do."
In 2007, Chailert rescued Faa Sai from a circus. The elephant was taken away from her mother at a very young age and had endured several years of cruel training.
"When she first arrived here she had both legs on shackles. You can see the chain cut deep in her leg," described Chailert. "She was very aggressive, very angry. I [couldn't] stand 20 meters in front of her. She would pick up the stone and throw the stone, she had a lot of trauma."
There are no tricks, rides or elephant-made paintings at the sanctuary. Instead, Chailert invites tourists to feed, bathe and walk side by side with the world's largest land animal.
"If we [don't] change our attitude from this time, we can't expect the next generation to learn and to stay peaceful with other beings in this planet," said Chailert.
Her affection for the herd and ability to connect with them has earned her the title of Thailand's "Elephant Whisper."
"I never think 'Elephant is an animal,' I think they are a person, so that is why when I talk to them I treat them like my family," said Chailert. "We understand even if we speak a different language. But we understand each other."
And there is always an elephant by her side, with its long trunk wrapped around Chailert's petite figure.
"When one day they start rolling in the mud, they start to enjoy trumpeting, swim on the river -- and that is the day I have a tear ... I have a tear of joy."
For more information about Chailert and the sanctuary, visit the Save Elephant Foundation.
Thanks for reading CBS NEWS.
Create your free account or log in
for more features.