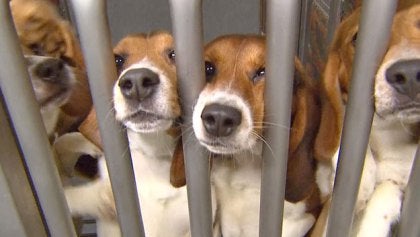 Fears of poor conditions for Mass. research dogs
BOSTON - Laboratory dogs in Massachusetts may be crucial to the extensive medical research done there, but the canines are largely subject to euthanasia and many never see the outside of the laboratories, according to an investigation by CBS Boston.
USDA records revealed that 1,299 dogs are being used for research in 12 Massachusetts institutions and the secrecy in which they work bolsters suspicion from animal rights activists that they are living in poor conditions.
Alan Dittrich, of the Massachusetts Society for Medical Research said the research companies are so secretive because of intimidation from the activists.
"There's been a long campaign against animal research and animal researchers," he said. But he also defended the members of his organization on their treatment of the dogs. "They play. They do not live their entire lives in cages. They are not subjected to great isolation or solitariness."
The largest research company to use dogs in their work is Charles River Labs in Wilmington, Mass., which has 750 dogs. Others, including veterinary schools and hospitals, also report using dogs in research. Many of the dogs are beagles, chosen for their size and demeanor. None of the facilities agreed to show the conditions in which the dogs live, nor would the agree to an on-camera interview.
It raises red flags for people like Kathleen Conlee of the Humane Society of The United States, who says dogs in labs outside of Massachusetts do live in poor conditions. She told CBS Boston that animal welfare groups found dogs foaming at the mouth and subjected to painful experiments.
"We have done a couple of undercover investigations at laboratories and inevitably we find violations of these minimal standards, which obviously raises significant concerns," she said.
The Humane Society has said that federal animal welfare standards are only loosely enforced and inspections occur only once a year. But technology advances, Conlee says, have made research like this almost unnecessary.
We recognize that advances have been made using animals, but with the technology boom today, I think we are at a turning point where we can seriously start looking at replacing these animals," she said.
But Dittrich disagrees.
"There's not one who would not jump to a validated alternative if it existed, but animals provide us with the best opportunity to see how a new procedure, a new medicine, a new medical device may work when it comes to humans," he said.
Meanwhile, adoption groups are working to save the dogs and find homes for as many as possible.
At least one Massachusetts lab says they do put 100 percent of their dogs up for adoption, but most others would not go into specifics.
Charles River Labs sent CBS Boston a statement that said their dogs are essential to life-saving treatments and that the company exceeds animal welfare standards.
Thanks for reading CBS NEWS.
Create your free account or log in
for more features.