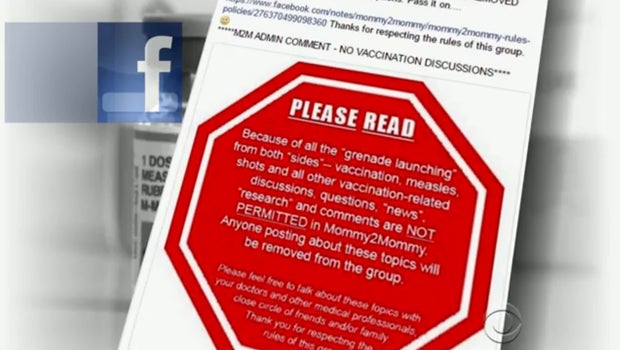 Measles outbreak: Debate among moms over vaccinations turns ugly
The measles outbreak that started at Disneyland in December is not slowing down. The total is up to at least 155 cases in 16 states. The latest state to join that list is New Jersey.
The debate over measles vaccinations has been spirited, to say the least. And in some places, it's become downright nasty.
"I think it's ridiculous we can't discuss a public health matter that impacts children on a parenting website," mother Heather Crist Paley told CBS News. In a Skype interview, she said she used to be a member of the online support group Mommy2Mommy, but recently she was kicked out.
"I feel like I didn't so much talk about it as just protest the fact that it was a banned subject," Paley said.
Since Jan. 21, the mere mention of measles and vaccinations on the Mommy2Mommy website has been prohibited.
Amy Hermes started the L.A.-based group made up of more than 17,000 moms. She said she took down the nasty messages and images that were posted on the group's private Facebook page.
Now there's a bright red reminder when members log in that reads: "Because of all the 'grenade launching' from both 'sides,' vaccination, measles, shots and all other vaccination-related discussions, questions, 'news,' 'research' and comments are NOT PERMITTED in Mommy2Mommy. Anyone posting about these topics will be removed from the group."
"Since the measles outbreak at Disneyland, we actually started seeing group hatred like I've never seen before," Hermes said. "I saw people start to threaten each other's lives. I saw live death threats. I saw people suggesting that other members take a bag of dog feces and throw it at other people's houses."
What is it about this particular issue that has mothers so angry?
"I think the vaccination one is an interesting one because people feel that, you know, if vaccinations are not taking place, it puts their loved ones in jeopardy," Hermes said.
Hermes said there are other forums where anything goes, but at Mommy2Mommy, there are limits.
"If you're threatening the well-being of someone else or resorting to name-calling or mom-bashing so much so that other people are becoming uncomfortable, I reserve the right to ask you to leave," she said.
Hermes doesn't know when she will lift the ban but said she has received more positive comments about the policy than negative.
Thanks for reading CBS NEWS.
Create your free account or log in
for more features.