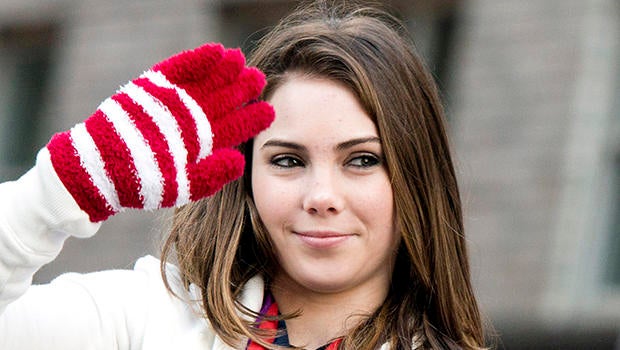 McKayla Maroney says she was abused by ex-gymnastics doctor Larry Nassar
Olympic champion McKayla Maroney says she was sexually abused by Larry Nassar, the disgraced former USA Gymnastics doctor who has been accused of abusing dozens of young girls for years.
Maroney, a member of the U.S. women's gymnastics team that won a gold medal at the 2012 Olympics, posted a statement to Twitter early Wednesday morning with the hashtag #MeToo, joining countless victims of sexual harassment and assault who have posted about their experiences in the wake of the Harvey Weinstein scandal.
"I was molested by Dr. Larry Nassar, the team doctor for the US Women's National Gymnastics Team, and Olympic Team," Maroney wrote. "Dr. Nassar told me that I was receiving 'medically necessary treatment that he had been performing on patients for over 30 years.'"
Maroney, who is now 21, said the abuse began when she was 13 years old at a training camp in Texas and continued through the end of her gymnastics career, including in London in 2012 before the Olympics. Three former gymnasts told "60 Minutes" in February that they were abused at Karolyi ranch outside Houston, Texas, a mecca for young elite gymnasts.
Maroney wrote Wednesday about a trip to Tokyo, which she called the "scariest night of my life."
"I had flown all day and night with the team to get to Tokyo," Maroney said. "He'd given me a sleeping pill for the flight, and the next thing I know, I was all alone with him in his hotel room getting a 'treatment.' I thought I was going to die that night."
Nassar was a doctor for USA Gymnastics for 30 years and has been accused of sexually abusing more than 100 young girls over that time. He pleaded guilty to possessing child pornography in Michigan in July. He admitted to having more than 37,000 explicit images and destroying evidence. He is awaiting sentencing and faces 22 to 27 years in prison.
In her Twitter post, Maroney also wrote, "Things have to change... but how do we begin? I'm no expert but here are my thoughts:
"One: Speaking out, and bringing awareness to the abuse that is happening.
Two: People, Institutions, Organizations, especially those in positions of power, etc. need to be held accountable for their inappropriate actions and behavior.
Three: Educate, and prevent, no matter the cost.
Four: Have zero tolerance for abusers and those who protect them."
She concludes, "Our silence has given the wrong people power for too long, and it's time to take our power back. And remember, it's never too late to speak up."
Thanks for reading CBS NEWS.
Create your free account or log in
for more features.