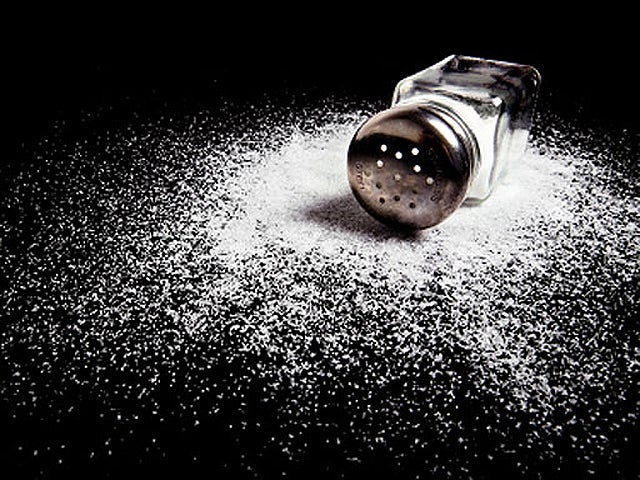 Mayor Bloomberg: 21 food companies cut salt from popular products
NEW YORKMayor Michael Bloomberg announced on Monday that 21 companies have voluntarily reduced the salt content in some of their products.
The improved products range from Butterball cold cuts to Heinz ketchup to some Starbucks breakfast sandwiches, according to Bloomberg.
The salt campaign -- one in a series of novel but controversial healthy-eating initiatives on Bloomberg's 11-year watch -- takes aim at foods ranging from hot dogs to soup to popcorn. Twenty-one out of the 24 companies that were part of the initiative met one or more of their voluntary commitments, the New York City mayor said.

"These companies have demonstrated their commitment to removing excess sodium from their products and to working with public health authorities toward a shared goal -- helping their customers lead longer, healthier lives," said Bloomberg.
Noting that Americans eat about twice as much salt as they should and citing its link to high blood pressure and resulting diseases, the city set voluntary guidelines in 2010 through the National Salt Reduction Initiative for various restaurant and store-bought foods. Bloomberg said that 80 percent of salt came from prepackaged foods, not people adding salt.
"Consumers can always add salt to food, but they can't take it out," NYC Health Commissioner Dr. Thomas Farley said at the time.
The American Heart Association agrees that excess sodium has less to do with what people are adding to their foods and more to do with whats already in the ingredients. The agency's "salty six" report of common foods that comprise most sodium intake in the American diet consist of bread and rolls, cold cuts and cured meats, pizza, poultry, soups and sandwiches, as opposed to salty snacks like chips. For example, a meat sandwich with ketchup and mustard can contain more than 1,500 mg of sodium, the AHA pointed out. The 2010 Dietary Guidelines for Americans only recommends 2,300 mg of sodium a day or 1,500 mg for those over 51.
The National Salt Reduction Initiative aimed to reduce salt in packaged in restaurant foods by 25 percent over the five years, according to CBS station WCBS in New York. More than 90 cities and state health authorities have agreed to the goal.
Companies were asked to agree to hit the salt target for categories of food -- canned soup, for example -- even if not every product made the mark.
The targets included cutting salt in breakfast cereals and flavored snack chips by 40 percent, and trimming 25 percent of the salt in cold cuts, processed cheese and salsa.
Participants, according to the city, range from Starbucks to online-order grocery and prepared food maker FreshDirect to retail giant Kraft Foods, maker of Oscar Mayer hot dogs, Planters peanuts and Velveeta cheese.
Unilever, the company that makes Ragu pasta sauce, announced that it reduced sodium by 20 percent in its Ragu Old World Style Traditional Tomato Sauce. Nabisco reduced salt by 33 percent from Teddy Grahams Honey flavored snacks.
Bloomberg lauded Kraft for reducing sodium in its Kraft Singles American Slices by 18 percent and Subway for getting rid of some sodium in two of their sandwiches, including his favorite the Italian BLT.
"I was eating them before and I'll continue to eat them again, I guess," he said.
About 90 percent of Americans eat more sodium than what's recommended for a healthy diet, according to the Centers for Disease Control and Prevention. Too much sodium increases risk for high blood pressure, heart disease and stroke.
Dozens of state and local health departments signed on to follow New York's lead.
Bloomberg has seized on improving New Yorkers' eating habits as a public health priority, leading charges that have banned trans fats from restaurant meals, forced chain eateries to post calorie counts on menus and limited the size of some sugary drinks to 16 ounces.
He and city officials say they're making pioneering, reasonable efforts to save lives and cut health care costs. But some food industry interests and consumers have said New York is turning into a nutrition nanny.
But the salt effort has been less controversial. Indeed, some companies have embarked on their own salt-reduction plans.
ConAgra, which makes Chef Boyardee and Marie Callender's products, is following its own 2009 commitment to shave the amount of sodium in its foods by 20 percent by 2015.
Salt was simply reduced in some recipes; others have swapped some table salt with potassium chloride or sea salt, which has lower sodium levels, said Mark Andon, vice president of nutrition at Omaha, Neb.-based ConAgra Foods Inc. Another technique is using finer salt particles, which spread the taste over more surface area; that approach has reduced salt in its Orville Redenbacher and Act II popcorn by 25 percent.
But ConAgra hasn't broadcast the changes on its food labels.
"If you put that on your packaging, that can be a negative taste cue," Andon said.
PepsiCo Inc., which makes Frito-Lay products, announced in 2010 that it would cut sodium in key brands by one-fourth in five years. Spokesman Christopher Wyse said Monday the Purchase, N.Y.-based company was looking for alternatives after a plan to use smaller salt crystals didn't work.
The company offers "lightly salted" chips that have half the sodium of the regular ones, however.
Thanks for reading CBS NEWS.
Create your free account or log in
for more features.