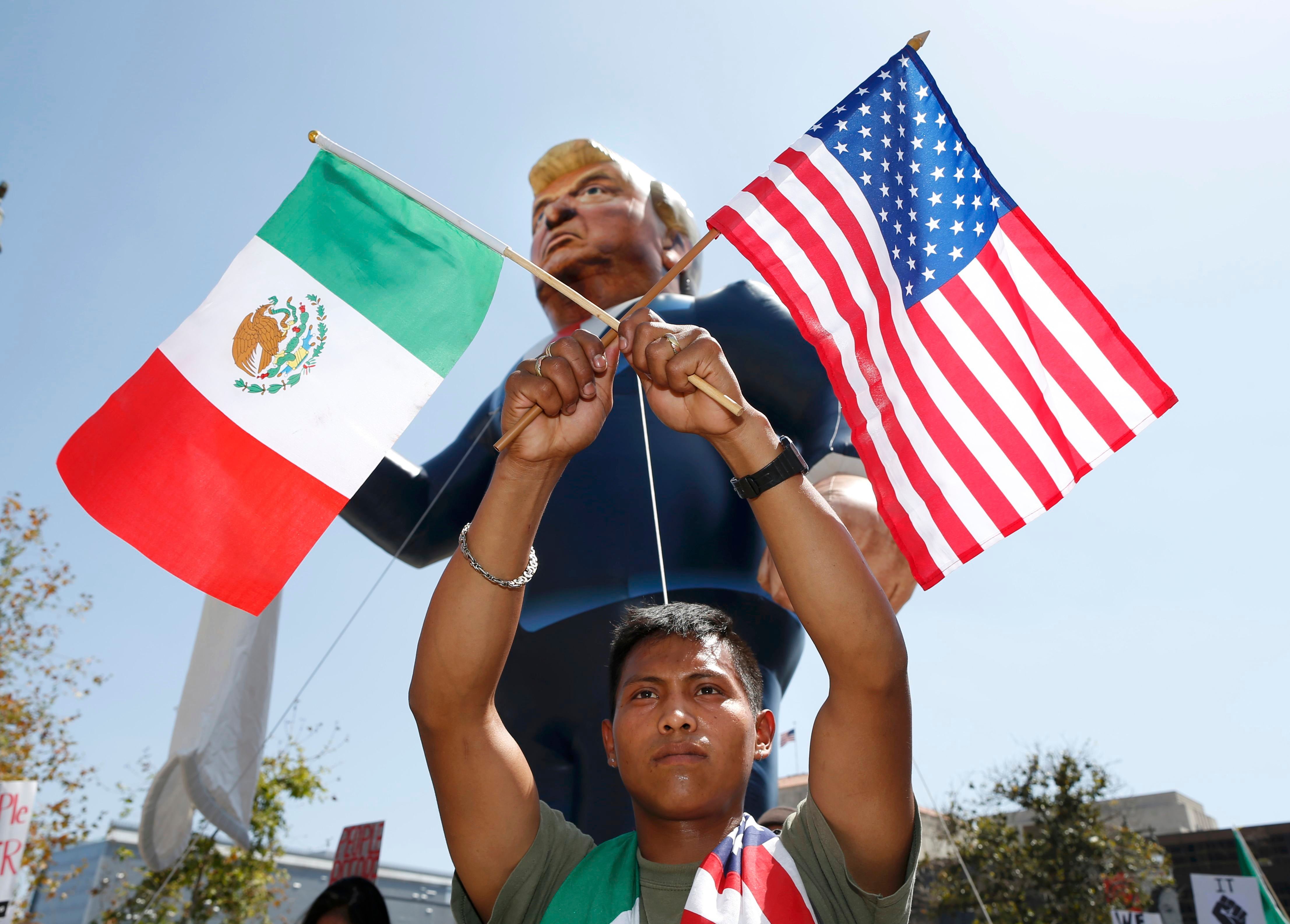 May Day marches held across the U.S.
SEATTLE -- May Day demonstrations and protests took place Sunday across the U.S., in major cities such as Portland, Seattle, Los Angeles, San Francisco, Oakland and New York.
May 1 is celebrated in many countries as International Workers Day. It also has become a day for immigrants and their allies to rally in the United States.
In Seattle, police say officers have reported being struck by sticks and batons by some anti-capitalist demonstrators at a protest in the city.
Seattle police say they've arrested at least seven people following clashes with anti-capitalist protesters on May Day that left two officers injured.
Seattle police used pepper spray to disperse anti-capitalist protesters after authorities say rocks, flares and bricks were thrown at officers downtown.
Dozens of people wearing black gathered at a downtown park Sunday following a peaceful, permitted march by advocates for workers and immigrants.
The anti-capitalist demonstrators, who didn't have a permit from city officials, then started marching through the streets. They carried signs including one that said, "We Are Ungovernable."
Some downtown businesses earlier boarded up storefronts, anticipating violence.
Police reported seeing people with rocks and cans of spray paint in the crowd. They say there was some property damage, including broken windows at a residential building.
Mayor Ed Murray tweeted that there was a peaceful immigration march earlier in the day, but now senseless violence and property destruction was coming from a differeent crowd.
In Los Angeles, thousands of people marched through downtown as part of May Day rallies held worldwide in support of immigrants and workers' rights, CBS Los Angeles reported.
The May Day Coalition of Los Angeles held an International Workers May Day Sunday afternoon. The rally, which soon turned into a peaceful, anti-Trump protest, drew thousands to L.A. Live.
"Trump represents the worst of America. From racists, to haters, to ones that just want to become problems for no reason," said one demonstrator.
Another said, "What we've seen is our public discourse turned away from civility into something ugly. We want to remind folks that people are human beings and we're here, that we're going to be showing up at the ballot box making sure that our needs are represented as well."
Frustration was fueled -- some say -- by the fervor of the Republican candidate's own words. For the crowd of largely Latinos, Trump's campaign rhetoric has been seen as a personal attack, CBS Los Angeles reported.
"Trump's speech is hate speech, definitely. We wanted to show that we can confront that speech in a smart way," said another demonstrator.
A second rally was organized by the Full Rights for Immigrants Coalition, which ended around 3 p.m. Wrapped in an American flag, Miriam Hernandez was among a couple of hundred people who attended it.
"We are here just to work and create a better life for our families," said Hernandez, whose mother and brothers are back home in Mexico. "I haven't seen my family for a very, very long time."
She and the others at the rally hope their message resonates in Washington, D.C.: they want immigration reform.
Luis Gallardo, a 16-year-old from Bell, told CBS Los Angeles he desperately wants to become a citizen. His parents brought him here when he was 2 years old.
And without that path to citizenship, he believes he won't have a smooth path to a good future.
"When it comes to financial aid for college I'm gonna be struggling," he said.
Half of those at the second rally were there for immigration reform, while the other half were preaching a message for a revolution in the U.S., something the immigration rally organizer said he wasn't too happy about.
"Well, unfortunately, as the LAPD says 'you cannot prevent anybody from joining a public demo,' " he said.
Those people did bring what they called "Trump-zilla."
Protesters seeking immigration reform hope their message has an impact:
"I don't hurt anyone. I'm here just to work. And make this country a better country every single day," Hernandez said.
In New York, nearly 200 people gathered in Union Square for the cause of workers' rights on Sunday for May Day, CBS New York reported.
"We must carry on the struggles in the spirit of May Day," one speaker said.
Social justice advocates in New Hampshire are making the rejection of racism, xenophobia and anti-Muslim sentiment the themes of their annual May Day Rally for Immigrant Justice.
Rain forced the multicultural rally indoors Sunday at the Community Church of Durham from the University of New Hampshire campus. The event featured speeches, dance and music.
Eva Castillo of the Manchester-based New Hampshire Alliance for Immigrants and Refugees says it's more important than ever to speak out for policies rooted in compassion, justice and fairness.
In San Francisco, hundreds of workers rallied and marched along San Francisco's scenic bay front in support of immigrant and workers' rights and to demand justice for several men shot and killed by city police.
Members of the International Longshore & Warehouse Union began their May Day celebration Sunday with a rally at Fisherman's Wharf.
About 300 people then marched along the Embarcadero. They held signs that read "Long Live May Day" and "Stop Police Terror." And they chanted, "No justice, no peace! No racist police!"
The crowd is holding a second rally at the Harry Bridges Plaza, across from the Ferry Building, where relatives of several Latino and black men killed by San Francisco police are speaking.
Across the bay in Oakland, workers with the same union marched from the Fruitvale BART station to a park, where a fair on community resources is being held.
Thanks for reading CBS NEWS.
Create your free account or log in
for more features.