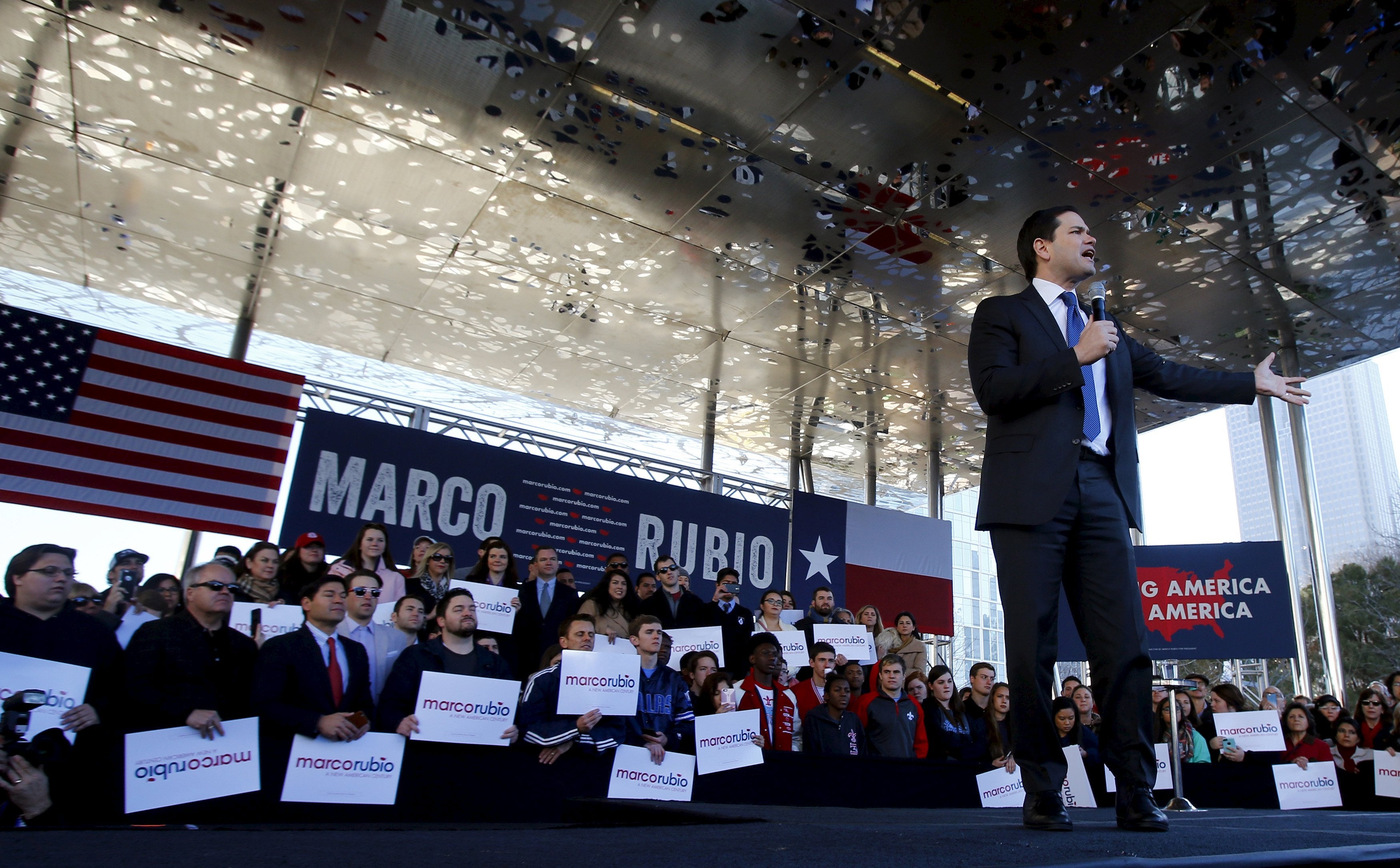 Marco Rubio suggests Donald Trump wet his pants, Trump hurls insults back
Sen. Marco Rubio on Friday unleashed a series of personal attacks against Republican front runner Donald Trump, ratcheting up the aggressive new approach to campaigning that he unveiled during Thursday night's debate.
Speaking to an outdoor rally in Dallas, Texas, the Florida senator ridiculed Trump, suggesting he wet his pants during the debate.
"Let me tell you something: Last night in the debate during one of the breaks... he went backstage, he was having a meltdown," Rubio said. "First, he had this little makeup thing applying, like makeup around his mustache, because he had one of those sweat mustaches. Then he asked for a full-length mirror. I don't know why... Maybe to make sure his pants weren't wet. I don't know."
Rubio also ridiculed Trump for misspelling simple words in a series of tweets. For instance, in one tweet, Trump wrote "honer" when he clearly meant to write "honor." (Trump has since corrected that tweet.)
"So how does this guy -- not in one tweet, in three tweets -- misspell words so badly?" Rubio asked, adding that he's reached two conclusions. "Number one, that's how they spell those words at the Wharton School of Business where he went. Or number two, just like Trump Tower, he must have hired a foreign worker to do his own tweets."
After Rubio's mocking, Trump corrected his spelling on Twitter.
As he did on "CBS This Morning," Rubio called Trump a con artist.
"It's time -- the charade is up," he said to the Dallas crowd. "This is a con job where he is going to Americans that are struggling, Americans that are hurting, and he's implying I'm fighting for you because I'm a tough guy. A tough guy? This guy inherited $200 million. He has never faced any struggle."
Rubio's aggressive new campaign style comes at a pivotal point in the primary campaign: If the senator cannot claim victory in his home state of Florida in the March 15 primary, it would be a devastating blow to his campaign. Consequently, Rubio must do as much as he can to blunt Trump's momentum now -- especially before Super Tuesday on March 1, when a large number of delegates are at stake.
Senior Rubio adviser Todd Harris on Friday explained to reporters why Rubio is engaging in a personal war of words with Trump.
"It has been made plain as day over the last eight months or so that the media isn't interested in covering the substance," he said. "The media only wants to cover the circus... If we have to be a part of the circus in order to get people to pay attention to Marco's substantive policy positions, then let us in the ring."
Trump, for his part, wasn't about to let Rubio's latest insults go unanswered. At his own Texas rally -- where he received New Jersey Gov. Chris Christie's endorsement -- Trump waved around a water bottle, mocking Rubio.
"This guy is cracking up on us," Trump said, recalling Rubio's performance at a recent debate. "And he was sweating so badly, I have never seen anything like it. It looked like he just jumped into a swimming pool with his clothing on."
Thanks for reading CBS NEWS.
Create your free account or log in
for more features.