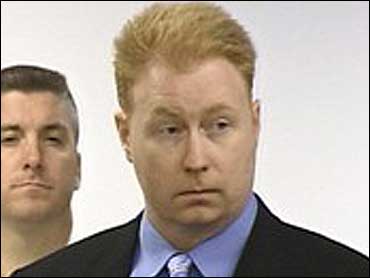 Man Guilty Of Killing Wife With Antifreeze
A Massachusetts jury has convicted a former Missouri radio reporter of killing his wife by poisoning her with antifreeze.
The Middlesex County jury convicted James Keown of first-degree murder Wednesday. They deliberated for less than two days.
Keown faces an automatic sentence of life in prison without parole.
Prosecutors said Keown was deeply in debt and killed his 31-year-old wife, Julie, in hopes of cashing in her $250,000 life insurance policy. Julie Keown died in September 2004 of a lethal dose of a chemical found in antifreeze.
Authorities said James Keown spiked his wife's Gatorade with antifreeze while the couple lived in Waltham, Massachusetts. Keown later returned to Missouri.
Keown's lawyer said Julie Keown could have committed suicide or accidentally ingested the chemical.
Before handing down the life sentence, Judge Sandra Hamlin called Keown "an evil human being."
Julie Keown's parents, Jack and Nancy Oldag, held onto each other as they gave victim impact statements.
"In my mind, James is no longer a person. He's just a mass of flesh and bone. A real person never would have done so evil a thing," Nancy Oldag said.
Keown, 34, did not address the court. His mother sobbed as he was led away in handcuffs.
Assistant District Attorney Nathaniel Yeager said Keown killed his wife after he was fired from his job, the couple's financial problems worsened and a string of lies he had told his wife began to catch up with him.
Yeager said Keown told his Kansas City employer -- an educational consulting company -- he had been accepted at the prestigious Harvard Business School and asked if he could work remotely from the Boston area. The company agreed, and the Keowns relocated to Waltham in January 2004.
Six months later, Keown was fired when his boss discovered he had lied about being accepted to Harvard and had stolen a Web site design he was asked to develop for the company, Yeager said.
Julie Keown, a registered nurse, was hospitalized in August 2004 after her speech became slurred and she had difficulty walking. Doctors told her she was suffering from a kidney ailment.
Two weeks later, Julie Keown was hospitalized again. She died on Sept. 8, 2004.
During Keown's trial, a computer expert testified that two days before Julie Keown entered the hospital the first time, James Keown's computer showed he did a search using the words "ethylene glycol death human."
Keown's defense attorney told the jury Julie Keown became despondent after she was hospitalized in August, when doctors discovered she had an underlying chronic kidney disease that had been undiagnosed for years.
Keown was not charged in his wife's death until more than a year later, when he was arrested in Jefferson City, Mo., where he was a reporter and talk show host at radio station KLIK-AM.

Thanks for reading CBS NEWS.
Create your free account or log in
for more features.