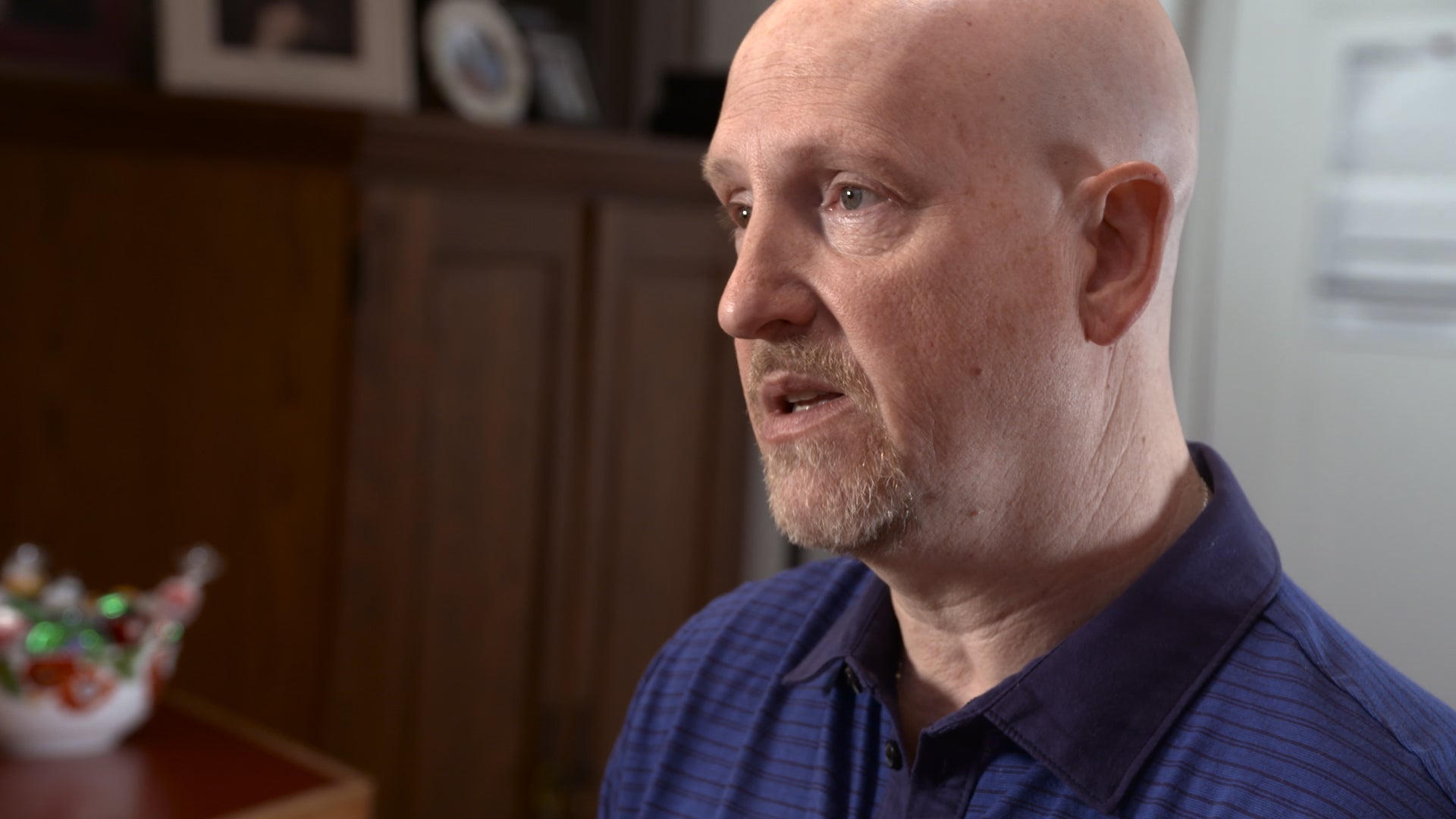 A male breast cancer survivor, first embarrassed, now empowered
He looks and sounds the part of a tough New Yorker, with his Bronx accent and black leather jacket. And Michael Singer doesn't let a cold January afternoon stop him from taking a cruise on his 2012 Harley-Davidson Fatboy. He's even convinced his wife and high school sweetheart, Patty, to join him on the ride. He says riding the motorcycle makes him feel alive -- an extra special feeling for a man who was diagnosed with breast cancer in 2010.
"I can admit it now, to be honest with you, I was embarrassed," Singer says, recalling his diagnosis. "So when people asked me, 'Mike, what kind of cancer did you have?' I couldn't say breast cancer. I said chest cancer."
As he was retiring five years ago, Singer went for a physical. He answered the basic questions and got some blood taken -- but didn't mention a pencil eraser-sized lump he'd noticed under his left nipple. It took a follow-up doctor's appointment for Singer to finally tell a physician. "Guys are wired differently," he says. "We don't usually like to go to the doctors to get it checked out. And I was kinda like that."
Results from his blood work led to a painful surgical biopsy, and just a few days later he was diagnosed with breast cancer. Singer's initial reaction was disbelief. He thought his doctor must have confused his chart with that of his sister, Jo-Ann, who had died two years earlier from metastatic breast cancer. "In my mind I'm saying, 'Oh my God, I'm going to die,'" Singer explains. "Because [Jo-Ann] was my only familiarity with the disease."
On December 21, 2010, Singer had a full mastectomy of his left breast. He woke up in recovery with 32 staples from his chest to his armpit. "I felt like the mummy," he recalls. "I was wrapped around with bandages around my chest."
Coworkers and friends had delayed his retirement party until after the surgery. People knew he had cancer but not what kind. He continued what he calls a "charade" of telling friends he had "chest cancer" for months. "I was afraid there would be some sort of stigma tied to me having male breast cancer," says Singer.
Over a year later -- and still not openly talking about his breast cancer -- a close friend called and told him to turn on the television. There were two men on a daytime talk show discussing male breast cancer; Richard Roundtree, famous for his lead role in the movie "Shaft," and Brett Miller, founder of a non-profit male breast cancer awareness group called the 1T Foundation.
"It was like an epiphany saying, 'Mike, this is your calling,'" he says. "I can't sit back. I can't be quiet. The embarrassment is over. I'm going to go out there and I'm going to talk about this."
That moment was the beginning of Singer's male breast cancer advocacy. He posed for a cancer photo shoot called Tops Off NYC that raised money for awareness. He applied and was approved for a volunteer role at the Congressionally Directed Medical Research Program, where he shared his firsthand experiences with doctors and scientists involved in breast cancer research. He volunteered for Project Lead, an intensive science program designed for breast cancer advocates, and spoke at events held by the American Cancer Society. And he spent his own money to create pink and blue bracelets and lapel pins that he hands out on the street. "If you see me in the streets of the Bronx or in New York City, pretty much you're going to see me handing out [the bracelets and pins]," Singer says.
He also works closely with the Breast Cancer Research Foundation, and will be part of that organization's new campaign launching on February 4, 2016, -- World Cancer Day-- that will in part raise more awareness for male breast cancer research.
And Singer teamed up with his local Bronx assemblyman and New York Governor Andrew Cuomo to pass a proclamation denoting the third week of October as Male Breast Cancer Awareness Week. He hopes to eventually get similar proclamations passed in the other 49 states.
"I want to be the voice for the guys who aren't here anymore. And I want to be the voice for guys who are here to let them know there's such a thing as male breast cancer," Singer says. "So that maybe we can get this early enough to save their lives."
Thanks for reading CBS NEWS.
Create your free account or log in
for more features.