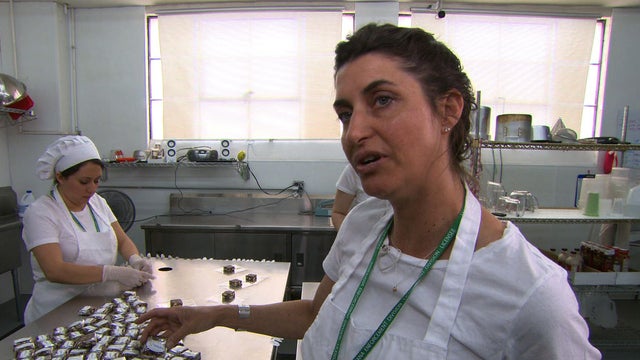 Marijuana mission: Women rising to the top of pot industry
It's not surprising that Colorado mom Jane West has some firm ideas about her boys smoking pot.
"Absolutely not! Absolutely not!" she said.
What may be surprising is that this mom is on a marijuana mission, making the pot business women-friendly, reports CBS News' Barry Petersen.
She runs her own startup company staging marijuana-themed social events like the recent Colorado Symphony fundraiser billed as BYOP, or "Bring Your Own Pot." She also started a group called Women Grow where women can network with other women in the marijuana business.
There she met Genifer Murray who founded a marijuana testing company called CannLabs Inc. that went public last week.
"Like any other business, it's hard, and tack marijuana on it and it's even harder, and add on the fact that it's a male-dominated industry, so I think we found comfort in each other," Murray said.
Colorado's governor expects marijuana sales to reach $1 billion by the end of the fiscal year later this month. That includes $69 million in recreational pot, which became legal in January.
Traditionally, women in marijuana have been more about bikinis than business, and men are usually the pot smokers in movies, but that is also changing with shows like Comedy Central's "Broad City" and Showtime's "Weeds."
As in other businesses, women are changing attitudes with sheer competence.
"They start to take me very seriously and have a conversation with me, they know what I'm talking about," Murray said.
It's not a cakewalk, however, as Julie Dooley found out the hard way.
Her company, Julie and Kate, makes gluten- and sugar-free snacks infused with marijuana. As a mom in the marijuana business, she realized she was also a target.
Dooley said she has been called an "abomination."
"They're definitely offended by the cannabis industry and that is me for a moment, they see me as the cannabis industry, but in reality, I'm one of many," Dooley said.
"I think that, the more mothers that are in marketing meetings, packaging meetings and branding meetings at Cannabis companies, the more responsible the industry will be," West said.
It is still early times in the legal marijuana industry, and that's why women say it's the perfect time to let everyone know that in this business, a woman's place is at the top.
Thanks for reading CBS NEWS.
Create your free account or log in
for more features.