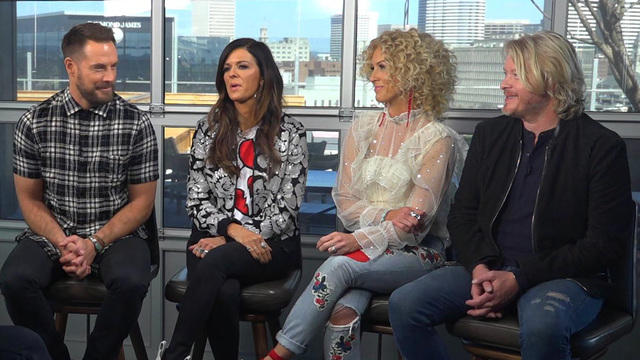 Little Big Town talks struggles, success -- and wine
Little Big Town is nominated for vocal group of the year at Sunday's Academy of Country Music Awards. The group's latest album, "The Breaker," topped the country charts.

They're known for combining four unique voices into one distinct harmony, but, as CBS News correspondent Jan Crawford reports, the bond between Jimi Westbrook, Karen Fairchild, Kimberly Schlapman and Phillip Sweet runs deeper than music.
"We're family," Fairchild said. "We've, like, experienced the greatest highs and the most horrible lows. And we've always been together."
They are living the highs, racking up hits and honors, but first were the lows.
"We looked at each other at a certain point. It's, like, we're just gonna keep showin' up and keep out-workin' everybody. If that's what we have to do, then we'll do it," Westbrook said.
"We never talked about quitting," Fairchild said.
When they started out, Little Big Town was dropped from two record labels in as many years. Still they kept playing, and at one point even bootlegging their own CDs to make money.
"We weren't supposed to be, but we were in the middle of, like, gettin' out of a record deal. And we're, like, 'He just dropped us,' when it's our song, we wrote it," Fairchild said. "So we were, like, you know, we would give out that to radio people, or we would, you know, stamp 'em and sign 'em in the car."
They said they knew how many t-shirts they needed to sell in order to rent the car, eat and make the trip back home.
The perseverance paid off. Just a few months later, their anthem of small town pride, "Boondocks," became a top-10 hit. With that, these four singers began their climb to the top of country music.


Little Big Town's newest album that debuted at No. 1 is full of chart topping hits, like the No. 1 single "Better Man" written by pop mega star Taylor Swift. There are also more personal songs reflecting their life's journey – a marriage between Westbrook and Fairchild – and the painful losses along the way. "Don't Die Young, Don't Get Old" was written after Westbrook lost his sister.
"It's such a beautiful lyric and explains in so many ways the journey that all of us walked with my sister," Westbrook said. "And that's what I love about it. So is it hard? Yes. But there's a beauty in it too."
After years of eating and drinking together, they're entering a new chapter with their own wine, appropriately named "4." After all, what goes better with friends than a bottle of wine?
"If you can break bread together, it doesn't matter, like, what you believe in politics," Fairchild said. "When you're doing this and you're gathered together and you're listening to music and you're enjoying company, then it becomes about the food and the fellowship. And we particularly love that."
"It just feels like it's coming together. And we're in this really good stride in our lives. It's all coming together and flowing together really beautiful. What a great word. Flowing like wine," Sweet said.
Little Big Town partnered with Browne Family Vineyards in Washington state, and "4" will be available this summer.
Thanks for reading CBS NEWS.
Create your free account or log in
for more features.