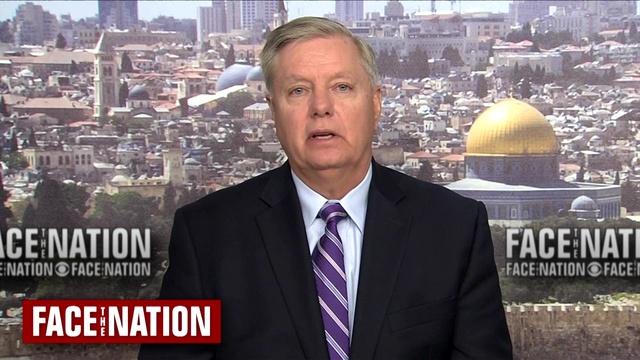 Lindsey Graham: W.H. aide's comments about McCain are a "disgusting thing to say"
Responding to controversial comments made this week by White House communications aide Kelly Sadler, Sen. Lindsey Graham, R-South Carolina, called Sadler's remarks a "disgusting thing to say" and said he was dissatisfied with the administration's response to the controversy.
"If it was a joke, it was a terrible joke. I just wish somebody from the White House would tell the country that was inappropriate, that's not who we are in the Trump administration," Graham told "Face the Nation" moderator Margaret Brennan in an interview that aired Sunday.
Graham spoke with Brennan from Israel, where he is leading a congressional delegation to observe the opening of the American embassy in Jerusalem.
Arizona Republican Sen. John McCain, who is battling brain cancer at his ranch in Arizona, released a statement this week urging his colleagues in the Senate to reject President Trump's pick to run the CIA. In a meeting with White House staffers Thursday, Sadler had reportedly dismissed McCain's opposition, saying it "doesn't matter, he's dying anyway."
"John McCain can be criticized for any political decision he's ever made, or any vote he's ever cast, but he's an American hero," Graham told Brennan. "And I think most Americans would like to see the Trump administration do better in situations like this. It doesn't hurt you at all to do the right thing and to be big."
After controversy flared, Sadler reached out to McCain's daughter to apologize. However, despite bipartisan condemnation of Sadler's comment this week, the Trump administration has done little to address the remark.
"I'm not going to comment on an internal staff meeting," White House press secretary Sarah Sanders said Friday, only confirming that Sadler remained employed by the White House.
Asked by Brennan if President Trump should apologize for the remark, Graham demurred.
"I'll leave that up to him, but if something happened like that in my office, somebody in my office said such a thing about somebody, I would apologize on behalf of the office," Graham said.
---
For the latest from "Face the Nation," follow us on Facebook, Instagram, and Twitter.
Thanks for reading CBS NEWS.
Create your free account or log in
for more features.