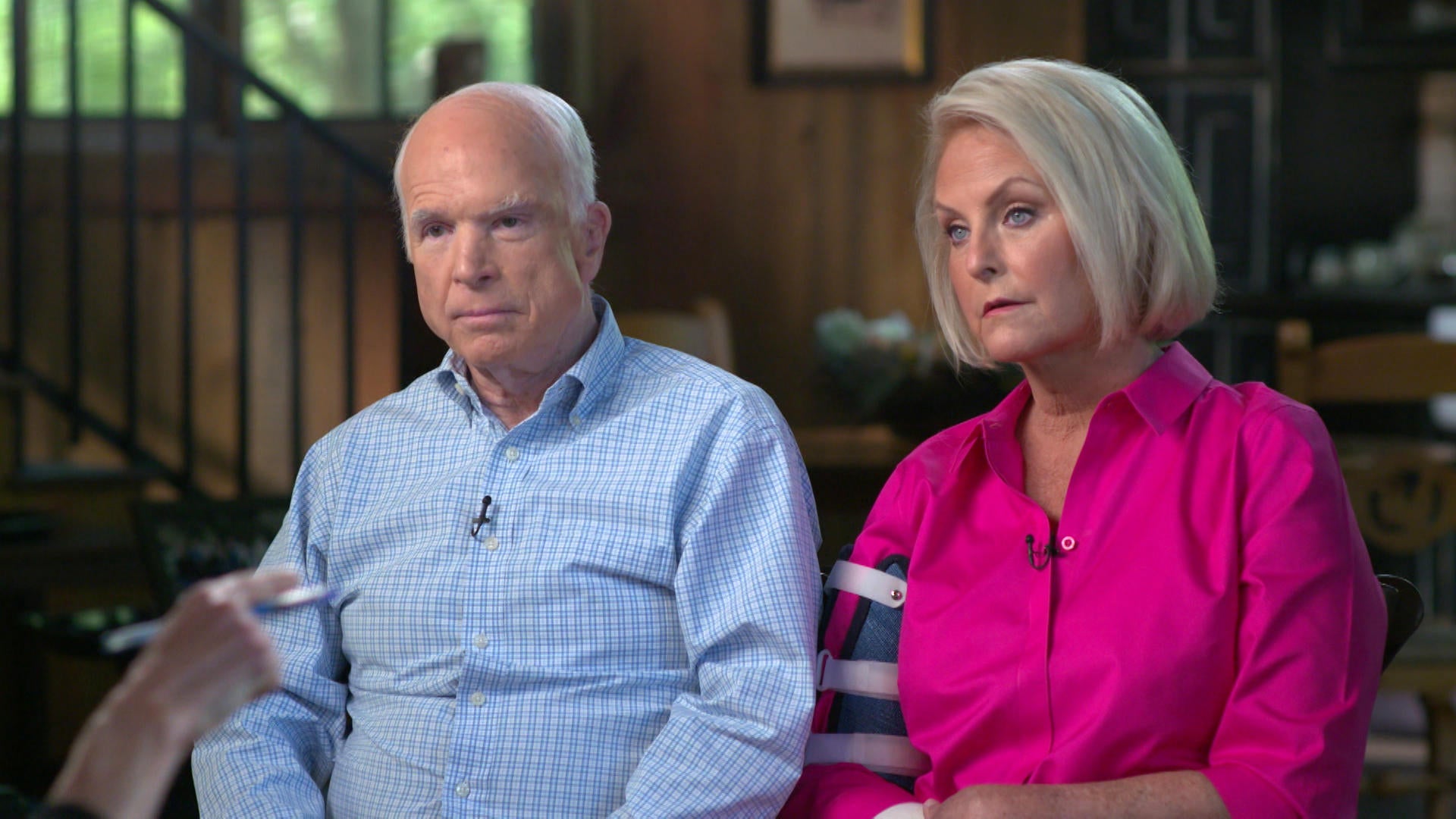 Cindy McCain tweets about White House aide accused of mocking John McCain
After reports that a White House aide allegedly joked Sen. John McCain is "dying anyway," Cindy McCain tweeted Thursday at the aide, writing "May I remind you my husband has a family, 7 children and 5 grandchildren." John McCain, who is in Arizona battling brain cancer, came out Wednesday against Gina Haspel to lead the CIA.
At an internal White House meeting, special assistant Kelly Sadler said "it doesn't matter" because "he's dying anyway," a source tells CBS News.
The Hill first reported on the remark. A source told The Hill there was "discomfort" in the room after Sadler's comment.
The Hill also reported that Sadler later called the senator's daughter, "The View" co-host Meghan McCain, to apologize. Meghan McCain has not yet commented on it, but The Daily Caller reported she will address it on "The View" on Friday.
McCain, who was tortured and held captive for five-and-a-half years during the Vietnam War, claimed Haspel's "refusal to acknowledge torture's immorality is disqualifying."
Mr. Trump has criticized McCain in the past. During the campaign, Mr. Trump mocked McCain's war record, saying "I like people that weren't captured." After McCain criticzed Mr. Trump in Oct. -- months after McCain's diagnosis -- Mr. Trump said "people have to be careful because at some point I fight back ... You know, I'm being very nice. I'm being very, very nice. But at some point I fight back and it won't be pretty."
McCain has not returned to the Senate since December. He was diagnosed last year with glioblastoma, a rare, aggressive form of brain cancer that killed Democratic Sen. Edward Kennedy and Beau Biden, the son of former Vice President Joe Biden.
McCain has primarily been staying at his family retreat south of Sedona, Arizona, a sprawling and secluded ranch house along tree-lined Oak Creek where he loves to have family gatherings and barbecue for friends. Meghan McCain was married there in November to Ben Domenech, publisher of the online political and cultural magazine The Federalist. The senator has been known to lead nature tours featuring his extensive knowledge of dozens of species of birds on the property.
McCain's family and staff have kept news of his condition and treatment private, with his office routinely saying it has no new information to share. In mid-April, it was announced that he had been hospitalized for intestinal surgery needed to stem an infection related to diverticulitis, a condition where the colon develops small bulges that can sometimes become infected.
Thanks for reading CBS NEWS.
Create your free account or log in
for more features.