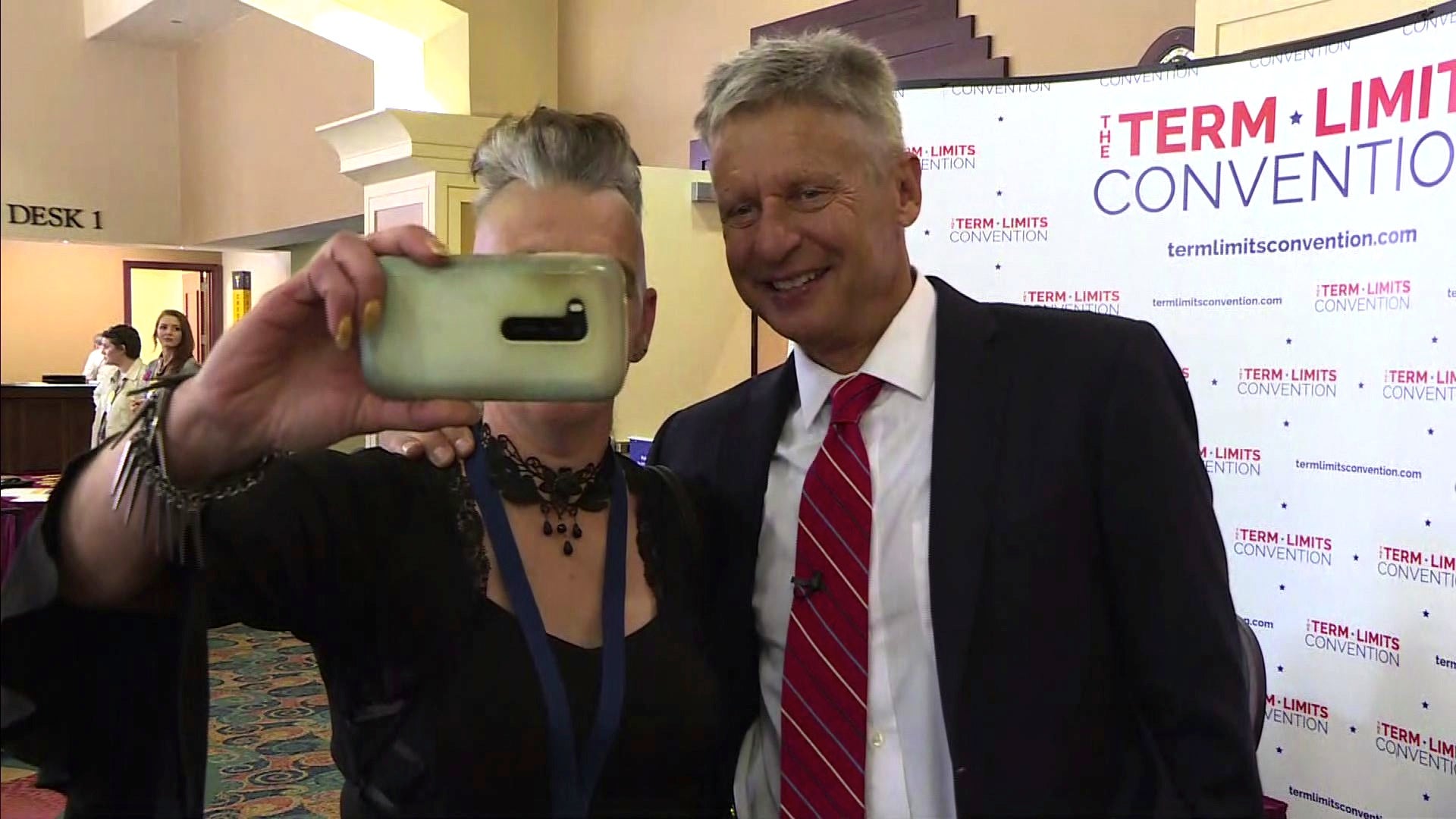 Are Gary Johnson, Bill Weld too "Republican-lite" to win Libertarian nomination?
ORLANDO, Fla. -- Republican governors running for the presidency have had a tough year. Just ask former Govs. Jeb Bush or John Kasich.
But it turns out that the two former Republican governors battling for the Libertarian Party's presidential and vice presidential nomination, Gary Johnson and Bill Weld, are trying to beat back some of the same challenges that sunk their brethren in the earlier Republican contest.
Far from Iowa or the ongoing Democratic race in California, this weekend at a sprawling hotel in sunny Orlando, Florida, delegates to the Libertarian National Convention will pick their candidates for the presidency and vice presidency.
There's a surreal feeling in this parallel contest, exacerbated by oblivious bikini-clad vacationers frolicking in the pool outside and the sometimes puzzled-looking MegaCon attendees walking by in costumes inspired by superheroes and video-game characters.
At the center of it is Johnson, the former New Mexico governor and the 2012 Libertarian presidential nominee, who on Friday was standing in the hallway chatting up Libertarian delegates roaming around and dutifully posing for selfies.
"I want to thank you for so much you've done!" exclaims one well-wisher who walks up to him. When Johnson's girlfriend and fiancee Kate Prusack wanders nearby, he gushes to the few reporters with him, "I have the cutest 63-year-old girlfriend that has ever walked the planet!"
Johnson appears to be enjoying the moment -- indeed, this could be the year the Libertarian Party has a breakout moment. It's the only non-major party likely to appear on the ballots of all 50 states.
A few recent polls that have chosen to include Johnson show him hovering around 10 percent - within striking distance of the 15-percent threshold necessary to be included on the general election debate stage. The fact that Donald Trump and Hillary Clinton are their parties' likely nominees have spawned more national media stories and interest in the Libertarian Party than in recent memory.
"The attention after [Texas Sen. Ted] Cruz dropped out, the Google hits went up 5,000 percent. I believe there's 40 national media here as opposed to four last year. A lot of attention, all of it good!" Johnson remarked on Friday. In 2012, Johnson pulled in a record for his party - 1.2 million votes, or nearly 1 percent of ballots cast.
A few weeks before this weekend's convention, Johnson announced that Weld, the 70-year-old former Republican governor of Massachusetts, had agreed to be his running mate and seek the Libertarian Party's vice presidential nomination, which led to more attention and cable television interviews.

Mentioning this, Johnson told a few reporters standing next to him, "Bill Weld brings attention, he addresses that in a really big way. He really likes fundraising, and he's connected." And then he emphasized, "I really hate fundraising, and I'm not connected."
Johnson, wearing a suit and sneakers, and Weld are by far the most traditional candidates here. Not that there is anything traditional about a former two-term Republican governor who also happens to be a marijuana entrepreneur.
Many of the Libertarian delegates recognize that a Johnson/Weld ticket would be their best chance to win votes.
"Right now, it looks like the best candidate would be Gary Johnson because he's done it before," said Omar Recuero, a delegate and Florida state party director from Hollywood, Florida. "He's got a really good game plan. All this competition he had, it helps sharpen him up a little bit. If he goes into a debate with Trump or Hillary, he really has to sharp."
Noting the party's perennial gadfly status, Recuero said, "Our candidate has to have a message that reaches across both sides. Republicans have to like his message, and Democrats have to like his message because we don't have the numbers."
But Johnson and Weld face pushback from forces who place more importance on ideological purity who don't want to sacrifice ideology for electability and others who fear that the Libertarian Party is being branded "Republican-lite."
"We find a number of former Republicans for things, and I think we need to balance our outreach more so we're at least appealing as much to the left as to the right," said Starchild, a delegate from San Francisco who supports the presidential candidate Darryl Perry.
Starchild's Twitter biography describes himself as an "erotic service provider and pro-freedom activist." He wears a transparent outfit and underwear with the phrase "Demand Transparency" on the back.
While the Johnson-and-Weld ticket had been getting much of the media attention before the convention, the eccentric anti-virus company founder and businessman John McAfee has no problem drawing in reporters as well.
He garnered headlines in 2012 and 2013 for fleeing Belizean authorities and hiding in the South American jungle.
Immediately living up to his reputation when a Politico reporter introduced himself , McAfee shot back, "that porn magazine!" leading the reporter to answer, "not quite." When a comic con attendee dressed as Hagrid from the Harry Potter series asked for a picture with McAfee, the candidate blurted "Acid flashback!"

James Morris, a McAfee supporter and state treasurer for the Libertarian Party of Florida, compared McAfee to Trump in his ability to garner attention.
"McAfee will do the same thing I believe that Trump has done to the Republican Party as far as getting in their face, getting the media attention," Morris said. "That's what we need, the media attention."
Addressing the possibility of a ticket of ex-Republican governors, Morris said, "But Libertarians don't always do what the media thinks what we're going to do. We may shoot ourselves in the foot or we may not. We'll find out."
Unlike Johnson, McAfee has no interest in winning the presidency.
"I can't win the presidency!" he told CBS News in an interview. "You Americans know I can't win the presidency. It is more than absurd, it verges on the insane! You know this! To be frank with you, all the other Libertarian candidates don't stand a chance. If you think we do, get out more or stop doing drugs. We can't. However, we can win not by being the president but by using this process to lift the curtains."
The Johnson/Weld ticket ran into headwinds on Friday evening during the Libertarian vice presidential debate with Weld and three other younger candidates. In closing statements, candidate Larry Sharpe tried to tear down the electability-and-experience pitch of the former governors.
"They are going to try to tell us we have to accept and reinforce the terrible stereotypes that we've been burdened for years, that we are all Republican-lite. We are not. Or that we are all white men over 60. We are not," Sharpe said.
Growing more passionate he asked, "Do we believe that you have to believe you have to have government experience to be in government, if we think that, we're in the wrong party?" leading the crowd to shout "no!"
As Weld looked on, Sharpe went on, "Do we believe one Republican governor is not enough? If we believe that, we have a problem internally in our party. We must understand one is enough!"
It's possible that Johnson could emerge the Libertarian Party presidential nominee with someone other than Weld as his running mate.
"Certainly I could do that. Would it be, in my opinion, best foot forward? No, it wouldn't be best foot forward. Wouldn't be the same opportunity," he said to reporters after the debate. "I hope Bill Weld is the nominee. I think if Bill Weld is the nominee I think we actually have the chance of the presidency. That's not to take anything away from the other participants this evening. I just think the chance to achieve the presidency without Bill Weld might diminish by 50 percent."
When asked about Sharpe's jab against his ticket's pitch of experience and electability, the understated Johnson reacted with just a hint of scorn: "Well that was kind of a dig at me. If that's his pitch to everyone, that's his pitch. Arguably the two most Libertarian governors that have ever served. Governors. Governors."
Thanks for reading CBS NEWS.
Create your free account or log in
for more features.