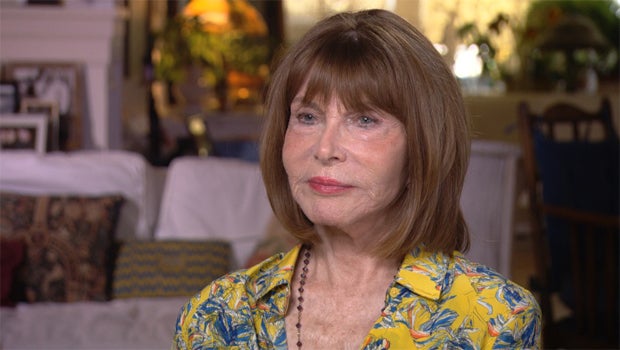 Lee Grant on life beyond the Hollywood blacklist
Lee Grant is a Hollywood veteran with remarkable staying power. Not that she hasn't experienced setbacks and disappointments along the way. She talks about that and more with our Michelle Miller:
Lee Grant has been studying her face for more than 80 years -- and so have we, on stage, on television, and in movies such as "Shampoo," "Valley of the Dolls," and "In the Heat of the Night."
For four and 1/2 years, sitting in her Manhattan apartment, the Academy Award-winning actress and director confronted her past, writing it all down by hand. The result is the new, thoroughly-honest memoir, "I Said Yes to Everything."
Her real name is Lyova Haskell Rosenthal. Her family had a vision for her: a life of fame and of glamour (maybe as a dancer).
"A rich, rich, rich American, with a slightly English accent," Grant said. "You know, what they saw in the movies."
"So there was play-acting going on," said Miller.
"Not play-acting. There was just a yearning, a wish, an immigrant's wish. And it all depended on me to carry out the wish."
To make that wish come true, she threw herself into studying theater. Her early training led to a part in the 1949 Broadway play, "Detective Story," a role she repeated in the film. It earned her the first of four Oscar nominations.
But as quickly as she had ascended, it all came crashing down.
She was blacklisted for 12 years, from the time she was 24 to 36 -- prime years for an actress. "Can you imagine?" she said.
Starting in 1947, the House Un-American Activities Committee subpoenaed actors, directors and writers to discover if the entertainment industry was indoctrinating Americans with Communist ideology.
Miller asked, "What did you think about Communism at the time? Was it something that you were passionate about?"
"I knew nothing about it," Grant said. "And it was one of the big rifts between my husband and myself. He was a Communist. And I didn't have the base for that kind of philosophy. I just couldn't understand it."
Not only was Grant in love with an American Communist, screenwriter Arnie Manoff, she had agreed to speak at the memorial service of a fellow actor, J. Edward Bromberg, who had been blacklisted and died of a heart attack just short of his 48th birthday.

"And two days later, I was in a union meeting, Actors Equity meeting, and the actor in front of me said, 'I see you've made the list,'" Grant recalled. "And I said, 'What list?' And he said, '"Red Channels.' He had this book of Red Channels, and my name was in it: 'Lee Grant' was in it with the words that I'd said at his memorial."
"What is it to see your name on that list today?" Miller asked.
"Well, I'm in good company!" Grant replied.
Her name was placed on a list that included Leonard Bernstein, Lena Horne, Arthur Miller, Pete Seeger, Orson Welles, and many others.
"From that day, for 12 years, I couldn't work again in film or television," Grant said.
And once her name appeared, she had to testify in Washington, D.C., before the Un-American Activities Committee.
"They asked me if I got my work through the Communists," Grant said. "They apparently had put together 'Communist agent' with 'theater agent.' So an agent, they thought, was a Communist agent.
"They were, they were so stupid!" she laughed.
In 1964, her attorney did a political favor for the head of the House committee, and for Grant, the blacklist was over. But so was her marriage to Arnie Manoff, who soon died at 50 from a heart attack.
Once off the list, many offers came her way, including one of the most popular TV shows at the time: "Peyton Place," for which she won an Emmy.
"Peyton Place" was a town ripe with secrets, and Grant had been keeping a few of her own: she'd been skimming years off of her birth date. And more . . .
"I had a face lift at 30," she said.
"That's so young," said Miller.
"Yes. But I couldn't look in the mirror."
And did she achieve the effect she wanted? "Absolutely," Grant laughed. "Everything that went down, went up!"
So more roles followed, even if it meant playing slightly older women, like the one who wanted a "Shampoo" -- and a lot more -- from her seductive hairdresser (played by Warren Beatty).
And even though Beatty himself was the hottest commodity in Hollywood, Grant swears there was no sex, even during his romantic visit to her hotel room:
"We kissed each other," she said. "And we felt so good, that we kept on kissing and kissing and kissing until he left. It was morning, after all, you know, he had a lot of other ladies to drop in on!"
Maybe not Warren, but she did get Oscar -- for Best Supporting Actress. And her life changed again.
"And as I went up, something, like, came over me of knowing that I was going to be too old for the kinds of parts that I played -- that I knew I'd been running from disclosing my age, and knowing that age would always be against me."
So she became a movie director, and along with her second husband, producer Joe Feury, made a series of highly-successful documentaries.
Their examination of poverty, "Down and Out in America," won the Academy Award in 1987.
"Well, from 12 years of not being able to express your opinion unless you were punished for it, it was being able to explore all of the social problems that were happening," Grant said. "It was the Reagan years, it was the first time that I had seen homeless people."

Today, Lee Grant is just another one of those smart-looking women you see shopping on the streets of Manhattan.
This grandmother of five has no trouble being seen in public. Just don't ask her how old she is. "What do you want me to say, Michelle? OK, I have a problem! Is that what you want to hear?"
"Oh, you gonna tell me your age?"
"No," said Grant. "I can't tell you that."
If she won't tell, we won't, either.

For more info:
Thanks for reading CBS NEWS.
Create your free account or log in
for more features.