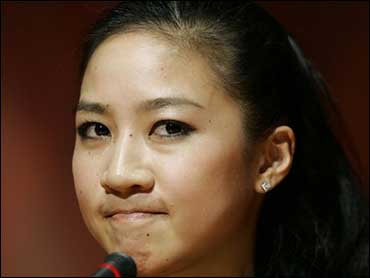 Kwan Drops Out Due To Injury
Michelle Kwan dropped out of the Turin Games on Sunday morning because of a groin injury, bringing her decade-long quest for Olympic gold to a sorrowful end.
Kwan cut short her first practice at the games Saturday after straining the muscle, and the injury worsened as the day wore on. She said she didn't want to drop out, but after Dr. Jim Moeller evaluated her early Sunday morning, she withdrew.
"I wish I was here in better circumstances," Kwan said Sunday morning, her voice lifeless and her face somber. "When I first put in my petition, I said I believe I'd be 100 percent by time the Olympics came around. But yesterday, after going on ice and feeling stiff ... I don't think that I can be 100 percent.
"I respect the Olympics too much to compete and I don't feel I can be at my best."
Emily Hughes was chosen by the U.S. Olympic Committee as Kwan's replacement, reports CBS News correspondent Steve Futterman.
Peter Ueberroth, chairman of the U.S. Olympic Committee, called Kwan's withdrawal a "loss."
"Michelle Kwan means more to the United States Olympic Committee then maybe any athlete that's ever performed for the U.S. Olympic Committee," Ueberroth said. "She's been a leader, she's been gracious, she's somebody that cares for so many youngsters that are training in our country. She's a real loss to all of the United States Olympic Committee and to the United States of America and I think to the world, and she's made a courageous decision."
Olympic officials approved 17-year-old Hughes as Kwan's replacement a few hours later. Hughes was the third-place finisher at last month's national championships and younger sister of 2002 Olympic champion Sarah Hughes.
She said in a Saturday interview with WNBC-TV in New York that she would be ready to travel to Turin if needed.
"Just point me in the direction and I'm there," Hughes said.
David Raith, executive director of U.S. Figure Skating, said he talked to Hughes while she was at dinner with her family Saturday night.
"She expressed her wishes for a recovery for Michelle, but also was very, very excited she'll now become a member of the US Olympic team," Raith said.
If she can get here. Blizzard warnings were posted for the New York City area, where she lives, and dozens of flights were canceled at the city's three major airports. Hughes' whereabouts were not immediately known.
"I'm a little bit shocked," said U.S. teammate Sasha Cohen. "I know how tough it is to come back from an injury and get yourself together. It's great she tried, but things don't always work out."
Kwan missed last month's U.S. nationals with a groin injury, and needed a medical exemption to join the Turin team. She was evaluated several times by U.S. Figure Skating doctors before she arrived in Turin, and they declared her fit to skate.
Moeller said Sunday he does not believe the current injury is related to the groin problem Kwan had during the national championships.
"She was cleared medically and told she had a complete recovery from the prior injuries," Moeller said. "Based on my assessment at this moment, I would have to say it's an acute new injury."
This was to be the last chance at the Olympic gold that never became a reality for Kwan. Though she's defined the sport for the past decade, winning five world and nine U.S. titles, she came up heartbreakingly short at the Olympics. The favorite in both Nagano and Salt Lake City, she had to settle for silver in 1998 and a bronze in 2002.
Now 25, she hung around the past four years for one more shot at gold. But her hopes faded fast.
She missed the Grand Prix season with a hip injury, then missed the nationals with the groin injury. She looked sharp during a Jan. 27 monitoring session that solidified her spot on the team, doing back-to-back run-throughs of her long and short programs.
But she said the long plane ride to Italy, followed by marching in the opening ceremony, apparently took a toll. By the time she returned to the athletes' village, she was starting to hurt.
When she woke up Saturday morning, it wasn't any better.
"I just wanted to get out, get my legs under me and feel the ice," she said Saturday. "Sometimes you don't need to do run-throughs."
But she couldn't do much of anything else, either. She didn't do her first jump, a smooth triple toe loop, until almost 14 minutes into the workout. She did a single flip, landed on two feet on her first triple flip, and fell hard on her next attempt at the jump. Kwan made one last try, but could only do a double, and the frustration was clear on her face.
Most telling was her demeanor, at times, she looked downright despondent and teary. With coach Rafael Arutunian still in transit, U.S. team leader Roger Glenn was seen holding Kwan's hand or arm several times, as if to comfort her. She had to wipe her eyes several times, and she left the practice 15 minutes before it ended an early exit for a woman who is meticulous about preparation.
"It's always been a dream to win the Olympics and it's always an honor to represent your country," said Kwan, whose eyes filled with tears with every word she spoke. "My parents are here, they arrived last night and they always want me to be happy, for their baby to win the gold and make my dreams come true.
"I have no regrets," she added. "I tried my hardest. And if I don't win the gold, it's OK. I've had a great career. I've been very lucky. This is a sport, and it's beautiful."
Thanks for reading CBS NEWS.
Create your free account or log in
for more features.