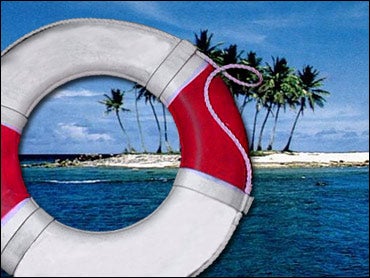 Kids Survive Castaway Ordeal
Three children survived for six days on shellfish, coconut milk and fruit on a small island after swimming away from their overturned boat in waters off Australia's northeastern tip.
Ellis Tamwoy, 15, her sister, Norita, 10, and brother Stephen, 12, were recovering from their ordeal Wednesday on their home island of Badu, an Australian island in the Torres Strait.
But while their story of survival raised spirits in their remote indigenous community, hope of recovering the rest of the family — Haley Tamwoy, his wife Lisa and their 3-year-old son Clarence — was fading after rescuers called off the search for them.
The family set off July 6 for a birthday party on Thursday Island when their 16-foot aluminum boat capsized, the children's aunt, Wendy Phineasa, said. Their boat sank Tuesday in choppy waters, but they were not reported missing until the weekend.
Australian Maritime Safety Authority spokesman Ben Mitchell said unless the remaining members of the family managed to scramble onto an island, they almost certainly were dead.
"We scoured the islands and rocky outcrops in and around the area covering several hundred square kilometers of land masses and open ocean and unfortunately we do not believe there are survivors," he said.
The children, suffering little more than dehydration and sunburn, finally were rescued by an uncle on Monday.
After the boat capsized, their parents told them to swim to a small island while they stayed with young Clarence by the upturned boat.
After hours in the water, which is home to several shark species, the children reached a group of barren rocky outcrops, where they stayed until Friday, when they decided they would have to swim across open seas to tiny Matu Island.
There they survived on coconuts, native wongai fruit, a kind of plum, and oysters until Monday, when they were rescued by their uncle, Frank Nona, who was out searching for the missing family.
Another of the children's' aunts, Vickie Tamwoy, a nurse on Badu Island, said the children's mother had told them to swim to safety as the boat sank.
"Their mother, when the dinghy sank, ... said to them, `You kids swim over to that rock area so that at least some of this family will be able to survive,"' Tamwoy told Australian Broadcasting Corp. radio.
By Mike Corder
Thanks for reading CBS NEWS.
Create your free account or log in
for more features.