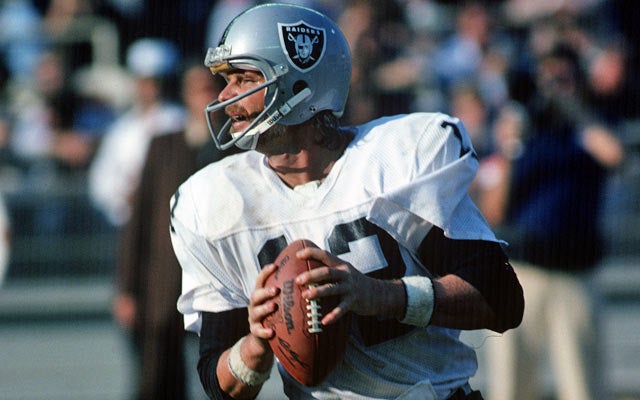 Former NFL MVP Ken Stabler had brain disease CTE
BOSTON -- Former Oakland Raiders quarterback Ken Stabler, the late NFL and Super Bowl MVP who is a finalist for the Pro Football Hall of Fame, has been diagnosed with the brain disease CTE, Boston University researchers said Wednesday.
Stabler, who died of colon cancer at 69 in July, had Stage 3 chronic traumatic encephalopathy, Dr. Ann McKee told The Associated Press. McKee said the disease was widespread throughout his brain, with "quite severe" damage to the regions involving learning, memory and regulation of emotion.
"We've now found CTE in former NFL players who played every position except kicker," said McKee, a professor of neurology at Boston University. "While we know on average that certain positions experience more repetitive head impacts and are more likely at greater risk for CTE, no position is immune."
The diagnosis was first reported by The New York Times.
The disease, which can only be diagnosed after death, is linked to repeated brain trauma and associated with symptoms such as memory loss, depression and progressive dementia. CTE has been found in the brains of dozens of former football players.
According to Chris Nowinski, the founder of the Concussion Legacy Foundation, Stabler told his family he wanted to have his brain studied after learning that former NFL linebacker Junior Seau had been diagnosed with the disease. In 2012, Seau shot himself in the chest at the age of 43.
"What is interesting about Ken Stabler is that he anticipated his diagnosis years in advance," Nowinski told the AP. "And even though he's a football icon he began actively distancing himself from game in his final years, expressing hope that his grandsons would choose not to play."
Last year, researchers at Boston University confirmed CTE in the brains of 87 out of 91 deceased former NFL players, including Seau and the late, great Frank Gifford.
McKee said the extent of the damage to Stabler's brain was surprising because he was relatively young when he died and because he was a quarterback and thought to be less exposed to repeated head trauma.
"There was no evidence of any other brain disorder to explain the difficulties he experienced during life," McKee said.
Having studied the brains of athletes ranging from teenagers to a 98-year-old, McKee told CBS News in 2012 that CTE doesn't discriminate by age. A seminal case for her came in 2010, when 21-year-old Penn football player Owen Thomas committed suicide. An analysis of Thomas' brain tissue showed that the star defensive end, who had never been diagnosed with a concussion, had CTE.
Said McKee: "I was taken aback that this could affect even our young athletes."
The left-handed Stabler, nicknamed "Snake" for his ability to escape from defenders, led Alabama to an undefeated season in 1966. A second-round draft pick by Oakland, he was the NFL's Most Valuable Player in 1974, and he was named Super Bowl MVP in 1977 after leading the Raiders to victory.
In all, Stabler threw for 27,938 career yards and had a .661 winning percentage over 15 seasons, which also included stints with the Houston Oilers and New Orleans Saints. He was selected as a finalist for the Hall of Fame by its Seniors Committee; the inductees will be announced on Saturday.
NFL great Tony Dorsett, who says he was diagnosed with CTE, told CBS' Mo Rocca that he has paid a price.
"Memory, man," Dorsett said. "Places that I go to on a regular basis all of sudden I'm just wondering, 'How do I get there?' Taking my kids to school and picking them up and, 'Where do I pick 'em up?'"
Thanks for reading CBS NEWS.
Create your free account or log in
for more features.