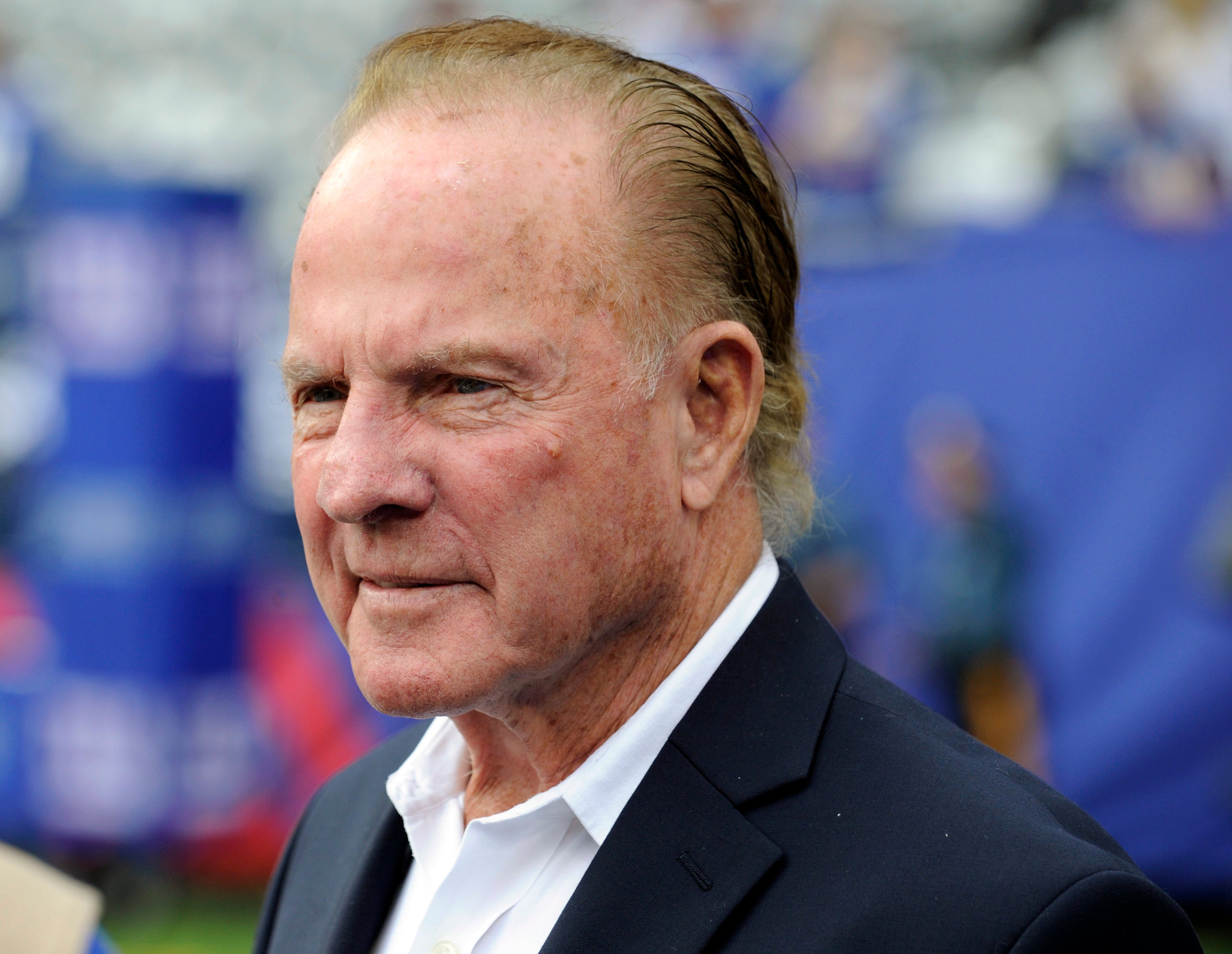 Family: NFL Hall of Famer Frank Gifford had CTE in his brain
NFL Hall of Famer Frank Gifford, who died in August, suffered from a concussion-related brain disease, his family revealed today.
In a statement, his family, including widow Kathie Lee Gifford, said that his brain was donated to scientists who confirmed that he had chronic traumatic encephalopathy (CTE) -- a progressive degenerative brain disease believed to be associated with repeated head injuries and concussions.
"After losing our beloved husband and father, Frank Gifford, we as a family made the difficult decision to have his brain studied in hopes of contributing to the advancement of medical research concerning the link between football and traumatic brain injury," they said in the statement.
Gifford died of natural causes on August 9 at the age of 84, but his family said they suspected he'd been "suffering from the debilitating effects of head trauma" while he was alive.
Gifford is now one of the highest profile former NFL players to be named as having CTE, which research suggests stems from the repeated, minor head trauma that occurs regularly in football. This contact, experts say, may pose an even greater risk to players than the violent collisions that can cause concussions.
Other former players confirmed to have been affected by the disease include Dave Duerson, Ray Easterling and more recently Junior Seau, all of whom committed suicide. Since last year, concerns about brain health prompted NFL players Chris Borland and Sidney Rice to announce their early retirements from the game.
Gifford's family said they decided to disclose his condition in order to honor his legacy of promoting player safety in the NFL.
"During the last years of his life Frank dedicated himself to understanding the recent revelations concerning the connection between repetitive head trauma and its associated cognitive and behavioral symptoms--which he experienced firsthand," the statement said.
"We miss him every day, now more than ever, but find comfort in knowing that by disclosing his condition we might contribute positively to the ongoing conversation that needs to be had; that he might be an inspiration for others suffering with this disease that needs to be addressed in the present; and that we might be a small part of the solution to an urgent problem concerning anyone involved with football, at any level."
NFL Commissioner Roger Goodell released a statement calling Gifford "a beloved member of the NFL family" and saying the league "appreciate[s] the Gifford family's desire to help the medical community understand more about CTE."
"At the NFL, we are supporting grants to NIH and Boston University as well as other independent efforts to research the effects of repetitive head trauma," the statement said. "But we are not waiting until science provides all of the answers. We are working now to improve the safety of our game. The NFL has made numerous rules changes to the game, all to enhance player health and safety at all levels of football."
Goodell said the changes were already "yielding measurable results."
"This work will continue as the health and safety of our players remains our highest priority," the statement concluded. "We have more work to do -- work that honors great men like Frank Gifford."
Thanks for reading CBS NEWS.
Create your free account or log in
for more features.