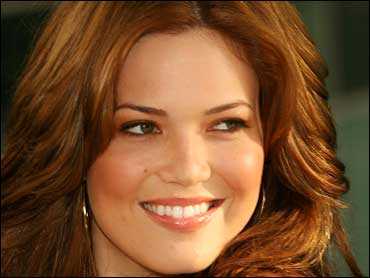 Katherine Harris' 'W' Files
Government computers in the office of Florida's top elections official contained documents endorsing George W. Bush's candidacy for president, an initial review of computer files showed.
Secretary of State Katherine Harris, who also served as co-chair of Bush's Florida campaign, had said repeatedly that she had erected "a firewall" during the election between her state office and the Republican Party.
The documents found on her state computers endorsing Mr. Bush were among tens of thousands of computer files released by Harris last week after reporters questioned whether she had erased records about the 2000 election that a newspaper had asked to examine.
One of the documents was titled "George W. Bush Talking Points." It was dated March 14, 2000, and endorsed Mr. Bush's nomination for president, saying he had "proven in Texas that he can manage like an executive, govern across party lines and lead with inclusiveness."
---
Amazing Race: look back on the 2000 election.
---

Another document, written for Harris, urged Republicans to support Mr. Bush and "send the loudest possible message that we are ready to lead!" The speech was written following the New Hampshire primary, which Mr. Bush lost to Arizona Sen. John McCain.

"I am a bit biased. I co-chair the campaign effort of George W. Bush … I hope it will be 'W,'" the document read. Harris was supposed to deliver the speech in Orlando.

Harris' spokesman, David Host, said the "talking points" speech was sent by someone outside Harris' office and that she never delivered the remarks. He said he did not know who sent the document. Host said he had not seen the second document and could not comment on it.

Harris agreed to allow news organizations to check the hard drives of four computers in her office after a report in The New York Times questioned whether Republican operatives influenced how Harris told elections officials to treat overseas absentee ballots.

News organizations hired Minneapolis-based Ontrack Data International Inc. to inspect the computer hard drives to recover anything that may have been erased as well as everything still on the computers.

Technicians with the firm said the computers showed no evidence of wholesale intentional erasures, although some files had been deleted.

Kerry Stillman, an official with the state Commission on Ethics, could not comment on individual cases, but said using state equipment and time for political activity falls under the state law governing misuse of public position.

In a statement released by her office, Harris said no records were destroyed and "no partisan political activity transpired in my office during the recount period."

Harris released the computer files after the Times reported that a draft memo to Harris from her staff after the election said overses ballots had to be postmarked or signed and dated by Election Day.

Other Views

And Still The Winner …
A review of uncounted ballots in Miami-Dade County showed Al Gore would not have gained enough votes to overtake George W. Bush in Florida, a newspaper reported.

Report Finds Violations In Fla. Election
The U.S. Commission on Civil Rights approved a report that suggests blacks disproportionately had their ballots discounted in Florida's elections, leading to widespread violations of the Voting Rights Act.

Report Questions Fla. Absentee Ballots
A New York Times investigation into overseas ballots that helped George W. Bush win the presidency found that Florida election officials, facing intense GOP pressure to accept military votes, counted hundreds of overseas absentee ballots that failed to comply with state election laws.


The newspaper reported that Harris later said overseas ballots had to be "executed" by Election Day but were not required to be postmarked by Election Day.

The Times report contended that Republican operatives waged a county-by-county campaign to get election boards in GOP-heavy counties to accept late absentee ballots while arguing that Democratic counties should disregard such ballots.

The effort, according to the Times, led to vast disparities in what ballot mistakes were tolerated.

An initial review by The Associated Press on Tuesday turned up no evidence that Harris switched positions on the absentee ballots.

Florida officials counted hundreds of disputed overseas ballots, which were crucial to Mr. Bush's 537-vote victory in Florida over Al Gore.

Democrats have complained bitterly that Harris used her position to boost Mr. Bush's chances of winning the state.

While Gore came out ahead in the national popular vote in 2000, the narrow victory in Florida gave Mr. Bush the state's 25 electoral votes he needed to win the presidency. A recount of thousands of Florida ballots and resulting court battles held up a resolution to the election for five weeks; Gore conceded on Dec. 13.

Harris is considering running for Congress.

©MMI, CBS Worldwide Inc. All Rights Reserved. This material may not be published, broadcast, rewritten, or redistributed. David Royse of The Associated Press contributed to this report
Thanks for reading CBS NEWS.
Create your free account or log in
for more features.