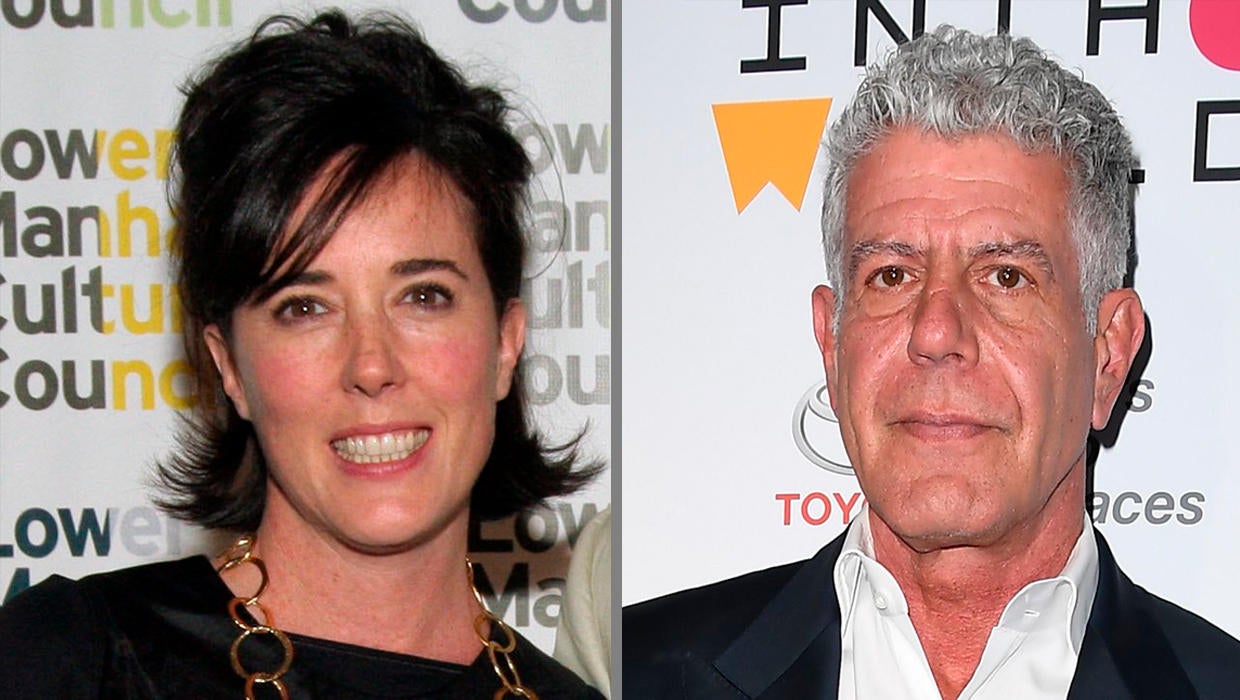 High-profile celebrity suicides leave media examining coverage
NEW YORK -- The deaths of designer Kate Spade and celebrity chef Anthony Bourdain have caused media organizations to look at how they cover suicide. It has also sparked discussion about whether more could be done to prevent copycat killings, without neglecting the duty to report news.
Several outlets have publicized the 1-800-273-8255 suicide prevention hotline -- People and Entertainment Weekly magazines are using it on their covers -- and operators say the hotline has received the largest volume of calls in its history following the celebrity deaths.
The Associated Press sent guidelines to its staff this week about how suicides should be reported, including new instructions on addressing suicide notes. The Poynter Institute, a journalism think tank, also publicized advice to news leaders.
Some of the guidelines being discussed contradict the natural impulses of journalists. When some younger reporters at a major national news organization urged that the suicide hotline be publicized following last week's deaths, an editor said that it wasn't their job because "we're not social workers," said Kelly McBride, media ethicist for the Poynter Institute. She wouldn't identify the outlet.
John Daniszewski, vice president and editor at large for standards at The Associated Press, said: "Our responsibility is to keep people informed, but in a way that doesn't lead others to consider suicide."
Daniszewski's message included a reminder to staff members that a 2015 entry in the AP's influential Stylebook said not to be too specific about the methods of suicide. Reporting that both Spade and Bourdain died by hanging last week was newsworthy, but in both cases the service went too far in some versions of the stories by describing the implement used in the deaths, he said. The information was removed from subsequent versions.
Experts in suicide prevention say such details can be dangerous. There was a reported increase in the number of people who died by suicide using the same method as comedian Robin Williams after he died, McBride said.
In most cases, the mistakes made by news organizations were early in the coverage, committed by people inexperienced in such stories, she said.
"It runs counter to what we know about storytelling," McBride said. "We teach people to get the details, and the more details the better. The problem with using these details is that there is no journalistic benefit to using them."
Withholding sensitive information is not unprecedented: the AP does not report the names of sexual assault victims or distribute pictures depicting graphic violence, Daniszewski said. In some cases, it may not be necessary to give any more detail other than suicide as a cause of death.
The AP told its staff that it's OK to report when a suicide note is found. But it must be discussed with a manager whether to report any contents, to make sure they don't idealize suicide or indirectly encourage others.
The New York Times has no formal guidelines for writing about newsworthy suicides. But Philip B. Corbett, associate managing editor for standards, said he's been talking about the issue with colleagues.
"If a suicide is newsworthy, we want to give readers the key facts and not leave them in the dark," Corbett said. "That would typically include such basic information as where and how. But we want to avoid a level of detail that might seem sensational, gratuitous or voyeuristic. We would likely report whether there was a note, but would consider very carefully before publishing anything from the note."
Following Spade's death, a story from the web site Your Tango, also posted on Yahoo News, contained reported details about what she wrote in a suicide note, even where it was found in her home, leading to considerable media speculation about family dynamics.
Poynter's guidelines are pro-active. The think tank advises that news outlets avoid stating the means of death in the case of suicide and, if they must, include it low in the stories and not in headlines or social media. Poynter also said outlets should use "neutral" photos of the person who died. "Images of a person who appears peaceful, calm and serene send a message that suicide will get you to that peaceful place," the guidelines say.
Less widely studied is the impact of omnipresent news: constant updates that appear on a smartphone or repetitive coverage on 24-hour news networks.
In a Huffington Post article titled "My Suicide Week: Reliving Hell in the 24-hour News Cycle," reporter Ashley Feinberg wrote about how the coverage affected her. Both Feinberg's father and sister died by suicide.
"Because people so rarely talk about suicide, the days on which we talk about almost nothing else hit especially hard." Even the publication of the prevention phone number "makes my gut ache," Feinberg wrote.
"It is a double-edged sword," said John Draper, executive director of the suicide prevention hotline. "On some level you can turn it off or turn away, but it's something in the air and it's hard to avoid."
Draper praised CNN for its coverage of Bourdain, star of the network's own "Parts Unknown" series. The personal stories told by people at the network about why they loved Bourdain and his work served as a reminder to people considering suicide about how their death would hurt people left behind. Calls to the hotline spiked by 25 percent immediately following Spade's death, and 65 percent right after Bourdain -- meaning media reports about the phone number likely saved lives, he said.
Also valuable to the cause of suicide prevention was a USA Today story by columnist Kirsten Powers and an Instagram post by rock star Dave Navarro, who both talked about how they had suicidal thoughts -- Navarro wrote he had the means of exit plotted out -- but got help and the moment passed, Draper said.
"It's been extraordinary," Draper said. "I've seen a growing awareness within the media of what we call the suicide prevention guidelines and a willingness to work with us."
Thanks for reading CBS NEWS.
Create your free account or log in
for more features.