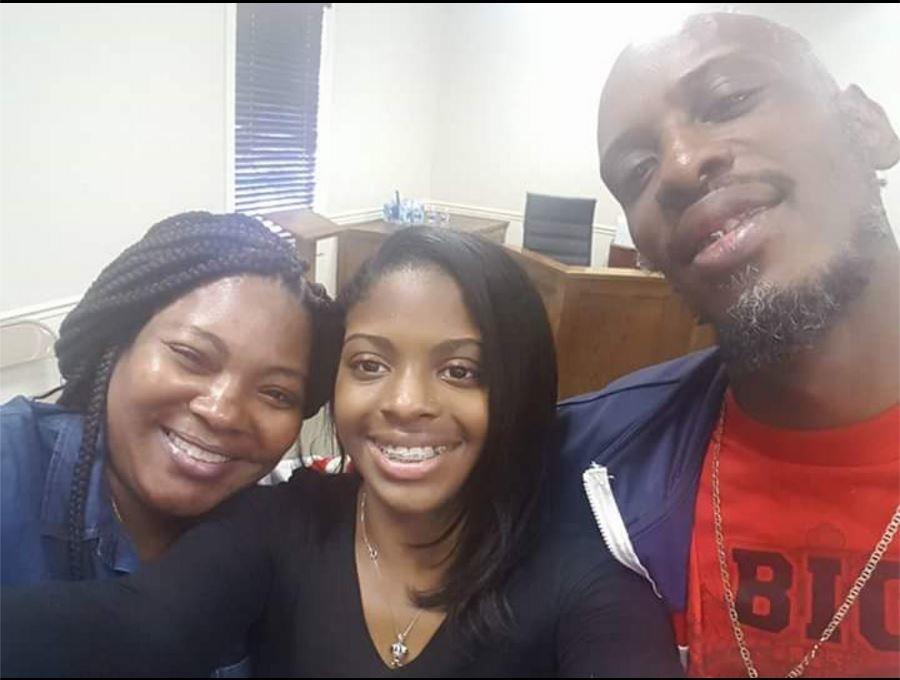 Woman abducted as an infant reunites with biological parents
WALTERBORO, SC -- The newborn baby who was abducted from a Florida hospital 18 years ago and located in South Carolina on Friday has reunited with her biological parents, her family said.
The young woman born as Kamiyah Mobley reconnected with her biological family in a private reunion at the Walterboro Police Department, CBS affiliate WCSC reports. Her father, Craig Aiken, told WCSC that he is still in shock after the 45-minute reunion.
Aiken told her he loved her and he missed her.
"First meeting was beautiful, it was wonderful, couldn't went no better... she was glad to meet us," Aiken said.
Shanara Mobley, Kamiyah's mother, was present as well. She did not comment.
"It's a feeling that you can't explain it, it's hard to put it in words right now it's hard to deal with this here right now," Aiken said. "We are just trying to process it, 18 years, it's going to be hard to make that up."
At this point the family says they are not sure what's next for them. The father says it will be Kamiyah's decision whether or not she will be visiting Florida.
"For anybody that lost hope just keep hope alive, just keep praying, keep fighting, if it happened to me, it can happen to anybody," Aiken said.
Police arrested Gloria Williams, 51, on Friday on kidnapping charges. There is no statute of limitations in the case and she could face life in prison. She will be extradited back to Jacksonville, CBS affiliate WJAX reports.
Tips led law enforcement officers to a young woman with the same date of birth but a different name and fraudulent documents in Walterboro, South Carolina. Investigators said DNA analysis proved she had been stolen as an infant from a hospital in Jacksonville, Florida.
Mobley was only eight hours old when she was taken from her oung mother by a woman posing as a nurse at University Medical Center. A massive search ensued, with helicopters circling the hospital and the city on high alert. A nurse told WJAX that the hospital changed it security procedures over the years.
The family never forgot the little girl ripped from her mother's arms that day in 1998.
Her mother, Shanara Mobley, told the Florida Times-Union newspaper on the 10th anniversary of the kidnapping that on every one of Kamiyah's birthdays, she wrapped a piece of birthday cake in foil and stuck it in her freezer.
"It's stressful to wake up every day, knowing that your child is out there and you have no way to reach her or talk to her," Mobley told the paper in 2008.
Thousands of tips came in over the years, but she had disappeared.
Sheriff Mike Williams described Kamiyah Friday as being in good health but emotionally overwhelmed. Some months ago, she "had an inclination" that she may have been kidnapped, the sheriff said. Authorities didn't say why she suspected this.
Friends and family Williams said it's hard to believe she would do something like that. "There's always two sides to every story and then there's the truth," Melissa Hiers, longtime friend of Gloria Williams, told WJAX. "Honestly, I don't believe it until it is actually proven in court."
Hiers came to the Colleton County Detention Center to see Williams on Saturday.
She said she met Williams when Kamiyah was 2 years old.
"I just hit it off with Gloria. She's that type of person," Hiers said. "You could just easily talk to (her) you know? Always blessing you."
Hiers said she watched Kamiyah, who was using a different name, grow up during her 16 years of friendship with Williams. She said Kamiyah and Williams were involved in church, and Williams was very active in the community.
Thanks for reading CBS NEWS.
Create your free account or log in
for more features.