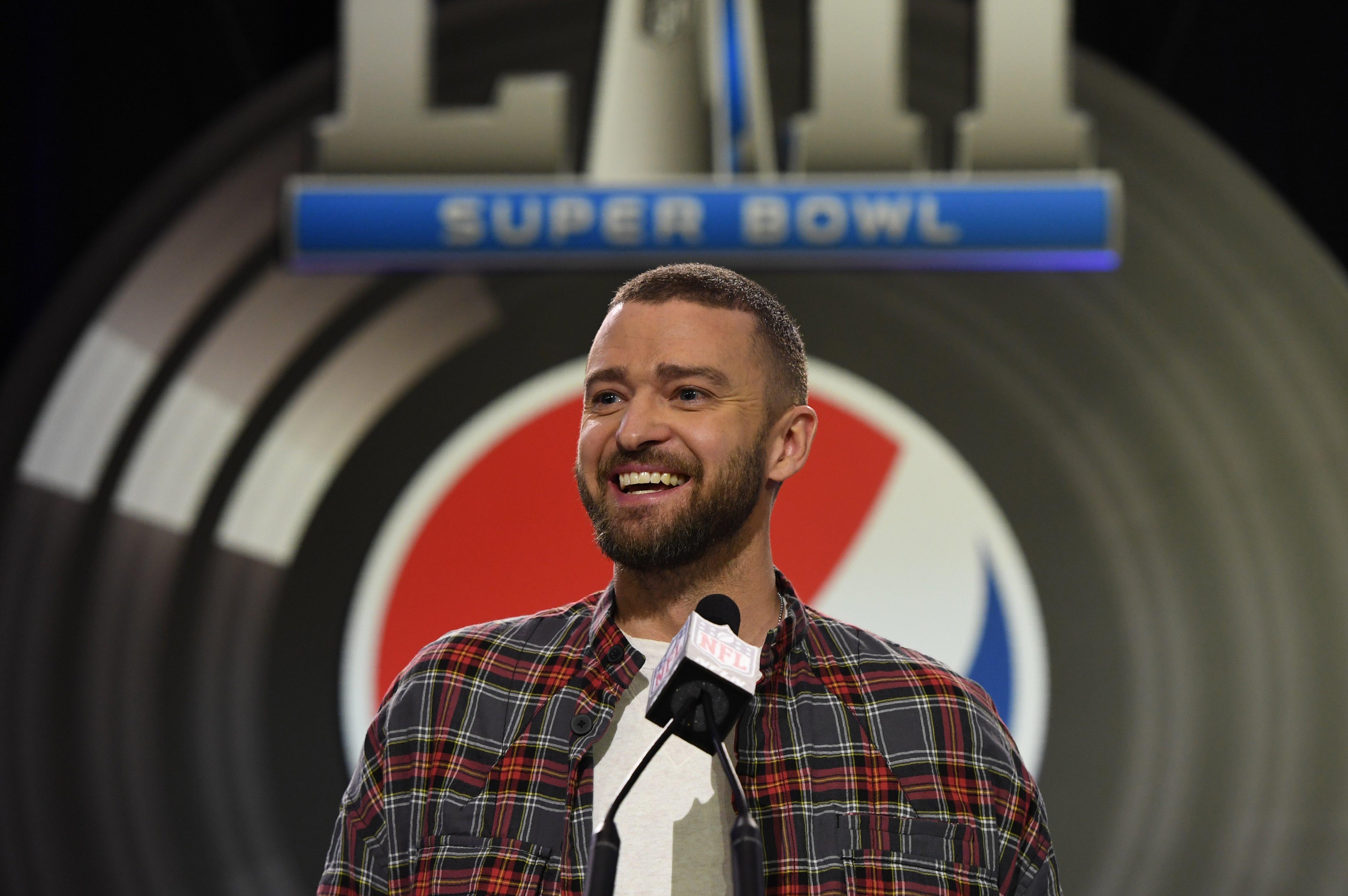 Justin Timberlake talks "bromance" with Tom Brady ahead of Super Bowl
Justin Timberlake mentioned his "bromance" with Tom Brady several times during a press conference ahead of Super Bowl Sunday. The "Filthy" singer did not touch on the controversy surrounding his last Super Bowl performance, in which he removed part of Janet Jackson's top during the 2004 halftime show, baring her breast covered only by a sun-shaped "nipple shield" in a notorious "wardrobe malfunction."
Timberlake talked about his family and said of his son, "He will never play football." It was unclear if Timberlake was serious or not, as he continued and said, "No, no, I mean, yeah, it's kind of like that thing where my main objective is that he become a great person and if he wants to get into the arts or sports then yeah, I would fully support that. I think I can hopefully offer him some advice on what to do or what not to do, so yeah, but right now we're working on manners."
When asked who inspires him and guides him in his success, Timberlake talked about his wife and family and how they are a "big grounding force" in his life. But then he mentioned the New England Patriots' quarterback and said, "That and Tom Brady. Tom Brady's hair, mostly -- he's got great hair."
Later, when another reporter asked Timberlake if he was spending any time with Brady's wife, supermodel Gisele Bundchen, he deadpanned, "Why, you trying to break up a bromance? We just got this locked up."
He later revealed that he and Brady golf together.
"Any time you get to share away from everything with somebody you have a lot of true respect and admiration for -- how seriously he takes his craft and how great he is at it -- we're probably, well, I know it, very likeminded people," explained Timberlake, "So it's nice to be around someone like that and not just hang with them, but also pick their brain on what makes them so great, as well. Take a little bit of that Brady sauce." He added, "I love Tom Brady. There, I said it."
When asked, then, if he's cheering for the Patriots, Timberlake responded, "I have to go on tour in Philadelphia ... What are you doing to me?" Then he simply said, "Go Pack, go." When a reporter asked if he meant "Pats," Timberlake repeated "Pack."
What does he have in store for this year's halftime show? Timberlake wouldn't divulge much, but he promised, "We're doing a few things with this halftime show that they've never quite done before, so I'm excited to do that. I always like to push to be able to do something like that." He also said he's excited to bring people together through music, and hopes to get everyone dancing.
During the press conference in Minneapolis, Timberlake also said he's humbled to be in the hometown of "the greatest all-around musician I can think of in popular culture": Prince.
"The time that I got to spend around him, with him, talking about music -- those are memories I'll take with me forever because he's always been such a big idol of mine," he said.
Timberlake is playing his new album on Thursday at Paisley Park outside Minneapolis. He said, "There's a lot of bucket list things happening this week, and that's definitely at the top of that list as well. I get to come back and be on stage at the Super Bowl and to top it off, I get to walk the hallowed, sacred ground of Paisley Park tonight and play my new album."
Thanks for reading CBS NEWS.
Create your free account or log in
for more features.