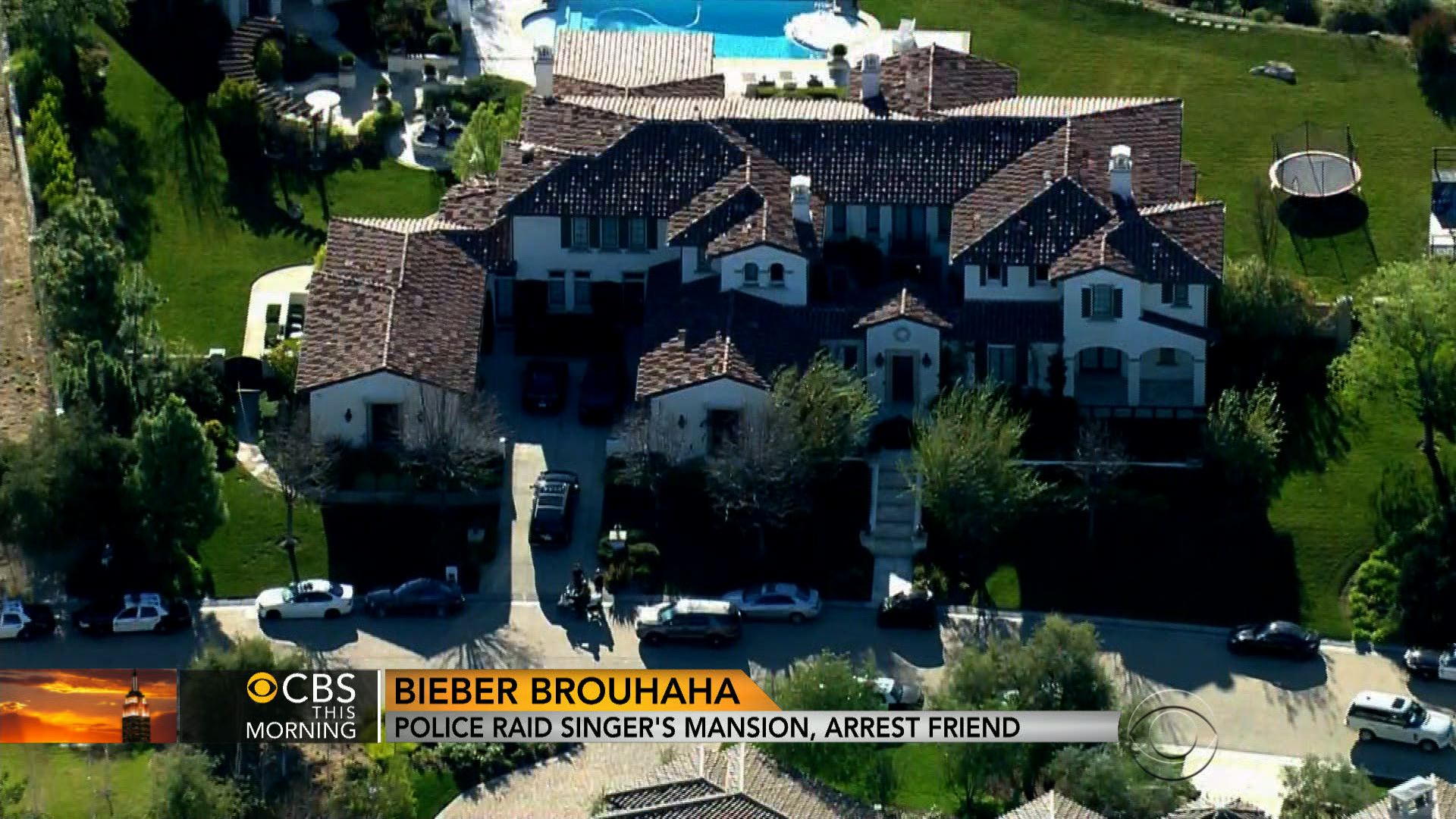 Justin Bieber's mansion raided by police after neighbor's house egged
Justin Bieber is facing a new controversy after sheriff's investigators went to the pop superstar's California home. The 19-year-old is accused of causing thousands of dollars in damage to his neighbor's home and could be facing charges of felony vandalism.
One dozen Los Angeles County sheriff's deputies descended upon Bieber's hilltop home early Tuesday morning. They were there to collect evidence that the pop star allegedly pelted his neighbor's home with eggs during an argument last Thursday.

Photos posted on the TMZ website show eggs on the imported wood and brick exterior. The damage is estimated at around $20,000. Any damage over $400 elevates the crime to a felony.
"I get that the eggs don't seem that significant, but it does rise to the level of a felony," said Dave Thompson of the Los Angeles County Sheriff's Department. "There is a victim in this case who had extensive damage done to their home, and that's a serious incident."

Investigators report that Bieber was cooperative and wasn't arrested. However, another person in his home, rapper Lil Za, was arrested for possession of narcotics.

Since 2012, Bieber's had a number of run-ins with his neighbors, who've complained about his high-speed driving and noisy parties.


For the past year, bad press about Bieber's bad behavior has been ongoing, from showing up hours late to concerts to drugs found on his tour bus.

However, despite his antics, the baby-faced singer remains one of the most popular pop stars on the planet. His newest video, "All That Matters," has racked up more than 32 million views since premiering last month. He earned $58 million last year, according to Forbes magazine.

Bieber's alleged victim, next-door neighbor Jeffrey Schwartz, told CBS News that he finds the singer's behavior "bizarre" and "sometimes dangerous." Bieber was detained by detectives for about 30 minutes, but he didn't answer questions about the egg assault. The investigation is ongoing.

Sheriff's deputies said that they didn't raid Bieber's house to send a message, but they do hope the action might prompt a change in his behavior.

CBS News reached out to both Bieber's agent and his record label, but neither party has provided comment.
Thanks for reading CBS NEWS.
Create your free account or log in
for more features.