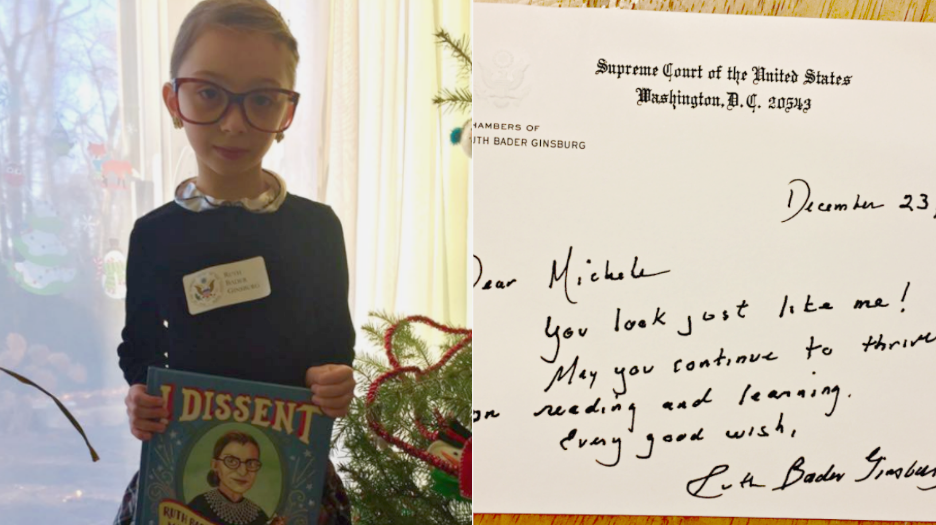 Justice Ruth Bader Ginsburg responds to 8-year-old girl who dressed like her
When 8-year-old Michele was told to pick someone for "Superhero Day" at her school, one person immediately came to mind: U.S. Supreme Court Justice Ruth Bader Ginsburg.
With over-sized glasses, a slicked back bun and the book "I Dissent: Ruth Bader Ginsburg Makes Her Mark" in hand, the third-grader was ready to spread the word about her icon.
The young girl from Columbia, Maryland, chose Justice Ginsburg because "she fights prejudice and inequality," Michele's mom, Krista Threefoot, told CBS News.
A photo of the little girl went viral when it was posted in December with nearly 2,000 shares. Dozens of people commented on the post, praising Michele for thinking outside the box.
"What an awesome young lady, may you do great things," one Facebook user replied. "Brilliant super hero you chose to help change and equal justice for all Americans."
"What an intelligent child who thinks outside of the box for solutions. Little lady, I hope to one day see you as a Supreme Court Justice," another commented.
But one person, in particular, was especially tickled to see the photo — the real Justice Ginsburg.
Weeks after Threefoot's photo of her daughter went viral she received a letter from the Supreme Court Justice's office.
On official stationary, Justice Ginsburg wrote to Michele, "You look just like me! May you continue to thrive on reading and learning. Every good wish."
Both Threefoot and her daughter were shocked.
"[Michele] was incredibly excited," Threefoot said.
Threefoot says her daughter came up with the idea to dress as Justice Ginsburg because she's been "reading and re-reading" a book about her life.
In a typed letter, Justice Ginsburg added, "Reading is the key that opens doors to many good things in life. Reading shaped my dreams, and more reading helped me make my dreams come true."
It was truly a dream come true for Michele, who Krista said, gets "very fired up about injustice, especially related to girls and women."
Thanks for reading CBS NEWS.
Create your free account or log in
for more features.