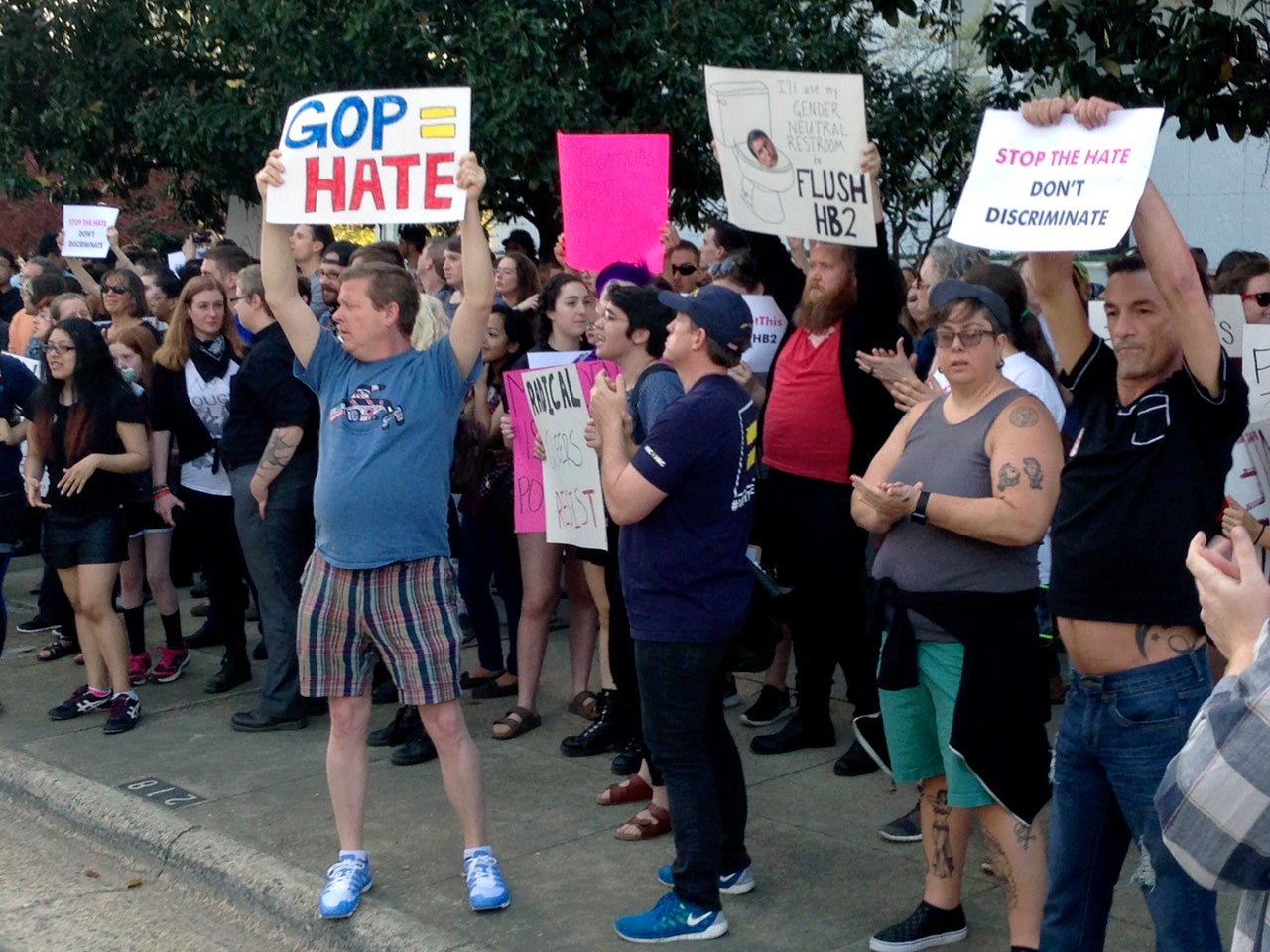 DOJ sues N.C. for "legislating identity" with bathroom bill
The U.S. Justice Department filed a federal civil rights lawsuit against North Carolina over its law restricting the use of public restrooms by transgender people, just hours after the state sued the government over trhe same issue.
The Justice Department lawsuit seeks a court order declaring that the law's provisions that apply to multiple-occupancy bathrooms or changing facilities "discriminate on the basis of sex."
In a press conference, Attorney General Loretta Lynch said her office believes the law is "impermissibly discriminatory." Additionally, she pointed out that even before the issue hits the courts, the feds have full discretion over what to do with billions in federal funds owed North Carolina's Department of Safety as well as the state's university system.
Lynch gave what amounted to an impassioned plea to her "home state," saying changing the law was the only right thing to do.
"This is about a great deal more than bathrooms," Lynch said. "This about the dignity and respect we afford our citizens."
The attorney general slammed what she described as the state's attempt to get into the business of "legislating identity." She said that state leaders have taken "a problem that does not exist" as basis for discrimination.
"It inflicts further indignity on a population that has already suffered its fair share," Lynch said.
Gov. Pat McCrory had filed his state's lawsuit over the law -- known as House Bill 2 -- in response to a Justice Department deadline issued last week to report whether he would refuse to enforce the last that took effect in March. McCrory wants the sweeping law, which limits protections for gay, lesbian, transgender and bisexual people, kept in place.
McCrory's lawsuit, filed in federal court in North Carolina, asks a judge to block Justice Department action that could threaten billions of dollars in federal money flowing to the state.
"I do not agree with their interpretation of federal law. That is why this morning I have asked a federal court to clarify what the law actually is," McCrory said at a news conference on Monday.
He said he hopes other states will join North Carolina in court as it fights the Justice Department's position that the Civil Rights Act requires that transgender people be allowed to access facilities matching their gender identities.
"This is not a North Carolina issue. It is now a national issue," McCrory said.
Madeline Goss is a trans-woman. She is just waiting to find out how the law will impact her life, she told CBS News' Omar Villafranca.
"We are not boogeymen. Trans-women are women. Trans-men are men. We are just here, trying to live our lives, and we want everyone to see that," she said.
North Carolina Attorney General Roy Cooper, a Democrat running against McCrory for governor, has refused to defend the law and has called for its repeal. On Monday, he warned in a video that McCrory "is pouring gas on the fire that he lit" when he signed the measure.
Lynch said the Obama administration sees the North Carolina legislation, as well as other similar ones across the country, as knee-jerk responses to last year's Supreme Court decision to legalize same-sex marriage nationwide. She compared their creation to that of Jim Crow laws passed in response to the Emancipation Proclamation.
"Let us reflect on the obvious but often neglected lesson that state-sanctioned discrimination never looks good in hindsight," Lynch said. "It was not so very long ago that states, including North Carolina, had signs above restrooms, water fountains and on public accommodations keeping people out based upon a distinction without a difference."
The North Carolina governor said earlier the DOJ goes too far in contending that transgender people enjoy similar civil rights protections to racial minorities.
"We can definitely define the race of people. It's very hard to define transgender or gender identity," McCrory said.
McCrory even went so far as to accuse the federal government of "bullying" on a local matter. AG Lynch said Monday she took exception to that characterization.
"The people who feel bullied are probably the transgender people of North Carolina" who "lived without state harassment for years," Lynch said.
The U.S. Education Department and other federal agencies could try to cut off money to North Carolina to force compliance.
The state university system risks losing more than $1.4 billion. An additional $800 million in federally backed loans for students who attend the public universities could also be in danger.
Thanks for reading CBS NEWS.
Create your free account or log in
for more features.