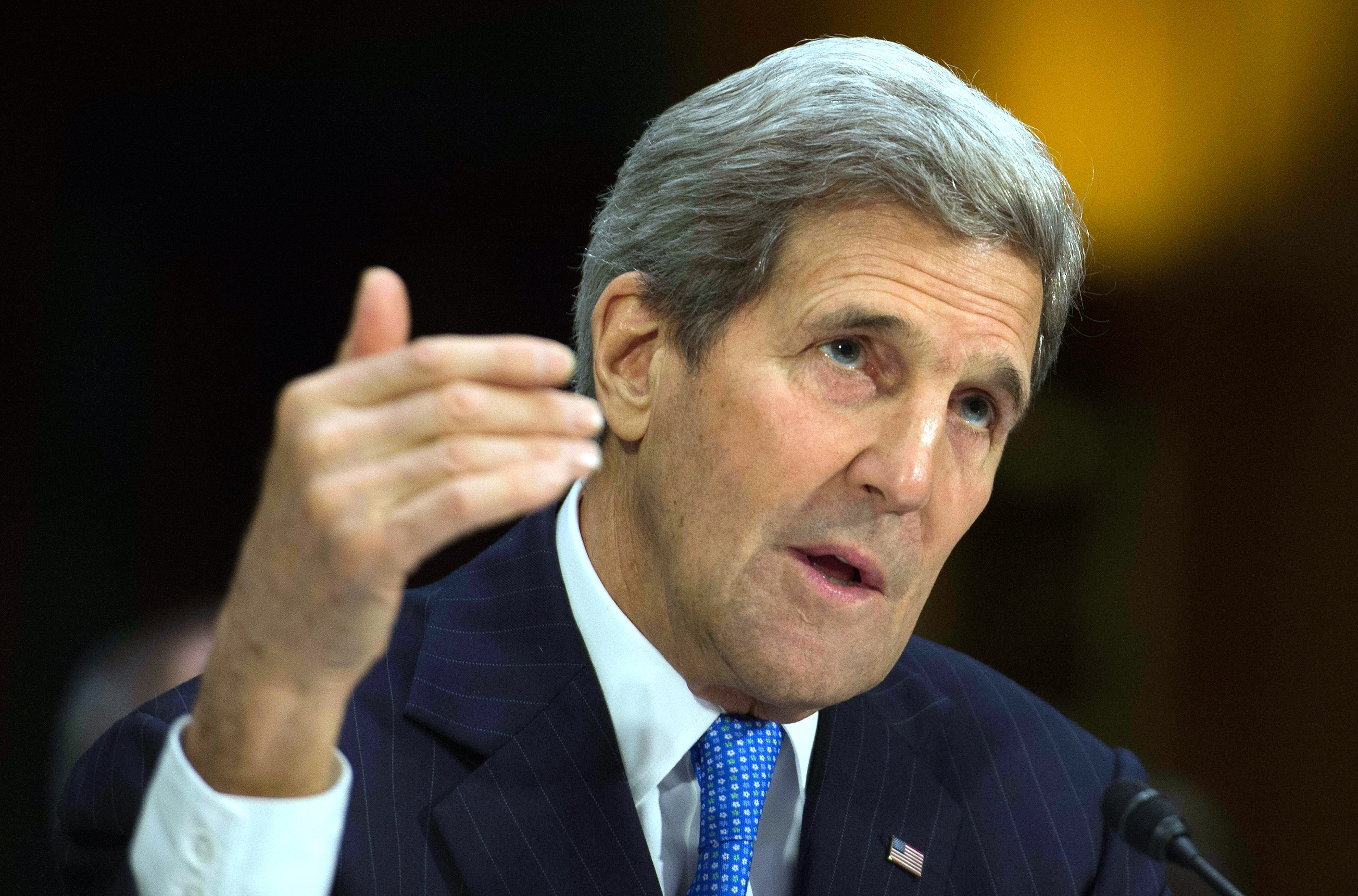 John Kerry's reaction to GOP letter to Iran: "utter disbelief"
Secretary of State John Kerry had harsh words for Republican senators over their letter to Iranian leaders with words of warning over any nuclear deal with the White House.
"My reaction to the letter was utter disbelief," Kerry said during his testimony in front of the Senate Foreign Relations Committee Wednesday morning. "During my 29 years here in the Senate, I have never heard of--nor even heard of it being proposed--anything comparable to this."
"If I had, I can guarantee that no matter who was president of what the issue was and no matter who the president was, I would have certainly rejected it," Kerry, who once served as the Foreign Relations Committee chair during his Senate tenure, continued.
Kerry's reaction came after Sen. Chris Murphy, D-Connecticut, noted the "significant division on the message we're sending to Iran" and asked Kerry about the ramifications of the letter, which was written by Sen. Tom Cotton, R-Arkansas, and signed by 46 other Republican senators.
"No one is questioning anybody's right to dissent. Any senator can go to the floor any day and raise any of the questions that were raised in that," Kerry said in response. But he went on to slam the "stunning" letter for being factually wrong.
The 47 GOP senators told Iranian leaders in their letter that any agreement between the United States and Iran could be short-lived. "The next president could revoke such an executive agreement with the stroke of a pen, and future Congresses could modify the terms of the agreement at any time," the letter to Tehran read.
Kerry said that assertion was, in fact, "incorrect."
"That is flat wrong," the secretary of state said. "They do not have the right to modify an agreement reached, executive to executive, between leaders of the country."
He lambasted them for hypocrisy, saying, "To write to the leaders in the middle of a negotiation--particularly the leaders that they have criticized other people for even engaging with or writing to-- to write them...is quite stunning."
And Kerry addressed the issue of the Iran nuclear deal directly, saying that Cotton's missive was incorrect in its characterization of the negotiations.
"We're not negotiating a "legally binding" plan. We're negotiating a plan that has in it the capacity for enforcement," the former senator said. "We don't even have diplomatic relations with Iran right now."
Kerry is the latest in a string of Obama administration officials to denounce the Republican senators' actions. Earlier this week, Vice President Joe Biden called it "beneath the dignity of the Senate," while other Democratic leaders in Congress have also voiced strong opposition.
Sen. Dianne Feinstein, D-California, said in a statement that she was "appalled," and called the letter a "highly inappropriate and unprecedented incursion into the president's prerogative to conduct foreign affairs and is not befitting this chamber."
According to news reports, even some on the Republican side of the aisle have expressed their trepidations about the maneuver.
"Before the letter, the national conversation was about Netanyahu's speech and how Obama's negotiations with Iran are leading to a terrible deal that could ultimately harm U.S. national security," a Republican aide, whose senator signed the letter, told the Daily Beast in an interview published Wednesday. "Now, the Obama administration and its Capitol Hill partisans are cynically trying to push the conversation away from policy, and towards a deeply political pie fight over presidential and congressional prerogatives."
Cotton and his co-signers have stood by the letter, publishing an editorial in USA Today after the immediate backlash.
But Kerry, whose firm denouncement totaled over five minutes by the count of one committee member, did not back down from his criticism.
"This letter also raises question in judgment in policy. We know that there are people in Iran opposed to any compromise...we know that a nuclear-armed Iran is unacceptable."
Thanks for reading CBS NEWS.
Create your free account or log in
for more features.