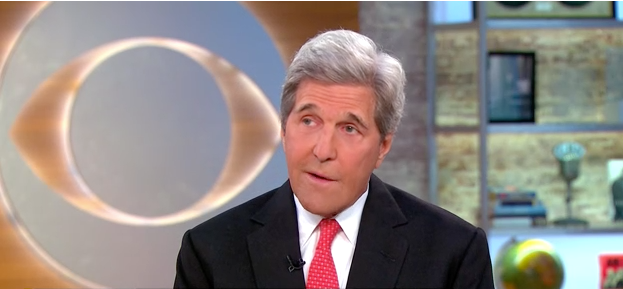 John Kerry on 2020: "I doubt very much I'll be running for office again"
Former Secretary of State John Kerry says that he doubts "very much" that he'll be eyeing a run for office any time soon as President Trump said he would "be so lucky" to run against Kerry in the 2020 presidential election
"I've said again and again it's hard to get away from it, but I doubt very much I'll be running for office again," Kerry said when asked about his intentions for 2020 on "CBS This Morning" on Tuesday. "But I'll say this, no one should be focused on 2020 right now, they should be focused on 2018."
Kerry instead suggested the country needs "people to engage and make a difference and in 2018 we have a chance to have a course correction."
Kerry's latest comments on his future in politics comes after he did not explicitly rule out a potential bid an in interview with CBS' "Face the Nation" on Sunday. He said talking about the race is a "distraction" and a "waste of time." In response, Mr. Trump tweeted that she should "only be so lucky" if Kerry decided to run, adding "the field that is currently assembling looks really good FOR ME!"
The former secretary, who is out with a new book "Everyday is Extra," said that he wouldn't engage in a "back and forth on tweets" with the president. He said Mr. Trump uses tweets as "weapons of mass distraction" and has instead "exposed the world to the potential of weapons of mass destruction in Iran" by pulling out of the Obama-era nuclear pact which Kerry spearheaded during his time in office.
"Only individual citizens can bring us back from the brink," added Kerry. "Nothing he [Trump] says you can believe and you always know there's a different motive."
Meanwhile, Kerry said the president's party has "regrettably turned its back to some degree on the truth," pointing to Senate Republicans in particular.
"The truth has less currency than it should have in a democracy of our quality. Truth is the essence and you have a base line of facts you need to be able to know what the facts are. We've entered a new period of life," said Kerry. He suggested attacks he received during the 2004 campaign for president were "the beginning of alternative facts" which now play out a "regular basis"
"Facts don't apparently matter to some people," he said. "I believe they matter to the American people."
Kerry's new book "Every Day Is Extra" is published by Simon & Schuster, a division of CBS.
Thanks for reading CBS NEWS.
Create your free account or log in
for more features.